2018 Maruti Suzuki Ciaz Facelift: 5 Things That Could Have Been Better
Modified On Jan 03, 2019 12:48 PM By Raunak for Maruti Ciaz
Despite being one of the most well-rounded packages in the segment, the competitively priced Maruti Suzuki Ciaz facelift still leaves us wanting in some departments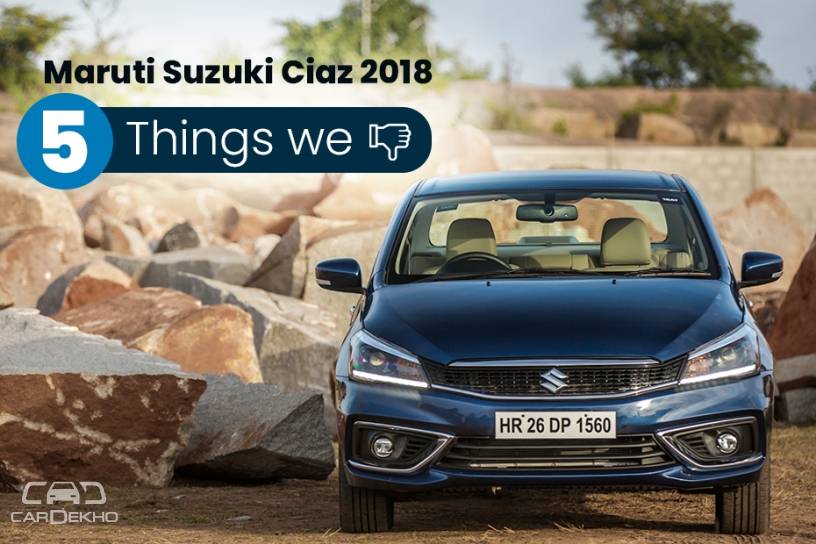 Maruti Suzuki has packaged the Ciaz pretty well in its mid-cycle update. It has everything in its equipment list that you'd want from a car of its class, and also packs mild-hybrid tech with both petrol and diesel engines. But its rivals too are no minnows and offer some things unique to keep things spicy. While Maruti Suzuki has ironed out a few of the Ciaz's chinks with the 2018 update, there are still a few things that it could have done to make the 2018 Ciaz even better.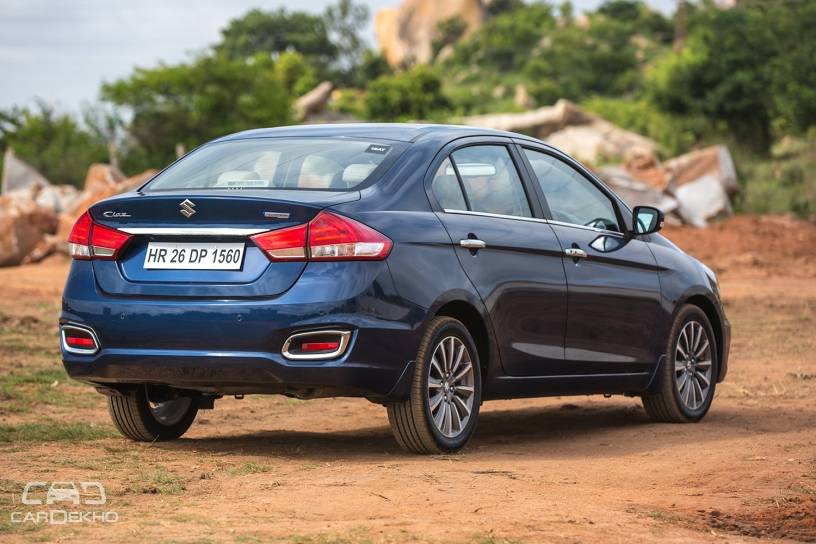 1) More powerful engines
The updated Ciaz packs a new and bigger 1.5-litre petrol engine that replaces the pre-facelift model's 1.4-litre unit. It offers a marginal 12PS and 8Nm boost in power and torque, respectively. Rivals like the Honda City, Volkswagen Vento and the Hyundai Verna offer more powerful petrol engines.
| | | | | |
| --- | --- | --- | --- | --- |
| Petrol | Maruti Ciaz | Honda City | Hyundai Verna | VW Vento |
| Engine | 1.5-litre | 1.5-litre | 1.4-litre/1.6-litre | 1.2-litre Turbo/1.6-litre |
| Power | 105PS | 119PS | 100PS/123PS | 105PS/105PS |
| Torque | 138Nm | 145Nm | 132Nm/151Nm | 175Nm/153Nm |
| Fuel efficiency | Up to 21.56kmpl | Up to 18kmpl | Up to 17.7kmpl | Up to 18.19kmpl |
Now that Maruti has decided to add a new engine to the Ciaz, it could have made it more powerful as well. Despite getting a new engine, the Ciaz petrol is still one of the least powerful cars in the segment. The only silver lining is that it gets a mild-hybrid tech with torque assist, which not only improves it fuel efficiency but also betters its low-speed drivability.
And it's not that the Ciaz is underpowered elsewhere as well. The China-spec Ciaz gets a powerful 1.6-litre petrol engine rated at 122PS and 158Nm. This engine would have made the updated sedan significantly more powerful than before. And it's not just the petrol engine - the diesel-powered Ciaz also leaves you wanting for performance. On that note, we're aware that Maruti Suzuki is developing a 1.5-litre diesel engine which should be more powerful than the existing 1.3-litre unit.
2) New-age automatic transmission
In the age of dual-clutch ATs, 6-speed torque converters and CVTs, Maruti continues with its ageing 4-speed torque converter AT that doesn't offer the option of choosing ratios manually.
| | | | | |
| --- | --- | --- | --- | --- |
| Petrol | Maruti Ciaz | Honda City | Hyundai Verna | VW Vento |
| Engine | 1.5-litre | 1.5-litre | 1.6-litre | 1.2-litre Turbo |
| Transmission | 4-speed AT | 7-step CVT with paddle shifters | 6-speed AT | 7-speed dual-clutch |
The China-spec Ciaz not only packs a more powerful engine but also gets a 6-speed AT. Having more ratios might have made the Ciaz more fuel efficient on the highways, where it could have cruised at a lower engine speed.

Pictured: Honda City CVT with paddle shifters
3) More safety for rear passengers
The 2018 Ciaz gets seatbelt reminder (driver and co-passenger), high-speed alert and reverse parking sensors as standard. The petrol automatic variants additionally offer ESP with hill hold assist as standard. So the 2018 Ciaz is certainly safer than the outgoing model.
But its rivals have moved the goalposts. Offering six airbags has almost become the segment norm as well. The City and the Verna offer six airbags in their top-spec variants. The Yaris gets segment-first seven airbags, which include driver's knee airbag as well, as standard. Offering airbags for the rear passengers in the Ciaz would have made a lot of sense since its speciality is backseat comfort. Point worth noting is -- the China-spec Ciaz also gets 6 airbags.
4) More polished
The Ciaz did a lot of things right, and it's now only better than what it previously was. However, zoom in into the details and there's a lot that Maruti could have improved to finish the package.
The amber illumination on the steering controls and AC controls, for example, could have been blue or white for the sake of consistency with the blue-backlit instrument cluster
The rear armrest could have had a strap for the ease of pulling it down
There could have been soft-touch finish on the dashboard, like it's there on the S-Cross
There could have been a USB socket for the rear passengers
Maruti offers UV cut glasses on the Baleno. Those could have been offered on the Ciaz as well
All these are minor details that could have immensely improved the Ciaz' desirability.
5) Sunroof, please!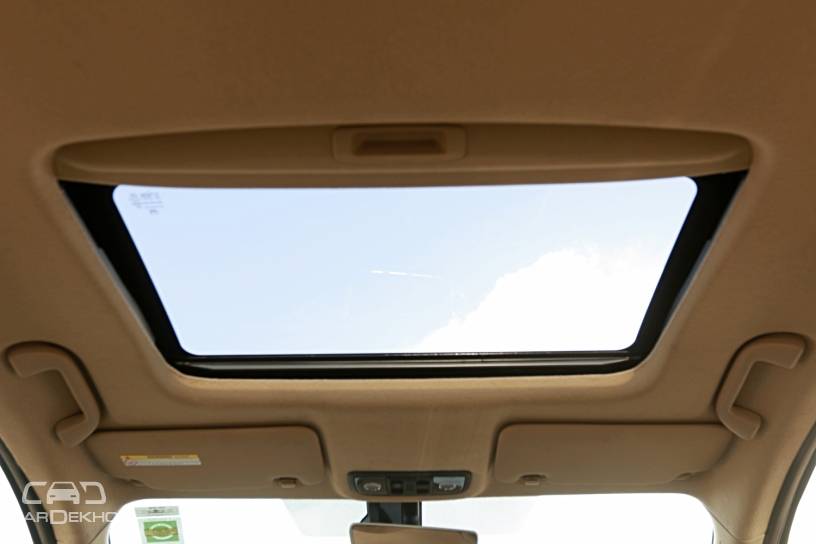 Pictured: Honda City
This is one feature that has started to sway buying decisions. Honda has really been cashing in on this on cars like the WR-V and the City and the carmakers has gone on record saying that the majority of the WR-V's sales are of the top-spec variant that comes with a sunroof. Even Hyundai now offers a sunroof with the new-gen Verna and the Creta facelift. Ford too offers it with the EcoSport facelift. No Maruti cars offer a sunroof at present. It could have given it with the Ciaz facelift considering that its prime rivals offer one. And now, not so surprisingly, the China-spec Ciaz packs a sunroof!
Read More on : Ciaz on road price
Was this article helpful ?
0 out of 0 found this helpful