Mahindra Scorpio
Change car
Rs.9.40 - 18.62 Lakh*
Key Specs of Mahindra Scorpio
| | |
| --- | --- |
| Mileage (upto) | 16.36 kmpl |
| Engine (upto) | 2523 cc |
| BHP | 140.0 |
| Transmission | Manual/Automatic |
| Boot Space | 550 |
| Airbags | yes |
Explore Price of Scorpio Alternatives

Mahindra Scorpio price list (Variants)
Scorpio S22523 cc, Manual, Diesel, 15.4 kmplEXPIRED
Rs.9.40 Lakh*
 
Scorpio S2 9 Seater2523 cc, Manual, Diesel, 15.4 kmplEXPIRED
Rs.9.41 Lakh*
 
Scorpio Intelli Hybrid S42179 cc, Manual, Diesel, 15.4 kmplEXPIRED
Rs.9.74 Lakh*
 
Scorpio S4 9 Seater2179 cc, Manual, Diesel, 15.4 kmplEXPIRED
Rs.9.99 Lakh*
 
Scorpio 1.99 S41997 cc, Manual, Diesel, 15.4 kmplEXPIRED
Rs.10.03 Lakh*
 
Scorpio 1.99 S4 9S1997 cc, Manual, Diesel, 15.4 kmplEXPIRED
Rs.10.03 Lakh*
 
Scorpio S4 7 Seater2179 cc, Manual, Diesel, 15.4 kmplEXPIRED
Rs.10.03 Lakh*
 
Scorpio Intelli Hybrid S4 Plus2179 cc, Manual, Diesel, 15.4 kmplEXPIRED
Rs.10.17 Lakh*
 
Scorpio BSIV2523 cc, Manual, Diesel, 15.4 kmplEXPIREDLess than 1 month waiting
Rs.10.20 Lakh*
 
Scorpio S3 7 Seater2523 cc, Manual, Diesel, 15.4 kmplEXPIRED
Rs.10.24 Lakh*
 
Scorpio S3 9 Seater BSIV2523 cc, Manual, Diesel, 15.4 kmplEXPIRED
Rs.10.24 Lakh*
 
Scorpio 1.99 S4 Plus1997 cc, Manual, Diesel, 15.4 kmplEXPIRED
Rs.10.47 Lakh*
 
Scorpio S4 Plus 9S2179 cc, Manual, Diesel, 15.4 kmplEXPIRED
Rs.10.61 Lakh*
 
Scorpio S4 4WD2179 cc, Manual, Diesel, 12.05 kmplEXPIRED
Rs.10.74 Lakh*
 
Scorpio S6 7 Seater2179 cc, Manual, Diesel, 15.4 kmplEXPIRED
Rs.10.99 Lakh*
 
Scorpio S6 8 Seater2179 cc, Manual, Diesel, 15.4 kmplEXPIRED
Rs.10.99 Lakh*
 
Scorpio Getaway2179 cc, Manual, Diesel, 11.0 kmplEXPIRED
Rs.11.13 Lakh*
 
Scorpio Intelli Hybrid S6 Plus2179 cc, Manual, Diesel, 15.4 kmplEXPIRED
Rs.11.24 Lakh*
 
Scorpio Intelli Hybrid S4 Plus 4WD2179 cc, Manual, Diesel, 15.4 kmplEXPIRED
Rs.11.35 Lakh*
 
Scorpio S6 Plus 7 Seater2179 cc, Manual, Diesel, 15.4 kmplEXPIRED
Rs.11.42 Lakh*
 
Scorpio S4 Plus2179 cc, Manual, Diesel, 15.4 kmplEXPIRED
Rs.11.47 Lakh*
 
Scorpio 1.99 S6 Plus1997 cc, Manual, Diesel, 15.4 kmplEXPIRED
Rs.11.50 Lakh*
 
Scorpio S6 Plus 8 Seater2179 cc, Manual, Diesel, 15.4 kmplEXPIRED
Rs.11.65 Lakh*
 
Scorpio 1.99 S4 Plus 4WD1997 cc, Manual, Diesel, 15.4 kmplEXPIRED
Rs.11.75 Lakh*
 
Scorpio S4 Plus 4WD2179 cc, Manual, Diesel, 15.4 kmplEXPIRED
Rs.11.88 Lakh*
 
Scorpio Intelli Hybrid S82179 cc, Manual, Diesel, 15.4 kmplEXPIRED
Rs.12.18 Lakh*
 
Scorpio Getaway 4WD2179 cc, Manual, Diesel, 9.0 kmplEXPIRED
Rs.12.26 Lakh*
 
Scorpio S5 BSIV2179 cc, Manual, Diesel, 16.36 kmplEXPIREDLess than 1 month waiting
Rs.12.40 Lakh*
 
Scorpio S8 7C Seater2179 cc, Manual, Diesel, 15.4 kmplEXPIRED
Rs.12.46 Lakh*
 
Scorpio S8 7 Seater2179 cc, Manual, Diesel, 15.4 kmplEXPIRED
Rs.12.46 Lakh*
 
Scorpio 1.99 S81997 cc, Manual, Diesel, 15.4 kmplEXPIRED
Rs.12.53 Lakh*
 
Scorpio S8 8 Seater2179 cc, Manual, Diesel, 15.4 kmplEXPIRED
Rs.12.69 Lakh*
 
Scorpio Intelli Hybrid S102179 cc, Manual, Diesel, 15.4 kmplEXPIRED
Rs.12.85 Lakh*
 
Scorpio 1.99 S101997 cc, Manual, Diesel, 15.4 kmplEXPIRED
Rs.13.21 Lakh*
 
Scorpio S10 8 Seater2179 cc, Manual, Diesel, 15.4 kmplEXPIRED
Rs.13.22 Lakh*
 
Scorpio S7 1202179 cc, Manual, Diesel, 16.36 kmplEXPIREDLess than 1 month waiting
Rs.13.30 Lakh*
 
Scorpio S3 Plus2179 cc, Manual, DieselEXPIREDMore than 2 months waiting
Rs.13.54 Lakh*
 
Scorpio S3 Plus 9 Seater2179 cc, Manual, DieselEXPIREDMore than 2 months waiting
Rs.13.54 Lakh*
 
Scorpio Adventure Edition 2WD2179 cc, Manual, Diesel, 15.4 kmplEXPIRED
Rs.13.69 Lakh*
 
Scorpio S7 140 BSIV2179 cc, Manual, Diesel, 16.36 kmplEXPIREDLess than 1 month waiting
Rs.13.81 Lakh*
 
Scorpio S10 AT 2WD2179 cc, Automatic, Diesel, 15.4 kmplEXPIRED
Rs.13.89 Lakh*
 
Scorpio Facelift2179 cc, Manual, Diesel, 15.4 kmplEXPIRED
Rs.14.00 Lakh*
 
Scorpio Intelli Hybrid S10 4WD2179 cc, Manual, Diesel, 15.4 kmplEXPIRED
Rs.14.01 Lakh*
 
Scorpio S52179 cc, Manual, DieselEXPIREDMore than 2 months waiting
Rs.14.29 Lakh*
 
Scorpio S10 7 Seater2179 cc, Manual, Diesel, 15.4 kmplEXPIRED
Rs.14.34 Lakh*
 
Scorpio 1.99 S10 4WD1997 cc, Manual, Diesel, 15.4 kmplEXPIRED
Rs.14.39 Lakh*
 
Scorpio S9 BSIV2179 cc, Manual, Diesel, 16.36 kmplEXPIREDLess than 1 month waiting
Rs.14.44 Lakh*
 
Scorpio S10 4WD2179 cc, Manual, Diesel, 15.4 kmplEXPIRED
Rs.14.55 Lakh*
 
Scorpio Adventure Edition 4WD2179 cc, Manual, Diesel, 15.4 kmplEXPIRED
Rs.14.91 Lakh*
 
Scorpio S10 AT 4WD2179 cc, Automatic, Diesel, 15.4 kmplEXPIRED
Rs.15.14 Lakh*
 
Scorpio S11 BSIV2179 cc, Manual, Diesel, 16.36 kmplEXPIREDLess than 1 month waiting
Rs.15.60 Lakh*
 
Scorpio S72179 cc, Manual, Diesel, 15.4 kmplEXPIREDMore than 2 months waiting
Rs.16.64 Lakh*
 
Scorpio S11 4WD BSIV2179 cc, Manual, Diesel, 16.36 kmplEXPIREDLess than 1 month waiting
Rs.16.83 Lakh*
 
Scorpio S92179 cc, Manual, DieselEXPIREDMore than 2 months waiting
Rs.17.30 Lakh*
 
Scorpio S112179 cc, Manual, Diesel, 15.4 kmplEXPIREDMore than 2 months waiting
Rs.18.62 Lakh*
 
View All Variants
Mahindra Scorpio Review
The Mahindra Scorpio is one of the most popular SUVs sold in India, thanks to a reputation that has been solidified over more than a decade. It was Mahindra's first truly modern SUV and with multiple updates over the years, it kept up with the needs of the market, while catering to a wide range of customers.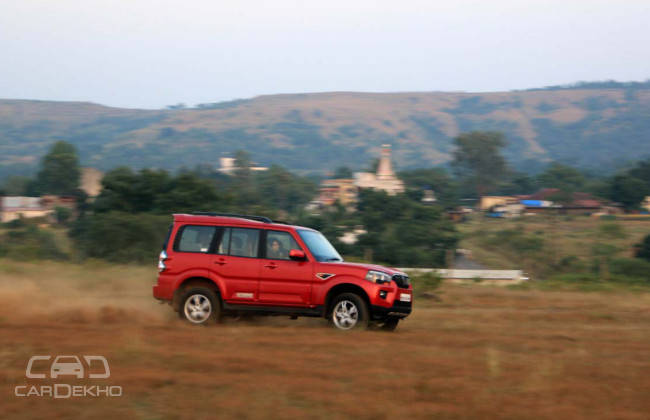 The new-generation Scorpio features some attention grabbing design and new features, while maintaining its nature as an abuse-friendly SUV. Let's explore what the Scorpio has to offer.
Verdict
Make no mistake, the Mahindra Scorpio is still an old-school SUV underneath. It might not be the most comfortable offering in its segment, nor is it great at handling. However, it makes up for all that with its usability. The Scorpio's mHawk engines are a tractable lot and are a boon in the city commutes as well. Add to that the practicality of the 7-seats and the roomy Scorpio can easily act as a great family car too.
The Mahindra Scorpio with its rugged demeanour can easily take on almost every challenge that the Indian roads can throw in its path.
Pros & Cons of Mahindra Scorpio
CarDekho Experts:
The Mahindra Scorpio scores highly as a value for money proposition.
Things We Like
Despite being an SUV, the Scorpio offers great city driveability thanks to the light clutch and the 2.2-litre mHawk engine that offers a good amount of low-end torque.
The Mahindra Scorpio commands loads of road presence, aggressive styling and an abuse-friendly structure.
With a starting price of Rs 9.99 lakh (ex-showroom Delhi), the Scorpio is on of the most affordable 7-seater SUVs in the country
Unlike many of its rivals, the Scorpio comes with proper shift on fly 4WD system.
Things We Don't Like
Being a body on ladder frame SUV, the Scorpio's ride quality is bumpy and has a fair amount of body roll. This means long distance travel in the Scorpio would be a bit uneasy for the rear passengers.
The option of 4WD is limited to the top-spec S11 variant which feels a bit overpriced for the equipment it offers.
Poor ergonomic: the storage door packets are almost impossible to access with doors shut and it is a similar issue with driver seat height adjuster.
The fit and finish quality on the Scorpio is not up to the mark. Even the faux leather upholstery offered in the top-spec S11 variant does not feel upmarket.
Stand Out Features
Tyre Pressure Monitoring System: The Scorpio is the only SUV in its class to offer this feature. It is a small but a nifty feature which allows you to keep a track of your tyre pressure levels.

Navigation System: The Scorpio's navigation system offers 10 language support. That means, no matter in which part of the country you buy the Scorpio in, the Mahindra SUV has got you covered.

Cruise Control: To make highway commuting more comfortable, the Scorpio gets cruise control. When activated, it maintains the required speed without any accelerator input from the driver.
Specification of Mahindra Scorpio
| | |
| --- | --- |
| ARAI Mileage | 15.4 kmpl |
| Fuel Type | Diesel |
| Engine Displacement (cc) | 2523 |
| No. of cylinder | 4 |
| Max Power (bhp@rpm) | 75bhp@3200rpm |
| Max Torque (nm@rpm) | 200Nm@1400-2200rpm |
| Seating Capacity | 7 |
| TransmissionType | Manual |
| Boot Space (Litres) | 460 |
| Fuel Tank Capacity | 60.0 |
| Body Type | SUV |
| Ground Clearance Unladen | 180mm |
Mahindra Scorpio User Reviews
Based on
1358 User reviews
All (1358)
Looks (386)
Comfort (410)
Mileage (213)
Engine (213)
Interior (131)
Space (95)
Price (124)
More ...
LATEST
HELPFUL
VERIFIED
CRITICAL
The best SUV with comfortable to drive and affordable for middle-class people. Its new design is also really good.

I didn't get this car but the front look is massive and the rear is a normal side view given the old Scorpio model and 4×4 is a very very liked version for all Scorpio lo...Read More

It's best in class car in terms of performance, maintenance, and road presence. The gear shifting, handling and torque performance are best at this price.

This is the best car for a long drive, but the built quality is not good as compared to others.

This is fun to drive and good for off-roading. It has great features but the mileage is a bit low. The comfort level is so amazing, I bought this car and I am fully satis...Read More
Mahindra Scorpio Latest Update
Latest Update: It is being replaced by the newly unveiled Scorpio Classic.
Mahindra Scorpio Price: Mahindra retails the current-gen Scorpio between Rs 13.54 lakh and Rs 18.62 lakh (ex-showroom Delhi).
Mahindra Scorpio Variants: It is available in five trims: S3+, S5, S7, S9, and S11.
Mahindra Scorpio Seating Capacity: The SUV can seat up to nine passengers.
Mahindra Scorpio Engine and Transmission: It gets a 2.2-litre diesel engine in two states of tune: 120PS/280Nm and 140PS/319Nm. The former is offered with the base-spec S3+ variant, and is paired to a 5-speed manual transmission, while the 140PS unit is coupled with a 6-speed manual.
Mahindra Scorpio Features: Features onboard the Mahindra SUV include cruise control, auto AC, a 7-inch touchscreen infotainment system with Bluetooth and AUX connectivity, and auto headlights with LED DRLs.
Mahindra Scorpio Safety: Its safety kit consists of dual front airbags, rear parking sensors, ABS, and speed alert.
Mahindra Scorpio Rivals: The current-gen Scorpio can be regarded as a rugged alternative to compact SUVs such as the Hyundai Creta, Skoda Kushaq, MG Astor, Nissan Kicks, Kia Seltos, and the Volkswagen Taigun.
2022 Mahindra Scorpio N: Mahindra is looking to ramp up production for the Scorpio N.
Read More

Mahindra Scorpio Videos
Mahindra Scorpio 2022 has 1 video of its detailed review, pros & cons, comparison & variant explained,test drive experience, features, specs, interior & exterior details and more. Watch our Latest Hindi video of Mahindra Scorpio to know price, safety features & more.
7:55

Mahindra Scorpio Quick Review | Pros, Cons and Should You Buy One

Apr 13, 2018


Mahindra Scorpio Road Test

Are you Confused?
Ask anything & get answer in 48 hours
Write your Comment on Mahindra Scorpio
28 comments
1
L
loko poko preschool
Jun 29, 2021 8:58:55 AM
Excellent SUV!!Please come back with automatic version.
Read More...
Reply
Write a Reply
1
S
sohan maida
Apr 3, 2021 8:13:03 PM
150000 jma karta ho
Read More...
Reply
Write a Reply
1
S
suman raj
Feb 27, 2021 7:29:56 AM
Hmko aaj gari chahiye milega sir
Read More...
Reply
Write a Reply
*Ex-showroom price in New Delhi
×
We need your city to customize your experience