Auto Expo 2023: Top 10 Cars Showcased On Day 1
Modified On Jan 11, 2023 11:06 PM By Sonny
Here's a rundown of the biggest moments from the plethora of showcases, launches and unveilings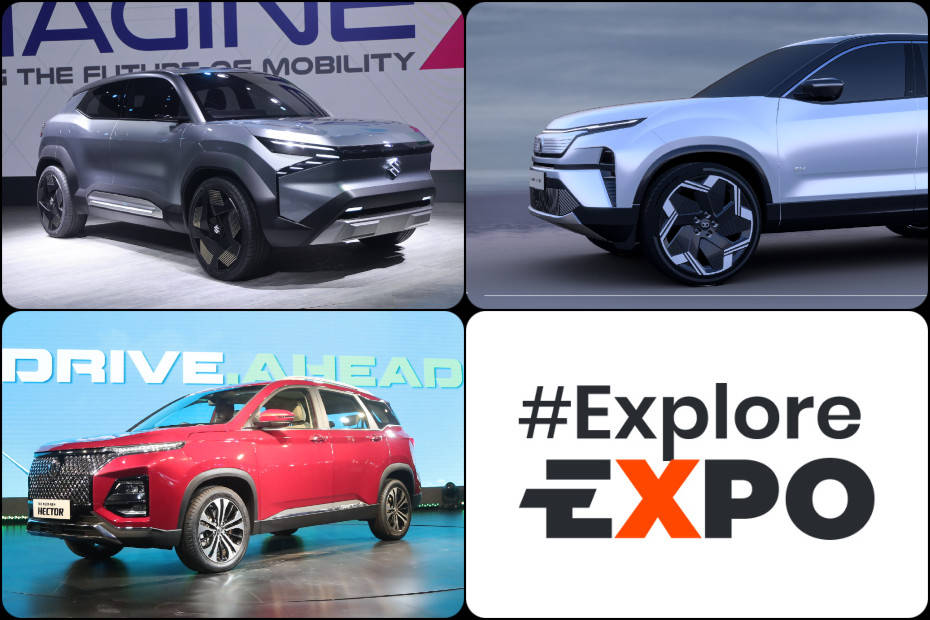 The first of two action-packed days at Auto Expo 2023 has concluded and no one would hold it against you if you may have missed some key moments from the day. Fret not, we've put together a short list of all the big moments from the first day of the 2023 Auto Expo to bring you up to speed:
Maruti eVX Concept

The day started off big with the unveiling of the new Maruti Suzuki eVX electric concept SUV. It packs a 60kWh battery pack for a claimed range of 550km. There were no details for the electric motor, except that it has two for an AWD setup. The eVX is expected to result in a production-spec SUV, globally, by 2025.
2023 MG Hector and Hector Plus Launched

The facelifted versions of the Hector and Hector Plus had already been revealed ahead of the Expo, but the prices were announced today. With small but notable changes to the front and rear profiles, and a new dashboard layout for the bigger 14.1-inch touchscreen display, and ADAS in the top trim, the Hector is catching up to its fresher rivals. It gets no mechanical changes as part of the update.
Hyundai Ioniq 5 Price

The long-awaited Ioniq 5 has finally been launched in India with an attractive introductory price of Rs 44.95 lakh (ex-showroom). Offered in a single, fully-loaded trim with a single-motor rear-wheel-drive setup, the Ioniq 5 has a claimed range of over 600km.
Kia Carnival (KA4)

Perhaps the biggest disappointment of the day was finding out Kia is still undecided about bringing the latest generation of the Carnival MPV to India. At least we get to see it in all its glory at the Auto Expo for now with its premium looks and spacious cabin.
BYD Seal EV

When one model is denied, another is confirmed, such is the way of the Auto Expo. Relatively new entrant to the Indian passenger car segment, BYD announced that it plans to launch the Seal electric sedan towards the end of 2023. While most technical details have not been officially confirmed, it boasts an impressive range of up to 700km.
Toyota LC300

The new-generation of the Toyota Land Cruiser (L300) made its global debut in 2021. After two years, it has finally graced Indian soil but its arrival to the market remains uncertain. It was showcased alongside the current crop of Toyota India models, and some global offerings too.
New Lexus RX

The luxury arm of Toyota had more to offer for the Indian buyer by showcasing the Indian version of the new-gen RX SUV. It features a crisper exterior design and a revamped interior with larger displays.
The Tata Show



There is still plenty more to come from the 2023 Auto Expo, so stay tuned to CarDekho for all the latest updates.
Was this article helpful ?
2 out of 2 found this helpful