10 Luxury Car Features We Wish To See In Regular Cars
Modified On Aug 14, 2018 12:15 PM By Dhruv Attri for Renault KWID 2015-2019
Some modern-day features are so useful that we think they should trickle down from more premium cars to their mass market counterparts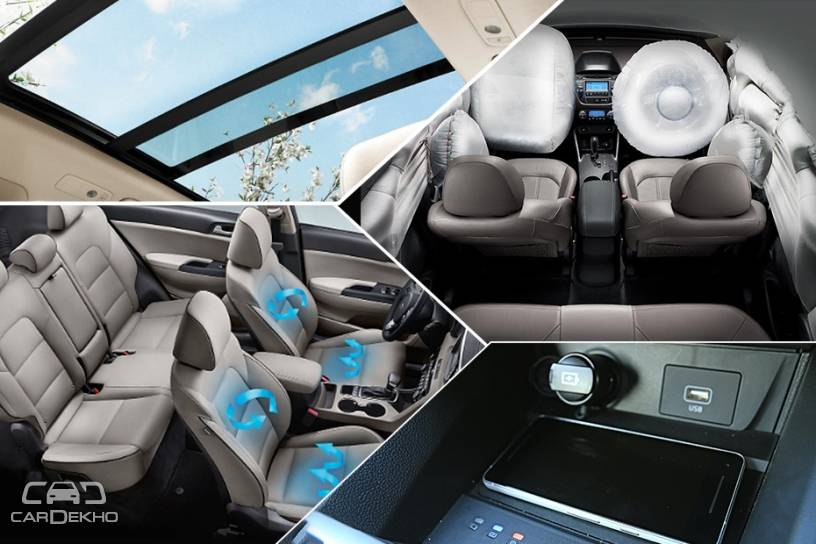 Gone are the days when a touchscreen infotainment system was considered a fancy feature beyond the realms of a budget car. These days you can find one even in entry-level hatchbacks such as the Renault Kwid. With increasing demand and reduced technology costs, many "luxury" features such as auto-dimming IRVM, cooled glovebox, LED DRLs and more have begun to trickle down to mass-market cars. But these are still early days and they are limited only to the top-spec variants. Wouldn't it be nicer for them to become more commonplace? In fact, some of them should be a must-have! We decided to compile a list of 10 essential luxury car features that in our opinion should definitely find a place in cars for the aam aadmi.

1. Safety Suite - Safety feature
From April 2019 onwards, the government has mandated all new cars on sale, including entry-level vehicles, to have dual front airbags and ABS as standard. While that's a welcome step indeed, we feel carmakers should offer a more extensive safety equipment as an option to discerning customers. Our wish list includes:
Side airbags

Frontal collision assist (automatically stops the car if an obstruction is detected upto a certain speed)

Electronic Stability Control (ESC)

Traction Control

Blind spot monitor

2. Auto Dimming IRVM And ORVM - Safety feature
An auto-dimming IRVM (inside rear view mirror) is a feature which should be available in cars irrespective of their prices. But sadly, it's offered only in premium cars and the top variant of a few mass market cars. In fact, the auto-dimming feature should be provided not only in IRVMs but ORVMs (outside rear view mirrors) as well as both these reflect the headlights of trailing vehicles on to the driver's eyes.

3. LED Headlamps - Safety & Styling feature
LED headlamps look cool but aside from that, they are highly energy efficient and offer a comparatively better light spread and throw in the dark. While some mass market cars such as the Maruti Ignis and Dzire do offer LED headlamps, it is still considered a novelty feature.

4. Tyre Pressure Monitoring System - Safety Feature
Under-inflated tyres not only impact fuel efficiency but braking as well. A tyre pressure monitoring system provides real-time details of all the tyres to the driver on the instrument cluster. This isn't an expensive feature either as even Mahindra offers it as an after-sales fitment on its cars for under Rs 15,000.

5. 360 Degree Parking Camera - Safety & Convenience feature
If you drive mostly in the city, you'd be familiar with the pains of parking a car in tight spots. Availability of a 360-degree parking camera with its bird's eye view can give a huge boost to a driver's car positioning skills. It sure is an expensive feature as it requires multiple cameras (minimum 4) and a software to stitch these images together but it takes the convenience and luxury factor up a notch. This feature is only available on cars from premium brands in India such as BMW, Mercedes-Benz, Audi and Jaguar Land Rover. Think we are being too ambitious? How about we start with rear parking sensors and camera being offered as a standard fitment?

6. Ventilated Seats - Comfort feature
Let's face it - ventilated seats are more of a necessity than luxury to us Indians considering the tropical, humid conditions we endure. These seats soak up the moisture from one's back and reduce the seat temperature quicker if the vehicle had been parked under the sun for too long. Hyundai made a segment-first move when it introduced this feature on the current-gen Verna (SX AT and SX(O)). We hope to see it on other mass-market cars as well in the coming days.

7. Power adjustable front seats with memory - Comfort feature
Since a powered seat allows for minute adjustments, it helps the driver get into a better position than a manually adjustable seat can. Powered seats can also be offered with memory function where the seats can be programmed to get into a specific adjustment level at the touch of a button. This feature can be particularly useful in a car that is shared by multiple drivers.

8. Wireless Charging - Utility feature
Minimalism is the future and one of the few steps in that direction comes in the form of foregoing wires. Till a few years ago, a wireless mobile charging unit was found only in luxury cars but it is now available in more affordable cars like the 2018 Hyundai Creta. Not only does it reduce clutter inside the cabin, it adds a dash of modernity too.

9. Wireless Android Auto And Apple CarPlay Support - Utility feature
Apple CarPlay and Android Auto are features that we've now begun to see in budget cars as well. But we still use cables to pair the smartphones with the car's infotainment system. With wireless charging as a feature in cars, it would be senseless to continue smartphone pairing using cables.

10. Sunroof - Styling feature
While we consider the sunroof only as an aesthetic feature, these can be used for ventilation as well, and that can improve AC performance too. Carmakers like Honda and Ford offer it in their cars (WR-V and EcoSport) and we hope to see more carmaker joining the party considering that variants with sunroof are often more popular than the ones without it.
Recommended: 10 Must-Have Features In Every Car
Read More on : KWID AMT
Was this article helpful ?
0 out of 0 found this helpful