Hyundai Verna May Get Smaller 1.4-litre Engines Soon
Modified On Aug 31, 2017 07:13 PM By CarDekho for Hyundai Verna 2017-2020
Does that sound like the company has a backup plan for the GST cess hike? You bet!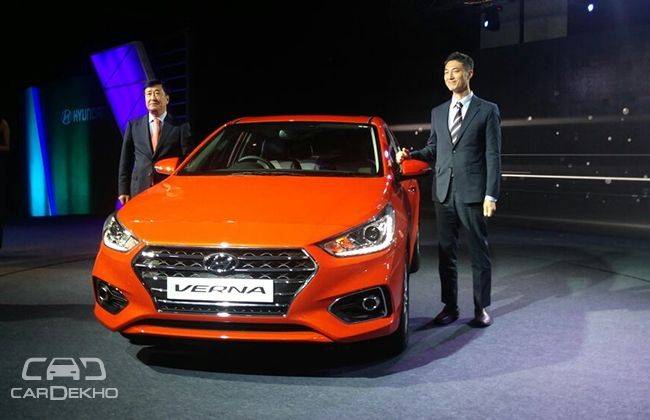 You know what they say - if you want to be successful, playing hard isn't always the correct option as playing smart can get you better results. Okay, that's a stretched version of the saying but you get the point! That's the mantra Hyundai Motor India Ltd (HMIL) will follow if the overall tax on luxury cars and SUVs is increased. Hyundai is ready to equip its newly launched Verna with 1.4-litre engines. This move will ensure that the increased cess doesn't apply on it.
How, you might wonder, does the new Hyundai Verna qualify as a luxury car in its current state? Well, the definition of a luxury car is a vehicle that is over four metres in length and is powered by either a petrol or diesel engine with more than 1,500cc displacement. And the new Verna is equipped with only 1.6-litre petrol and diesel engines.

Let's quickly recall what the fuss is about. In the beginning of August 2017, the Goods and Services Tax (GST) council put out a recommendation to increase the upper limit of cess on motor vehicles from 15 to 25 per cent. If this gets a green signal in next month's GST council meet, which is highly likely, it will have the overall tax on luxury cars and SUVs go up.
Vehicle Type
Current GST Structure
New Proposition
Base + Cess
Total
Base + Cess
Total
SUVs
28% + 15%
43%
28% + 25%
53%
Luxury Cars
If the new Verna classifies as a luxury car (which it should, with both the engines over 1.5-litre capacity), it will lose the price advantage it currently has over the Honda City. But more importantly, the entry-level prices will also go up, which means the Maruti Suzuki Ciaz will continue to be the value pick in the segment.
| Cars | Hyundai Verna base | Maruti Suzuki Ciaz base | Honda City base |
| --- | --- | --- | --- |
| Price (petrol/diesel) | Rs 7.99 / 9.19 lakh | Rs 7.65 / 9.43 lakh | Rs 8.46 / 10.68 lakh |
| Price post cess revision (approx) | Rs 8.64 / 9.92 lakh | Rs 7.65 / 9.43 lakh | Rs 8.46 / 10.68 lakh |
But HMIL says that it will waste no time in getting the Verna out of the 'luxury cars' bracket by introducing the 1.4-litre engines. The real kicker is that HMIL is already exporting the Verna from India with the updated versions of these engines, and having them in the Indian portfolio will not be too difficult for them.

Also Read: 4 Things You Didn't Know About The Hyundai Verna
Hyundai is likely to offer the 1.4-litre engines in the E variant of the new Verna, which was the case with the older Verna as well. That would result in a drop in the entry-level price of the new Verna, making it more affordable than the Maruti Suzuki Ciaz, which starts at Rs 7.65 lakh (ex-showroom Delhi).
| Cars | Old Verna 1.4 | New Verna 1.4 E (expected) |
| --- | --- | --- |
| Prices (petrol/diesel) | Rs 7.84 / 9.07 lakh | Rs 7.25 / 8.49 lakh |
Earlier, the Verna 1.4 was primarily a part of the portfolio for an aggressive entry price. But now, the smaller engines will actually solve the purpose of driving sales away from the Maruti Suzuki Ciaz. The Verna 1.4 E might not only be able to undercut the Ciaz, but it might just do so with a big margin, especially in the case of the diesel engine where the difference might be in the range of Rs 1 lakh.

Also Read: Fancy Buying The 2017 Hyundai Verna? Check Out These Facts
But the game might not end there. If Hyundai introduces the 1.4-litre engines in the new Verna, they might as well ditch the Verna 1.6 E variant and instead have the EX variant with the 1.4-litre engines. That would make the portfolio more attractive for a wider set of buyers as more features will be accessible at a lower price.
On the top end of the price chart, the Hyundai Verna competes with the Honda City, Volkswagen Vento and Skoda Rapid. Once the prices go up post cess revision (of the 1.6-litre Verna), the top-end variants of the Hyundai Verna will still remain in close price proximity of its rivals, so Hyundai might not be worried too much on that front.

Wondering how would the new price list for the Verna would look post cess hike? Here you go:
Hyundai Verna variants
Prices (expected)
Competition
Petrol
1.4 E MT
Rs 7.25 lakh
Ciaz Sigma - Rs 7.65 lakh
1.4 EX MT
Rs 8.35 lakh

Ciaz Delta & Zeta - Rs 8.10 lakh & Rs 8.73 lakh
City S - Rs 8.46 lakh

1.6 EX MT
Rs 9.80 lakh
City V - Rs 9.93 lakh
1.6 EX AT
Rs 11.05 lakh
City V CVT - Rs 11.43 lakh
1.6 SX MT
Rs 10.26 lakh
-
1.6 SX (O) MT
Rs 11.20 lakh
City VX - Rs 11.54 lakh
1.6 SX(O) AT
Rs 13.20 lakh
City VX CVT & ZX CVT - Rs 12.71 lakh & Rs 13.38 lakh
Diesel
1.4 E MT
Rs 8.49 lakh
Most affordable in segment
1.4 EX MT
Rs 9.49 lakh
Ciaz Sigma - Rs 9.42 lakh
1.6 EX MT
Rs 10.99 lakh

Ciaz Zeta - Rs 10.72 lakh
City SV - Rs 10.69 lakh

1.6 EX AT
Rs 12.29 lakh
-
1.6 SX MT
Rs 11.99 lakh

Ciaz Alpha - Rs 11.44 lakh
City V - Rs 11.47 lakh

1.6 SX+ AT
Rs 13.62 lakh
-
1.6 SX(O) MT
Rs 13.39 lakh
City ZX - Rs 13.43 lakh
Come to think of it, the Hyundai Creta will suffer the same fate if the cess is increased. It will then be safe to say that the mid-life update of the Hyundai Creta, expected next year, might get the 1.4-litre petrol engine to keep the price tag in check? Well, logic dictates so.
Note: All prices given above are ex-showroom Delhi.
Also Read: 2017 Hyundai Verna: Variants Explained
Read More on : Hyundai Verna on road price
Was this article helpful ?
0 out of 0 found this helpful