Hyundai Verna 2017-2020
Change car
Rs.8.00 - 14.08 Lakh*
This car model has expired
Key Specs of Hyundai Verna 2017-2020
| | |
| --- | --- |
| Engine | 1368 cc - 1591 cc |
| BHP | 88.76 - 126.2 Bhp |
| Transmission | Manual/Automatic |
| Mileage | 15.92 - 24.75 kmpl |
| Fuel | Petrol/Diesel |
| Boot Space | 480 Liters |
Explore Price of Verna 2017-2020 Alternatives

Hyundai Verna 2017-2020 price list (Variants)
Verna 2017-2020 VTVT 1.6 E1591 cc, Manual, Petrol, 17.7 kmplEXPIRED
Rs.8.00 Lakh*
 
Verna 2017-2020 VTVT 1.4 E1368 cc, Manual, Petrol, 19.1 kmplEXPIRED
Rs.8.18 Lakh*
 
Verna 2017-2020 VTVT 1.6 EX1591 cc, Manual, Petrol, 17.7 kmplEXPIRED
Rs.9.07 Lakh*
 
Verna 2017-2020 CRDi 1.6 E1582 cc, Manual, Diesel, 22.0 kmplEXPIREDLess than 1 month waiting
Rs.9.20 Lakh*
 
Verna 2017-2020 VTVT 1.4 EX1368 cc, Manual, Petrol, 19.1 kmplEXPIRED
Rs.9.33 Lakh*
 
Verna 2017-2020 CRDi 1.4 E1396 cc, Manual, Diesel, 24.0 kmplEXPIRED
Rs.9.43 Lakh*
 
Verna 2017-2020 CRDi 1.4 EX1396 cc, Manual, Diesel, 24.0 kmplEXPIRED
Rs.10.00 Lakh*
 
Verna 2017-2020 CRDi 1.6 EX1582 cc, Manual, Diesel, 22.0 kmplEXPIREDLess than 1 month waiting
Rs.10.00 Lakh*
 
Verna 2017-2020 VTVT 1.6 SX1591 cc, Manual, Petrol, 17.0 kmplEXPIRED
Rs.10.00 Lakh*
 
Verna 2017-2020 CRDi 1.6 AT EX1582 cc, Automatic, Diesel, 18.0 kmplEXPIREDLess than 1 month waiting
Rs.11.40 Lakh*
 
Verna 2017-2020 VTVT 1.6 AT EX1591 cc, Automatic, Petrol, 17.0 kmplEXPIREDLess than 1 month waiting
Rs.11.52 Lakh*
 
Verna 2017-2020 VTVT 1.6 AT SX Plus1591 cc, Automatic, Petrol, 17.0 kmplEXPIRED
Rs.11.63 Lakh*
 
Verna 2017-2020 CRDi 1.6 SX1582 cc, Manual, Diesel, 22.0 kmplEXPIRED
Rs.11.73 Lakh*
 
Verna 2017-2020 VTVT 1.6 SX Option1591 cc, Manual, Petrol, 17.0 kmplEXPIRED
Rs.11.73 Lakh*
 
Anniversary Edition Petrol1591 cc, Manual, Petrol, 17.7 kmplEXPIRED
Rs.11.79 Lakh*
 
Anniversary Edition Petrol AT1591 cc, Automatic, Petrol, 15.92 kmplEXPIRED
Rs.12.83 Lakh*
 
Verna 2017-2020 VTVT 1.6 AT SX Option1591 cc, Automatic, Petrol, 17.0 kmplEXPIRED
Rs.12.88 Lakh*
 
Verna 2017-2020 CRDi 1.6 SX Option1582 cc, Manual, Diesel, 22.0 kmplEXPIRED
Rs.13.02 Lakh*
 
Anniversary Edition Diesel1582 cc, Manual, Diesel, 24.75 kmplEXPIRED
Rs.13.03 Lakh*
 
Verna 2017-2020 CRDi 1.6 AT SX Plus1582 cc, Automatic, Diesel, 22.0 kmplEXPIRED
Rs.13.29 Lakh*
 
Verna 2017-2020 CRDi 1.6 AT SX Option1582 cc, Automatic, Diesel, 22.0 kmplEXPIRED
Rs.14.08 Lakh*
 
View All Variants
Hyundai Verna 2017-2020 Review
With a combined market share of near 80 per cent it's fairly clear that the Maruti Ciaz and the Honda City are the cars to beat in the C-segment, that is the mid-size sedan segment. The new Hyundai Verna is now longer, wider and wears a more sophisticated look than before.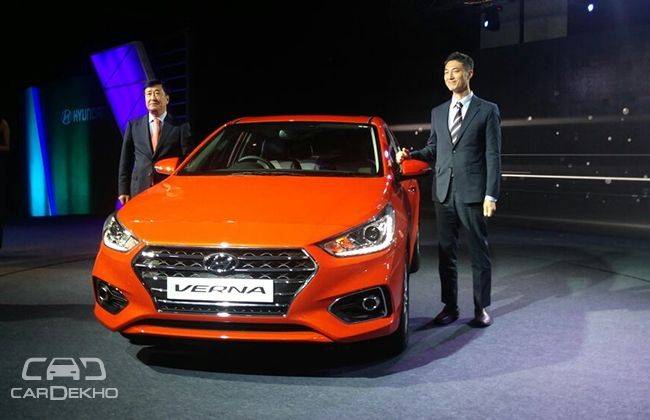 The story is not too different on the inside. Importantly, a completely new architecture under the skin of the 2017 Hyundai Verna also promises to solve one of our biggest critiques – loose dynamics. We headed to Kochi hoping to find out if this fifth generation of the Hyundai Verna has the ability to be crowned top of the segment.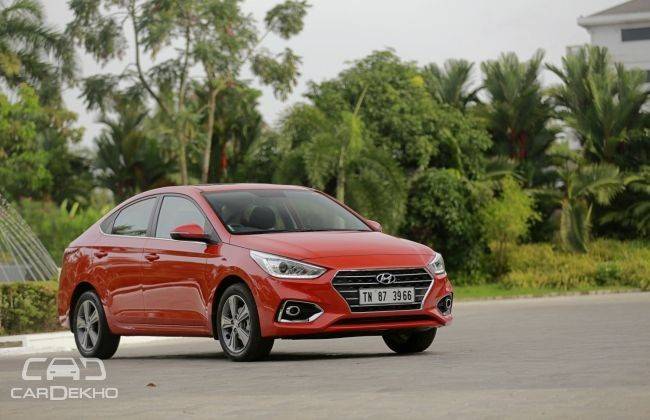 Exterior
For us, the first generation of Hyundai's fluidic design cars left little room for its successors to improve upon. That said, the designers of the new Hyundai Verna have still managed to come up with an attractive package that looks familiar and still fresh.

This face isn't new to the public eye and it first saw the light of day when the design was first revealed in China. In fact, it's already on sale in Russia under the 'Solaris' badge. For India, the 2017 Verna features projector headlamps with daytime running LEDs and projector fog lamps that bracket that new larger front grill.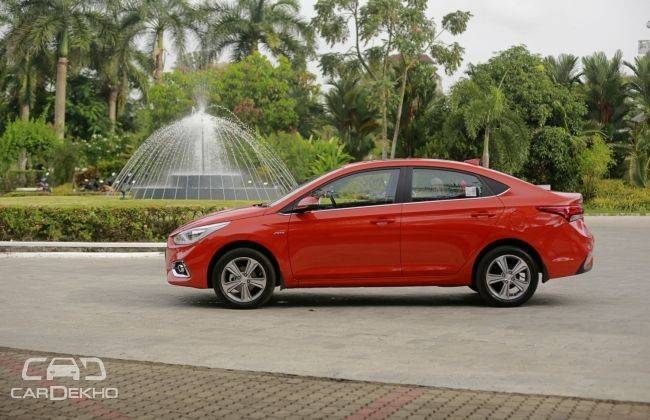 The shoulder accent runs just under the window line and reminds us of the Hyundai Elantra. And it should – the Hyundai Verna and Elantra now ride on the same K2 platform. This means in addition to looking a little more mature it's also a little larger than the outgoing model. The length has increased to 4440mm, that's 65mm longer than before. Width has increased to 1729mm, which is an increase of 29mm, and the wheelbase has increased by 30mm, to 2600mm. But, despite the sharper rake of the roof, height remains identical at 1475mm.

That roof gently slopes down to the rear of the car and from a lower vantage point it's almost like a notchback. The tail lights are similar to the Elantra in that they are also a three-unit design, but where the Elantra features circular LED elements, the new Verna sports semi-circular units. The new bumper finishes off the rather mature new look with a chunky dose of flair.

Exterior Comparison
Maruti Ciaz
Length (mm)
4505mm
Width (mm)
1730mm
Height (mm)
1485mm
Ground Clearance (mm)
170mm
Wheel Base (mm)
2650mm
Kerb Weight (kg)
1135kg
Boot Space Comparison
Maruti Ciaz
Volume
510-litres
Interior
The interiors of the Hyundai Verna were always one of its strong points and the new car carries on the same levels of quality in materials and plastics. The design though is very similar to what we have seen on other newer Hyundais, so it lacks any novelty and this is a little let down for an all new car. Compare it to the older Verna, and this design makes it seem a bit tacky and garish. Also, the switches both on the dash and the steering wheels all have very positive actions and feel solid and well built.

The central console features a large 7-inch touchscreen display that is thankfully paired with buttons for the separate functions. And this makes the experience in the 2017 Verna more fluid and less distracting than an all-touch-based system like in the Maruti Ciaz for example.

The front seats feature a nice soft cushioning with good lumbar and lateral support. The seats could have been a little longer to offer just a tad better underthigh support. As it stands they are not unsupportive but we would have liked just a little more support. The front seats also adjust for a really generous amount of legroom at the front. In fact, this car could make even a 6'5" auto journo like my colleague, Tushar, comfortably. Unfortunately, he wasn't with us on the drive but trust that we will put this to the test when we road test the car shortly.

The Verna 2017 is also the first car to feature air-cooled seats in the segment, and in the hot and humid weather in Kochi they were a god-sent.

Surprisingly, with the increase in dimensions, the room in the rear seat doesn't seem to have grown by much. There is sufficient legroom for full sized adults and sitting three abreast will also be a bit of a squeeze. It's nowhere near as generous as the Maruti Ciaz or the Honda City. Pampering here is by way of rear AC vents and a USB charger in all but the lowest E variant and that at least is a step in the right direction.

Technology, Features and Safety
The top end versions we drove featured everything from navigation to smartphone connectivity functions like Android Auto, Apple CarPlay and MirrorLink.

The new Verna also now gets an electric sunroof in keeping up with the trends in the segment and adds another first with the hands-free boot lid that opens if you stand within three feet from it for over three seconds with the key in your pocket.

This convenience feature is to help single shoppers whose hands are occupied with shopping bags. It also features a reverse parking camera and parking sensors but misses out on all-LED headlamps and rain-sensing wipers that are available in the Honda City as well. The top end variants of the 2017 Hyundai Verna also continue to get 6 airbags while dual airbags and ABS is standard across the range.

Another thoughtful feature is an app called Hyundai Auto Link that is standard in the top end SX(O) variants. This app was developed at Hyundai's R&D centre in Hyderabad. The app pairs the car to your smart phone and gives you complete vehicular information from real time data like engine speed, engine load and braking habits, to other information that can be accessed from the comfort of your home as well like booking a service or checking up on your driving history or even storing your last parking location.
Safety

Dual front airbags, ABS and ISOFIX come as standard across all variants of the 2017 Hyundai Verna. The EX variant adds reverse parking sensors, a rear parking camera, projector fog lights and auto-headlamps, along with impact/speed sensing auto door locks and a rear defogger with timer. The SX variant of the new Verna adds an auto-dimming interior rearview mirror and height-adjustable front seatbelts, while the range-topping SX (O) gets side and curtain airbags, for a total of 6 airbags.
Safety Comparison
Maruti Ciaz
Anti-Lock Braking System
Standard
Central Locking
Standard
Power Door Locks
Standard
Child Safety Locks
Standard
Anti-Theft Alarm
Not Available
No of Airbags
-
Day & Night Rear View Mirror
Standard
Performance
The 2017 Verna now come with just two engine options, petrol and diesel, and both are the more powerful 1.6-litre engines. The VTVT petrol makes 123PS of power and 151Nm of torque while the CRDi diesel makes 128PS and 260NM of torque. Manual and automatic transmissions are available with both engines and in the interest of better driveability and efficiency, they are both 6-speed units.
Diesel

Performance Comparison (Diesel)
Maruti Ciaz
Power
88.5bhp@4000rpm
Torque (Nm)
200Nm@1750rpm
Engine Displacement (cc)
1248 cc
Transmission
Manual
Top Speed (kmph)
190 kmph
0-100 Acceleration (sec)
15 Seconds
Kerb Weight (kg)
1135kg
Fuel Efficiency (ARAI)
28.09kmpl
Power Weight Ratio
77.97bhp/ton
The 1.6 CRDi engine of the 2017 Hyundai Verna is as powerful as the outgoing model but now puts out more torque at lower rpm. This means that even at low city speeds around 30kmph you can leave the transmission in say 3rd and it will pull away cleanly when you press the gas pedal. There's just a gentle step up in acceleration when the turbo comes into its own at around 1700-1800rpm. And the great thing is that the engine doesn't feel breathless below that point either.

It is a little clattery, though, and at just above idle and between 1100-1800 rpm at medium throttle inputs, it's quite audible inside the cabin. In all other rev ranges the engine does quieten down to a much more bearable note. Hyundai is claiming that the diesel Verna should return 24.75kmpl for the manual transmission and 21.02kmpl from the auto box. The previous generation Hyundai Verna was rated at 23.9 kmpl for the manual, and 19.08 kmpl for the auto.
Petrol

Performance Comparison (Petrol)
Maruti Ciaz
Power
91.1bhp@6000rpm
Torque (Nm)
130Nm@4000rpm
Engine Displacement (cc)
1373 cc
Transmission
Manual
Top Speed (kmph)
190 kmph
0-100 Acceleration (sec)
14 Seconds
Kerb Weight (kg)
1010kg
Fuel Efficiency (ARAI)
20.73kmpl
Power Weight Ratio
90.19bhp/ton
The 123PS petrol Verna is undoubtedly the quieter of the two and considering that it has been tuned for better driveability in town it doesn't like being rushed either. If calm and collected is your mood then it will reward you with smooth progress with as much as 130.5Nm of its 151Nm total available from as low as 1500rpm. In fact, with the 6-speed manual transmission we were even able to pull away (very slowly) from as low as 25kmph in sixth gear without so much as a complaint from either the engine or the transmission.

If you need to make rapid progress, for example when we had to make it back to the hotel before they shut the buffet, then you need to keep the petrol spinning over 3500-5000rpm which is this engine's sweet spot. Hyundai is claiming 17.7kmpl for the manual and 15.92 kmpl for the automatic petrol. This is marginally higher than the Verna 4S's 17.01 kmpl for the manual and 15.74 kmpl for the previous 4-speed auto.
Automatic Gearboxes

We didn't get a chance to drive the diesel manual 2017 Verna but the 6-speed conventional torque converter automatic transmission was a pleasant surprise. Torque converter transmissions were called 'slush boxes' on account of their slow responsiveness and disconnected feeling at the throttle pedal. But I really liked this Hyundai iteration. It's responsive and quick and when driving around town and light or medium throttle inputs feel very direct and connected.

Only when you floor the pedal do you start to feel some slip and you can hear the transmission struggling to keep up with the engine revs. You can also switch the transmission into manual mode if you are in the mood for some spirited driving, where it will hold a selected gear, but we preferred to leave it in auto mode, which seems to make the most of the torque from the diesel engine and still gives you the buttery smooth gear changes that torque converter gear boxes are known for. A claimed mileage of over 21kmpl (diesel) makes it sound almost too good to be true.

Handling and ride quality
The one serious shortcoming in the old Hyundai Verna was that it wasn't a confident high-speed machine. With the new K2 platform and changes to both the front and rear suspension setup, Hyundai has completely transformed the driving experience in the 2017 Verna. The steering is still fairly light in town, making negotiating the tight traffic-filled street of Kochi a breeze, and when speeds increased out on the highway a nice reassuring weight enters the equation. The steering also feels quite direct and this really helps with letting you know what's happening at the front wheels.

It's very well behaved around corners too. The chassis stays fairly flat and though there is some roll when really pushed it's always predictable and controlled. The brake pedal is quite firm and though it is very linear and has more than enough braking force we do wish it was a little lighter action.

Comfort hasn't been compromised as the ride quality is still pliant in the new Verna. It's on the firm side but yet manages to absorb bumps and imperfections in the road. This is down to Hyundai doing a lot of work on the suspension. It's changed the setup of the McPherson linkages up front to limit the horizontal displacement that occurs when the front wheels go over sharp bumps and in the rear, the angle of the shocks have been changed to a more vertical design to better improve the backseat ride. It has worked.
Variants
The all-new Hyundai Verna is available in 12 variants.
Verdict
With a range from Rs 7.99 – 12.39 lakh the new Hyundai Verna has been priced very competitively, matching the diesel prices of the Maruti Ciaz and undercutting the Honda City entirely. Its feature set is likely to lure more people as it tops the electric sunroof with new segment-firsts like the hands-free boot lid and the air-cooled front seats. In this new avatar Hyundai has brought a refreshing maturity to the design of the 2017 Verna.
The new dynamics have now found a great balance between good handling and great ride quality, solving one of the major gripes we had with the old car. The three year/unlimited kilometre warranty also makes it a very sensible purchase. The new Verna's one serious stumbling block, is the lack of room in the rear and will make it far from ideal for users who are looking at spending most of their time in the backseat. But even so, the 2017 Hyundai Verna seems perfectly poised to make mid-size sedan car-buyers head to Hyundai showrooms before signing on the dotted line.
Pros & Cons of Hyundai Verna 2017-2020
CarDekho Experts:
"The new dynamics have now found a great balance between good handling and great ride quality, solving one of the major gripes we had with the old car."
Things We Like
The new Verna offers premium build quality. Plastics and materials continue to set the benchmarks we expect from Hyundai.
Unsurprisingly, the Hyundai Verna is feature loaded - Touchscreen with Android Auto and Apple Carplay, sunroof, ventilated seats, hands-free boot release.
The 2017 Verna's petrol and diesel engines offer easy driveability and good refinement. 6-speed AT available with both engines.
The new Verna's standard safety kit includes dual front airbags, ABS and ISOFIX. Top-end variant gets 6 airbags.
Comfortable ride. The 2017 Verna stays stable as speeds pickup and through corners as well.
Things We Don't Like
The Hyundai Verna diesel AT is unavailable in range-topping SX (O) grade.
Premium as the new Verna's interior is, its cabin design is a bit bland and lacks excitement.
The standout features of the 2017 Verna are limited to the top-end variants. Base grade doesn't even get a head-unit or speakers.
The rear row in the new Verna doesn't impress. Average rear seat headroom and legroom for the size.
Stand Out Features
The electric sunroof makes the 2017 Verna feel airier. Also useful to dissipate heat in the summer. 

Opt for the SX or SX (O) variants and the 2017 Hyundai Verna gets a 7.0-inch touchscreen infotainment system with Android Auto, Apple CarPlay and MirrorLink connectivity

The new Verna is the only car in the segment to get ventilated front seats that help keep your back cool in our hot climate. No more sweat stains!

Apart from projector headlights, the 2017 Hyundai Verna gets projector fog lights that improve low-level visibility through fog/mist/rains.

Like the Elantra, the 2017 Hyundai Verna gets the hands-free boot access feature that allows easy boot access when your hands are full of luggage.
Specification of Hyundai Verna 2017-2020
| | |
| --- | --- |
| ARAI Mileage | 17.7 kmpl |
| Fuel Type | Petrol |
| Engine Displacement (cc) | 1591 |
| No. of cylinder | 4 |
| Max Power (bhp@rpm) | 121.3bhp@6400rpm |
| Max Torque (nm@rpm) | 151nm@4850rpm |
| Seating Capacity | 5 |
| TransmissionType | Manual |
| Boot Space (Litres) | 480 ers |
| Fuel Tank Capacity | 45.0 |
| Body Type | Sedan |
| Ground Clearance Unladen | 165mm |
Hyundai Verna 2017-2020 User Reviews
All (653)
Looks (202)
Comfort (190)
Mileage (127)
Engine (129)
Interior (95)
Space (43)
Price (74)
More ...
LATEST
HELPFUL
VERIFIED
CRITICAL
Jabardast performance and everything was good in Verna 1.6 SX(o) next-gen. Milage is very bad maintenance is depended on your usage.

Very good car and very stylish look, good all features and performance, and safety is too good and I have my own car Verna top model SX option.

The car delivery experience was excellent. All the staff is very kind and generous. Talking about the car, it's just amazing. All the things I dreamt about my new car are...Read More

I drive Verna SX(o) diesel 1.6, I forget all other cars. Verna is the best sedan, I ever drive, performance, the driving quality, road presence etc is very good, not...Read More

I love my car just because of it like a racing horse. I think about it all the time when driving car loves you, Verna.

View All Verna 2017-2020 Reviews
Hyundai Verna 2017-2020 Latest Update
Hyundai Verna Variants & Price: The Hyundai Verna is available in five variants: E, EX, SX, SX+ and SX(O). The base E variant with a petrol engine is priced at Rs 8.08 lakh whereas the corresponding diesel variant costs Rs 9.33 lakh for diesel. The top-spec SX(O) AT, on the other hand, is priced at Rs 12.84 lakh for the petrol version and Rs 14.04 lakh for diesel version.
Hyundai Verna Engine: The Hyundai Verna is available with four engine options: 1.4-litre petrol,1.4-litre diesel, 1.6-litre petrol and 1.6-litre diesel. The 1.4-litre petrol engine produces 100PS/132Nm, while the 1.6-litre petrol engine churns out 123PS/151Nm. Power figures for the 1.4-litre and 1.6-litre diesel engine stand at 90PS/220Nm and 128PS/259Nm, respectively. Both 1.6-litre engines are offered with either a 6-speed manual or a 6-speed automatic gearbox, while the 1.4-litre engines are available only with a 6-speed MT.
Hyundai Verna Features: As far as features are concerned, the Verna gets automatic projector headlamps with LED daytime running lights (DRLs), electric sunroof, automatic climate control, 7-inch touchscreen infotainment system with Apple CarPlay, Android Auto and Mirrorlink, ventilated front seats, rear parking camera with sensors and dynamic guidelines and cruise control, among others.
In terms of safety, the Verna packs dual front airbags, ABS, front seatbelts with pretensioners and ISOFIX child seat anchors as standard, across the range. However, the top variant gets four additional airbags over standard equipment.
Hyundai Verna Rivals: The Verna goes up against the likes of the Honda City, Maruti Suzuki Ciaz, Toyota Yaris, Volkswagen Vento and the Skoda Rapid.
Hyundai Verna 2020: Hyundai has revealed the facelifted Verna and has opened bookings.
Read More
Must read articles before buying Hyundai Verna 2017-2020
Hyundai Verna 2017-2020 Videos
Hyundai Verna 2017-2020 2023 has 4 video of its detailed review, pros & cons, comparison & variant explained,test drive experience, features, specs, interior & exterior details and more. Watch our Latest Hindi video of Hyundai Verna 2017-2020 to know price, safety features & more.
8:12

Hyundai Verna Variants Explained

Aug 25, 2017

10:23

Hyundai Verna vs Honda City vs Maruti Suzuki Ciaz - Variants Compared

Sep 13, 2017

4:38

Hyundai Verna Hits & Misses

Sep 27, 2017

10:57

2017 Hyundai Verna | Petrol and Diesel | First Drive Review | ZigWheels.com

Aug 31, 2017
Hyundai Verna 2017-2020 Mileage
The claimed ARAI mileage: Hyundai Verna 2017-2020 Diesel is 24.75 kmpl | Hyundai Verna 2017-2020 Petrol is 19.1 kmpl.The claimed ARAI mileage for the automatic variants: Hyundai Verna 2017-2020 Diesel is 22.0 kmpl | Hyundai Verna 2017-2020 Petrol is 17.0 kmpl.
| Fuel Type | Transmission | ARAI Mileage |
| --- | --- | --- |
| Diesel | Manual | 24.75 kmpl |
| Diesel | Automatic | 22.0 kmpl |
| Petrol | Manual | 19.1 kmpl |
| Petrol | Automatic | 17.0 kmpl |
Hyundai Verna 2017-2020 News
Hyundai Verna 2017-2020 Road Test

Are you Confused?
Ask anything & get answer in 48 hours
*Ex-showroom price in New Delhi
×
We need your city to customize your experience