Waiting Period For Mahindra Cars: Will You Get Delivery By Navratri?
Modified On Sep 19, 2018 04:58 PM By CarDekho for Mahindra XUV500
You may have to wait as long as five weeks to get your hands on a Mahindra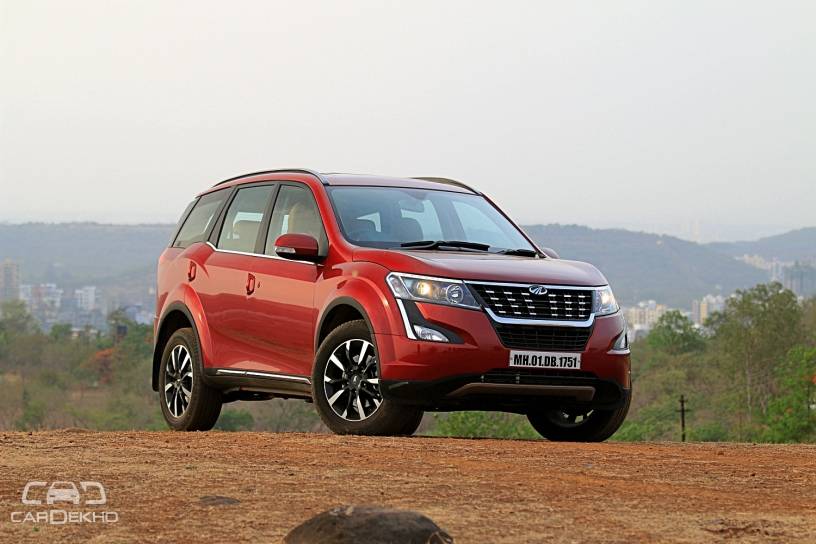 The festival season is already underway and a lot of you might be looking to a get your new car delivered in the most auspicious Navratri period in October. And if it's a budget SUV you are looking for, then we're sure you've shortlisted one of the many offerings from homegrown carmaker Mahindra. Read on to find out if you can drive that new Mahindra home during Navratri.
Note: Waiting periods last updated on 19 September 2018. Cars not mentioned in the table, apart from the Marazzo, attract a waiting period of fewer than 10 days
Delhi-NCR: Those living in the nation's capital can get a Mahindra car by Navratri if they book one soon. The KUV100, TUV300 and the TUV300 Plus currently attract a waiting period of two weeks. The waiting period for both versions of the TUV is, in fact, lower than the KUV100 cities such as Gurugram, Noida and Ghaziabad. Currently, the KUV100 attracts a waiting period of 15 days in Noida.
Mumbai: Alas, it is unlikely that Mumbaikars will get their hands on a Mahindra by Navratri since all the models attract a waiting period of around 4-5 weeks.
Bengaluru: Like in Mumbai, customers in Bengaluru have to wait for around a month. So, expect to get your hands on one post-Navratri only.

Hyderabad: Those living in Hyderabad can get their cars by Navratri, provided they book one immediately. Customers in Hyderabad need to wait for just three weeks to get their cars delivered. In fact, the KUV100 attracts a waiting period of just two weeks.
Chennai: The waiting period for cars in Chennai extends up to 20 days (around three weeks). Hence, if you are interested in buying a Mahindra, you better hurry up and order one now to get it delivered by Navratri.
Also Read: Mahindra S201 To Offer A Sunroof & Marazzo's 1.5-litre Diesel Engine
Jaipur: Things look better for the residents of the Pink City as all Mahindra cars are available within 15 days of booking. So even if you decide to book a car next week, you can get your hands on your favourite Mahindra by Navratri.
Ahmedabad: Those living in Ahmedabad don't have to worry about getting their cars delivered by Navratri as all Mahindra cars are readily available there.
Lucknow: Like Ahmedabad, all Mahindra cars, except the TUV300, are readily available in Lucknow as well. The TUV300 attracts a waiting period of 45 days.

Kolkata: The residents of Kolkata can get their cars by Navratri only if they book now as there is a waiting period of three weeks for the KUV100, TUV300, TUV300 Plus and the XUV500.
Chandigarh: All the cars are readily available in Chandigarh, so you can walk in and buy your favourite Mahindra car during Navratri.
Indore: Residents of India's "cleanest city" can get their hands on their favourite Mahindra car by Navratri only if they book a car now. There is a waiting period of 20 days on all Mahindra cars in Indore. So, hurry up!

The waiting periods for Mahindra cars in most of the cities is not much, so buyers can, in fact, get their preferred model by Navratri. However, there are some cities like Mumbai, Bengaluru, Lucknow (for TUV300) where the waiting periods are around one month. Hence, we suggest prospective customers residing in these cities to contact their nearest Mahindra dealer to find out if they can expedite deliveries by Navratri or around Diwali as they anticipate high volume sales during this period.
Also Read: Mahindra Marazzo Accessories: Front Parking Sensors, Heads-up Display & More
| | | | | |
| --- | --- | --- | --- | --- |
| | | | | |
| Delhi | 2 weeks | 2 weeks | 2 weeks | 2 weeks |
| Gurugram | No waiting | No waiting | No waiting | No waiting |
| Noida | 15 days | No waiting | No waiting | No waiting |
| Mumbai | 5 weeks | 5 weeks | 4 weeks | 5 weeks |
| Bengaluru | 1 month | 1 month | 1 month | 1 month |
| Hyderabad | 2 weeks | 3 weeks | 3 weeks | 3 weeks |
| Chennai | 3 weeks | 20 days | 3 weeks | 20 days |
| Jaipur | 15 days | 15 days | 15 days | 15 days |
| Ahmedabad | No waiting | No waiting | No waiting | No waiting |
| Lucknow | No waiting | 45 days | No waiting | No waiting |
| Kolkata | 3 weeks | 3 weeks | 3 weeks | 3 weeks |
| Chandigarh | No waiting | No waiting | No waiting | No waiting |
| Indore | 20 days | 20 days | 20 days | 20 days |
Read More on : Mahindra XUV500 Automatic
Petrol13.85 kmpl
Diesel14.0 kmpl
TransmissionManual/Automatic
*Ex-showroom Price in New Delhi