Mahindra XUV500
Change car
Rs.12 - 20.07 Lakh*
This car model has expired
Key Specs of Mahindra XUV500
| | |
| --- | --- |
| Engine | 1997 cc - 2179 cc |
| BHP | 138.0 - 155.0 Bhp |
| Seating Capacity | 7 |
| Drive Type | FWD / AWD |
| Mileage | 16.0 kmpl |
| Fuel | Diesel/Petrol |
Explore Price of XUV500 Alternatives

Mahindra XUV500 price list (Variants)
XUV500 W4 1.99 mHawk1997 cc, Manual, Diesel, 16.0 kmplEXPIRED
Rs.12 Lakh*
 
XUV500 W42179 cc, Manual, Diesel, 16.0 kmplEXPIRED
Rs.12.23 Lakh*
 
XUV500 W3 BSIV2179 cc, Manual, Diesel, 15.1 kmplEXPIREDLess than 1 month waiting
Rs.12.31 Lakh*
 
XUV500 W5 BSIV2179 cc, Manual, Diesel, 15.1 kmplEXPIREDLess than 1 month waiting
Rs.12.91 Lakh*
 
XUV500 W6 1.99 mHawk1997 cc, Manual, Diesel, 16.0 kmplEXPIRED
Rs.13.38 Lakh*
 
XUV500 W62179 cc, Manual, Diesel, 16.0 kmplEXPIRED
Rs.13.63 Lakh*
 
XUV500 W7 BSIV2179 cc, Manual, Diesel, 15.1 kmplEXPIREDLess than 1 month waiting
Rs.14.18 Lakh*
 
XUV500 W52179 cc, Manual, DieselEXPIRED
Rs.14.23 Lakh*
 
XUV500 AT W6 2WD2179 cc, Automatic, Diesel, 16.0 kmplEXPIRED
Rs.14.29 Lakh*
 
XUV500 AT W6 1.99 mHawk1997 cc, Automatic, Diesel, 16.0 kmplEXPIRED
Rs.14.51 Lakh*
 
XUV500 W8 1.99 mHawk1997 cc, Manual, Diesel, 16.0 kmplEXPIRED
Rs.15.11 Lakh*
 
XUV500 W8 2WD2179 cc, Manual, Diesel, 16.0 kmplEXPIRED
Rs.15.38 Lakh*
 
XUV500 W7 AT BSIV2179 cc, Automatic, Diesel, 15.1 kmplEXPIREDLess than 1 month waiting
Rs.15.39 Lakh*
 
XUV500 AT G 2.2 MHAWK2179 cc, Automatic, Petrol, 16.0 kmplEXPIRED
Rs.15.49 Lakh*
 
XUV500 W72179 cc, Manual, Diesel, 15.1 kmplEXPIRED
Rs.15.56 Lakh*
 
XUV500 W9 1.991997 cc, Manual, Diesel, 16.0 kmplEXPIRED
Rs.15.59 Lakh*
 
XUV500 W9 BSIV2179 cc, Manual, Diesel, 15.1 kmplEXPIREDLess than 1 month waiting
Rs.15.89 Lakh*
 
XUV500 AT W8 1.99 mHawk1997 cc, Automatic, Diesel, 16.0 kmplEXPIRED
Rs.15.94 Lakh*
 
XUV500 AT W8 FWD2179 cc, Automatic, Diesel, 16.0 kmplEXPIRED
Rs.15.94 Lakh*
 
XUV500 W10 1.99 mHawk1997 cc, Manual, Diesel, 16.0 kmplEXPIRED
Rs.15.98 Lakh*
 
XUV500 W8 AWD2179 cc, Manual, Diesel, 16.0 kmplEXPIRED
Rs.16.04 Lakh*
 
XUV500 G AT2179 cc, Automatic, Petrol, 11.1 kmplEXPIRED
Rs.16.10 Lakh*
 
XUV500 W10 2WD2179 cc, Manual, Diesel, 16.0 kmplEXPIRED
Rs.16.29 Lakh*
 
XUV500 AT W9 2WD2179 cc, Automatic, Diesel, 16.0 kmplEXPIRED
Rs.16.53 Lakh*
 
XUV500 Sportz MT AWD2179 cc, Manual, Diesel, 16.0 kmplEXPIRED
Rs.16.53 Lakh*
 
XUV500 W9 AT 1.991997 cc, Automatic, Diesel, 16.0 kmplEXPIRED
Rs.16.67 Lakh*
 
XUV500 W7 AT2179 cc, Automatic, Diesel, 15.1 kmplEXPIRED
Rs.16.76 Lakh*
 
XUV500 W9 AT BSIV2179 cc, Automatic, Diesel, 15.1 kmplEXPIRED
Rs.17.10 Lakh*
 
XUV500 W10 AWD2179 cc, Manual, Diesel, 16.0 kmplEXPIRED
Rs.17.14 Lakh*
 
XUV500 W11 BSIV2179 cc, Manual, Diesel, 15.1 kmplEXPIRED
Rs.17.16 Lakh*
 
XUV500 W92179 cc, Manual, Diesel, 15.1 kmplEXPIRED
Rs.17.30 Lakh*
 
XUV500 AT W10 FWD2179 cc, Automatic, Diesel, 16.0 kmplEXPIRED
Rs.17.32 Lakh*
 
XUV500 R W10 FWD2179 cc, Manual, Diesel, 16.0 kmplEXPIRED
Rs.17.32 Lakh*
 
XUV500 AT W10 1.99 mHawk1997 cc, Automatic, Diesel, 16.0 kmplEXPIRED
Rs.17.32 Lakh*
 
XUV500 W11 Option BSIV2179 cc, Manual, Diesel, 15.1 kmplEXPIREDLess than 1 month waiting
Rs.17.41 Lakh*
 
XUV500 Sportz AT AWD2179 cc, Automatic, Diesel, 16.0 kmplEXPIRED
Rs.17.56 Lakh*
 
XUV500 AT W10 AWD2179 cc, Automatic, Diesel, 16.0 kmplEXPIRED
Rs.18.03 Lakh*
 
XUV500 W11 AT BSIV2179 cc, Automatic, Diesel, 15.1 kmplEXPIREDLess than 1 month waiting
Rs.18.38 Lakh*
 
XUV500 W9 AT2179 cc, Automatic, Diesel, 15.1 kmplEXPIRED
Rs.18.51 Lakh*
 
XUV500 W11 Option AWD2179 cc, Manual, Diesel, 15.1 kmplEXPIREDLess than 1 month waiting
Rs.18.52 Lakh*
 
XUV500 W11 Option AT BSIV2179 cc, Automatic, Diesel, 15.1 kmplEXPIREDLess than 1 month waiting
Rs.18.63 Lakh*
 
XUV500 W11 Option2179 cc, Manual, Diesel, 15.1 kmplEXPIRED
Rs.18.84 Lakh*
 
XUV500 W11 Option AT AWD2179 cc, Automatic, Diesel, 15.1 kmplEXPIRED
Rs.19.71 Lakh*
 
XUV500 W9 2WD2179 cc, Manual, Diesel, 16.0 kmplEXPIRED
Rs.20 Lakh*
 
XUV500 W11 Option AT2179 cc, Automatic, Diesel, 15.1 kmplEXPIRED
Rs.20.07 Lakh*
 
View All Variants
Mahindra XUV500 Review
Mahindra's flagship, the 'cheetah-inspired' XUV500 has received its second facelift in seven years of existence. It still plays on its strengths which comprised of a good-looking, feature-loaded package, coupled with grunty performance. So what has this facelift brought to the table?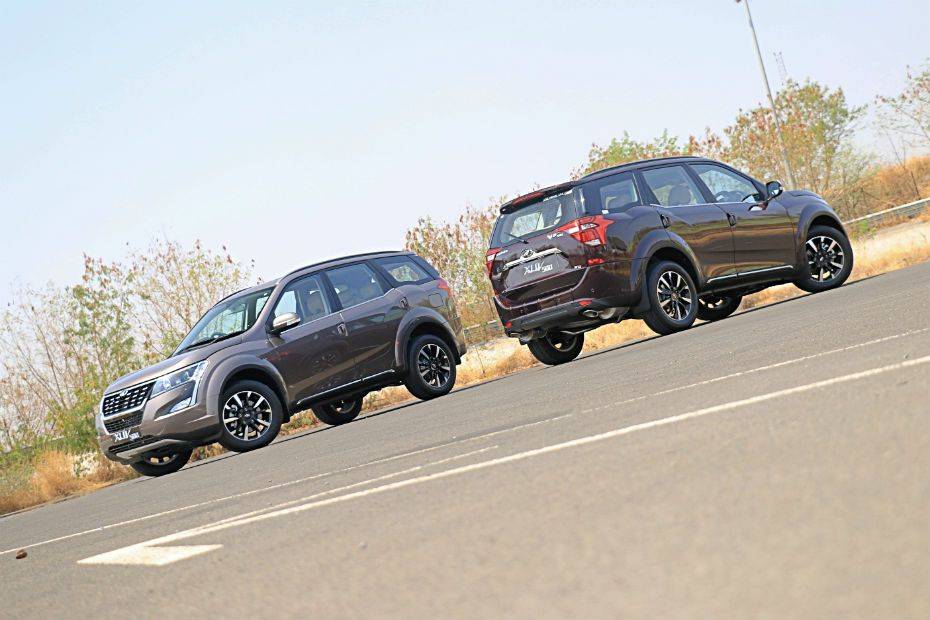 Mahindra introduced the XUV500 as its flagship over the Scorpio seven years back. It flaunted some segment-first features, car-like driving dynamics and could seat seven in a luxurious setting, that too at a price point where it actually felt, "value for money". But while there were initial apprehensions among the buyers about spending more than Rs 12 lakh for the Mahindra badge, the XUV did brilliantly to subside them over time. Fast forward seven years and the Rs 10 lakh to Rs 20 lakh price bracket has gotten some serious competitors. That meant the XUV500 became just another face in the crowd.
To regain the shine once again before a new generation takes over by 2020, Mahindra has dealt some bling on the outside and added a bit more power under the hood of the XUV500. To see how it all felt, we drove the 2018 XUV500 facelift at the automaker's test track in Chakan. How much of a better package is it than the one it replaces?
Exterior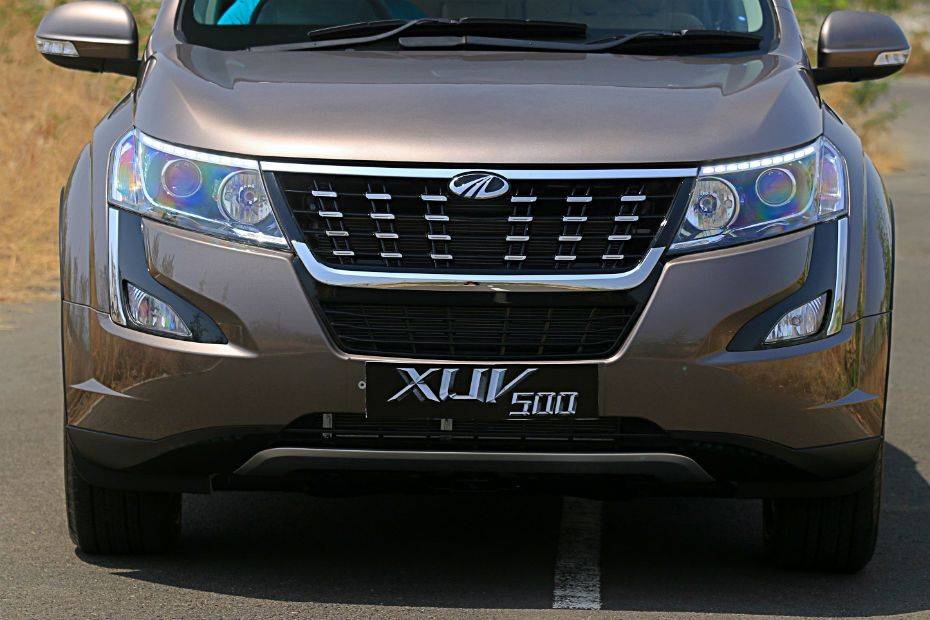 Being a facelift, the face of the 2018 XUV500 is where the major changes lie. The fang-like vertical ducts in the grille have been replaced by multiple pint-sized chrome elements. The motive was to give it a premium look, so there's a liberal use of chrome which can also be seen at the top and the bottom of the grille with some flanking the fog lamp bezels extending into the headlamps. The static bending projector headlights get daytime running LEDs to form a halo effect since they are aligned with the chrome strip on top of the grille. The power bulges at either end of the bonnet remain as is and aid in enhancing the menacing character it aspires for. In retrospect, the new XUV500's front end looks cluttered against the cleaner fascia of the outgoing model. But we're sure there are some who would appreciate the XUV's new face.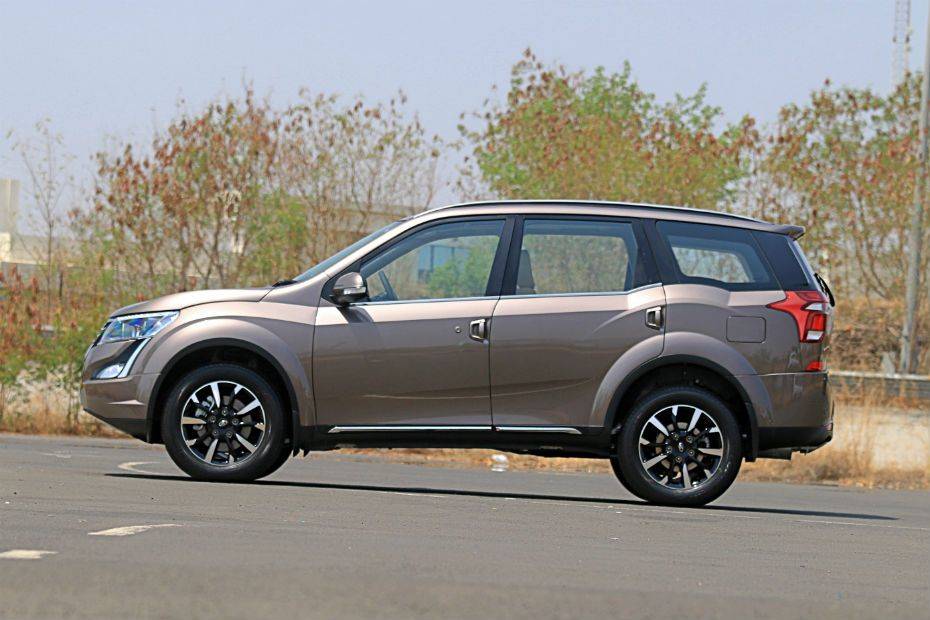 There are no fixes on the sides, apart from the new 18-inch dual-tone machine cut alloy wheels housed inside the bulging fenders, making the XUV500 now look sportier and more upmarket. Oh! You can't miss the chrome strip at the bottom of the doors.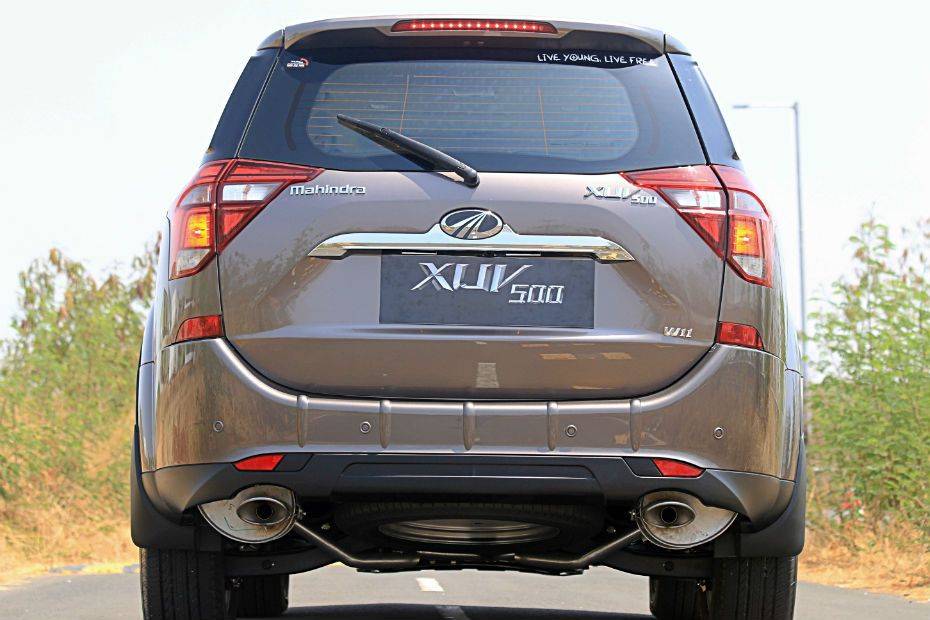 At the back, instead of the long vertical units, it gets wing-shaped wraparound tail lights. The tribal insignia easter egg on illuminating units has been completely done away with. The roof spoiler gets extended and the chrome strip placed above the number plate housing has a different design now. All in all, the XUV500's aggression is still very much intact even with the tweaked exterior design.
Interior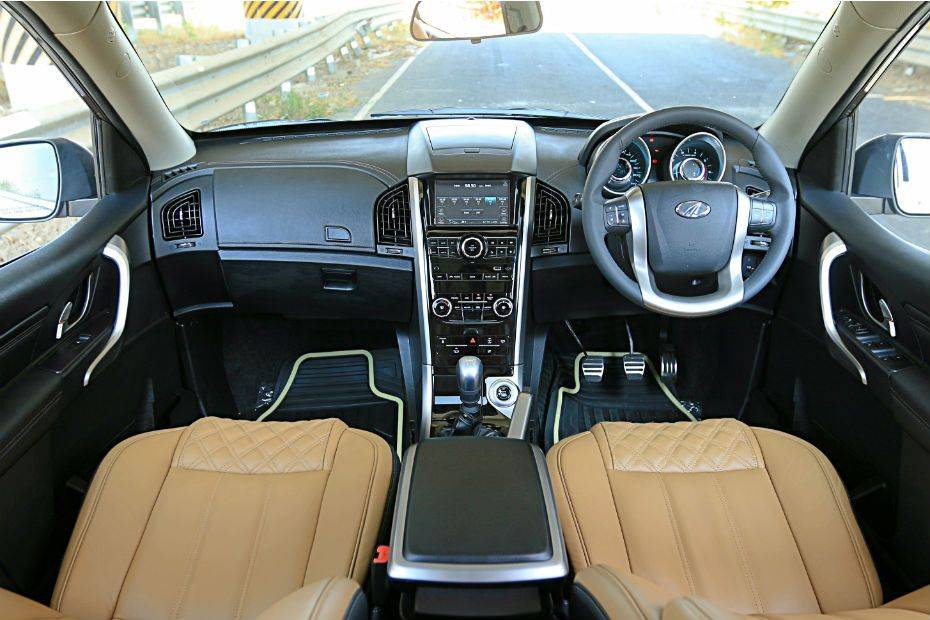 The layout of the all-black dashboard remains unchanged. However, the plasticky top of the dash is now draped with leather trims while the central console is finished in piano black which is nicer to touch. The seats have also become more opulent than before with the inclusion of quilted tan leather. So, sinking in for a nap won't take long. That said, if spoiled, which is a given, cleaning these seats is not going to be an easy task.

Also, what's (unfortunately) been retained from the outgoing model is the quality of materials. While these were acceptable in 2011 when the XUV500 was introduced, today, they feel out of place in a 20 lakh Rupee SUV. The crinkly and squeaky plastics, grainy finish to some of the trim and average fitment quality don't feel right when you're paying this kind of money.
| | |
| --- | --- |
| Measurements - Front Seat | |
| Parameter | |
| Legroom (min-max) | 980-1125mm |
| Knee room (min-max) | 610-850mm |
| Seat base length | 475mm |
| Seat base width | 515mm |
| Seat back height | 575mm |
| Headroom (min-max) | 900-930mm |
| Cabin width | 1380mm |
Cabin space, though, is generous. The front seats are accommodating of larger frames and even with the black interior, the contrasting silver trim, tan upholstery and large glass area make the cabin feel airy. At 610mm-850mm, the XUV500's front kneeroom is similar to that of the Maruti Suzuki Baleno's. That said, while there is adequate space, really tall occupants (over 6ft in height), may find their knee jutting into the dashboard.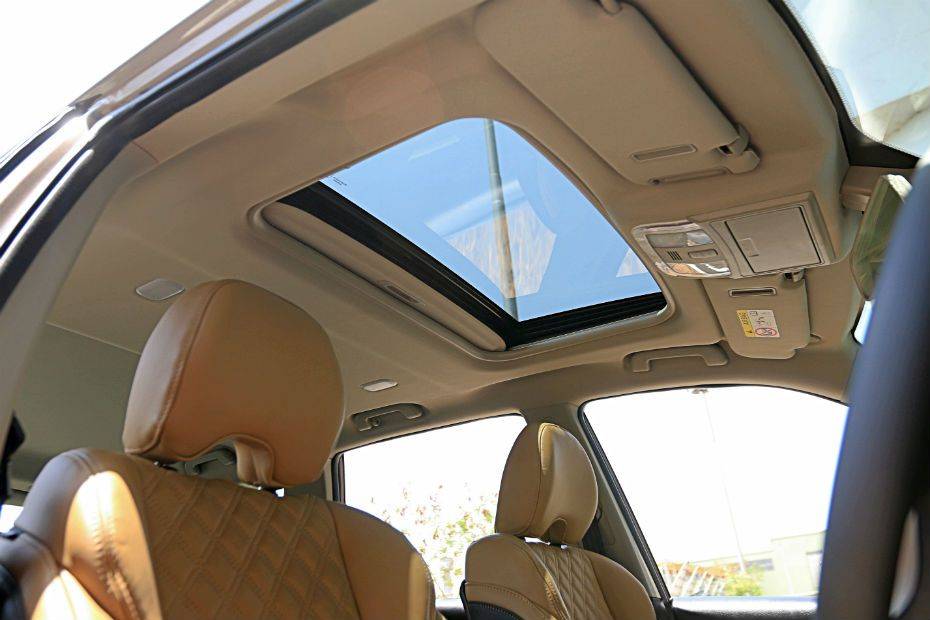 | | |
| --- | --- |
| Measurements - Second Row | |
| Parameter | |
| Shoulder room | 1460mm |
| Headroom | 955mm |
| Seat base length | 460mm |
| Seat base width | 1355mm |
| Seat back height | 600mm |
| Knee room (min-max) | 670-875mm |
Rear seat occupants will find cabin space to be generous as well. With 1460mm of shoulder room, the XUV500's 2nd row is roomy enough for three occupants. However, the rear central armrest does jut out of the backrest a bit, which will make matters a little uncomfortable for the middle occupant.
| | |
| --- | --- |
| Measurements - Third Row | |
| Parameter | |
| Shoulder room | 1245mm |
| Headroom | 840mm |
| Seat base length | 455mm |
| Seat base width | 1000mm |
| Seat back height | 585mm |
| Knee room (min-max) | 530-635mm |
The last row is a place best left for kids. While the smaller section of the 60:40 split 2nd row seat does tumble forward to make ingress easier, the middle row seat doesn't slide. So even if the middle row occupant could take the seat further ahead to free up space in the last row, he/she doesn't have the option.
At 1245mm, there's enough shoulder room for two occupants (similar shoulder space as the Maruti's Swift's rear row). However, kneeroom stands at just 530mm-635mm, which is too cramped for adults. Fortunately, the seat base is long enough at 455mm but given how close the seat is to the floor, you will find yourself sitting knees up. Comforts for the last row occupants include cupholders, rear AC vents, adjustable headrests and they even proper 3-point seatbelts.
On the goodies front, nearly every feature has been carried forward from the pre-update model, such as an 8-way power adjustable driver's seat, the aluminium floor pedals, instrument cluster, electric sunroof and the rake/reach-adjustable steering wheel. The central console still sports the push-start button at its base with a lid-covered storage bin beside it. Speaking of storage, the spaces might be aplenty with large door bins and one on top of the central infotainment screen, but haven't been ergonomically sorted. My five-inch phone couldn't fit into the top compartment of the central armrest storage. It did fit into the bigger recess, though, which has cooling function, but this space would otherwise be occupied by beverages to be cooled. I could always stow my phone into the glove compartments, but reaching for them proved to be taxing while I was harnessed with the belts. Retrieving it from there won't be a cakewalk either.
Technology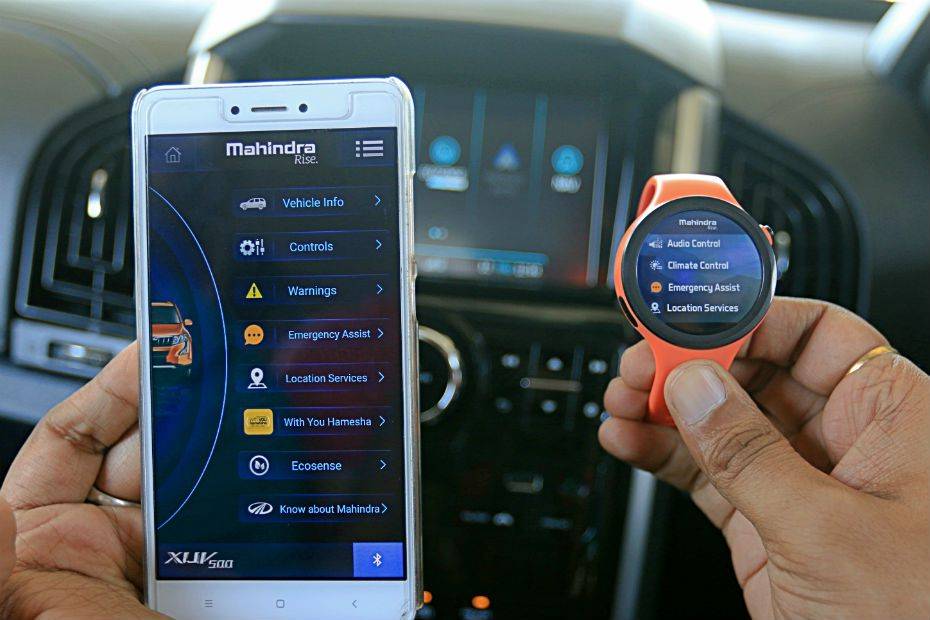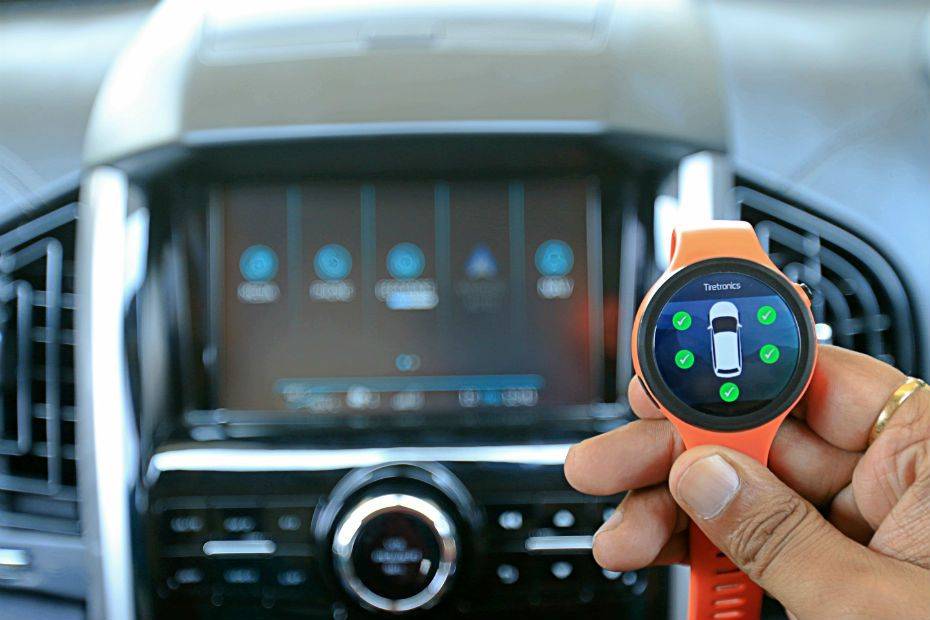 There's no update to the 7-inch infotainment unit, but it can now be paired with not only a smartphone but also to a smartwatch. The Mahindra Blue Sense app gives users the controls to tweak the climate, audio source, volume, as well as check vehicle info such as tyre pressure, fuel stats and toggle switches for auto headlamps and rain-sensing wipers. It's especially useful for the chauffeur-driven to keep a tab of their vehicle. Mahindra says it's compatible with majority of Android and Apple smartwatches. Mahindra has also worked on improving the in-cabin acoustic experience with speakers now tuned by Arkamys, and the tweeters placed higher on the A-pillar. But audio quality still remains strictly average.
Safety
The XUV500 had earlier scored four out of five stars for passenger safety in the Australian NCAP crash tests and the top-of-the-line Indian version is no different either. Safety suite comprises of six airbags, ABS with EBD, ESP with rollover mitigation system, hill hold and hill descent control.
Performance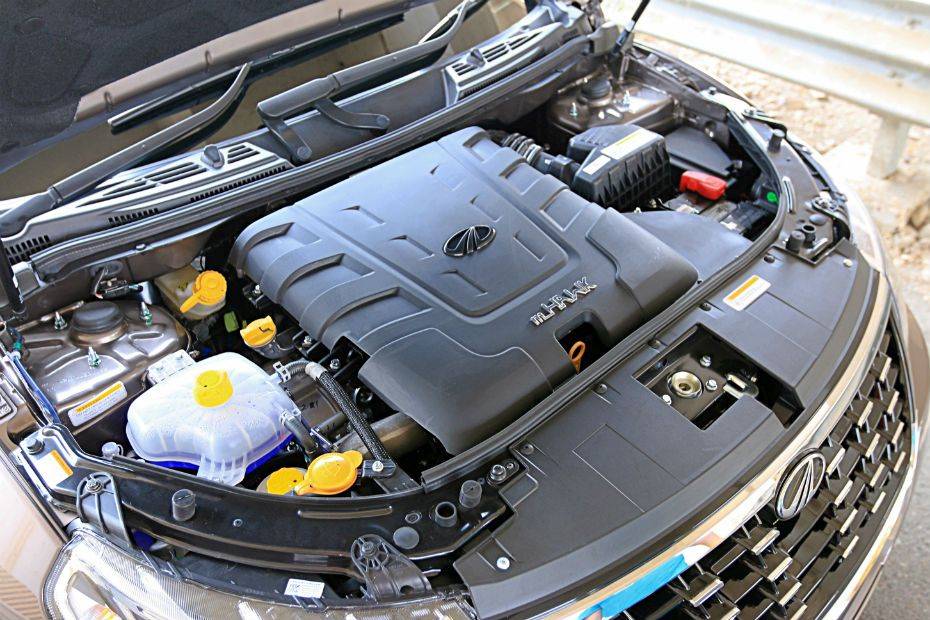 The pre-facelift XUV500 used to produce 140PS and 330Nm of torque from its turbocharged 2.2-litre mHawk 140 diesel engine. The XUV500's performance was pretty brisk even in comparison to the Tata Hexa with the Varicor diesel engine. But tinkering with the ECU and replacing the previous variable geometry turbocharger with an electronically controlled one, Mahindra engineers have managed to bump the power by 15PS and the torque by 30Nm. While the numbers aren't hair-raising, the added power and torque is pretty much evident, but you have to look throughout the rev range. The peak torque flows from 1750rpm, instead of 1600rpm in the previous model, and stays till 2800rpm. These improved numbers now bring the XUV almost neck-and-neck with its competition from Tata. The power band remains the same as before, so you'll still have to work the engine till 3750 rpm to extract all of the 155PS of power.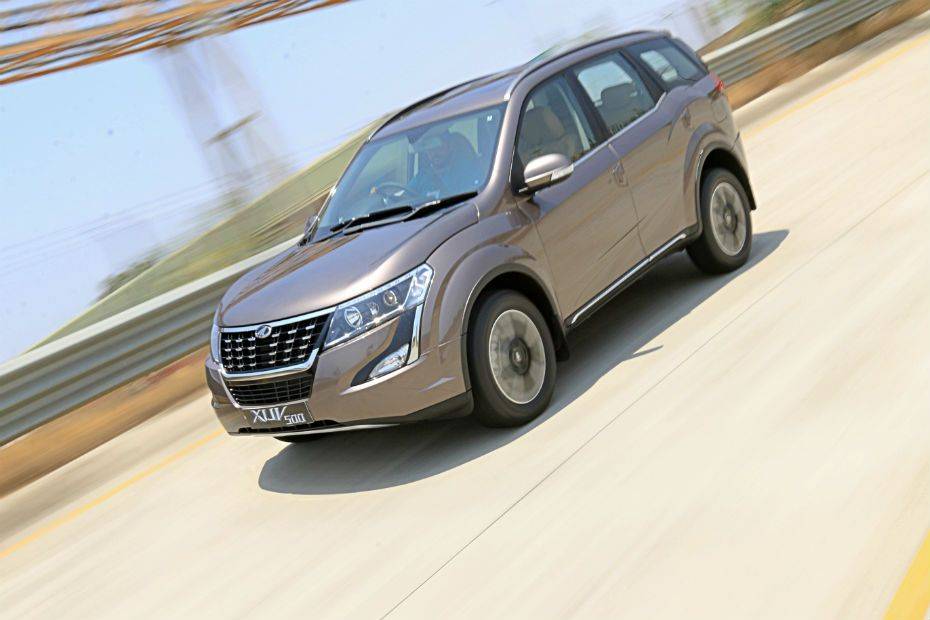 Pulling cleanly from as low as 40kmph in fifth gear is no problem and going till 140kmph didn't take too much time either. The gearbox on the XUV500 facelift remains the same 6-speed syncromesh unit as before. It's got long rubbery throws, but is sure-slotting at most times unless you try to hustle it up. The clutch pedal from the earlier XUV500 has also been carried forward. While it was always light, its long travel range will be irksome when driving in stop-and-go traffic. It also required me to slide the seat further back to free up extra legroom for the left leg as the clutch also eats up some of the space in front of the driver.
Mahindra will also continue to offer its 6-speed automatic transmission on both the diesel and petrol, but the petrol won't be getting the manual option.

The automatic transmission is smooth and fairly efficient as well but it's been tuned to shift up gears very early, and even in manual mode it won't allow you to rev over 3400rpm. This is really never a problem while driving normally, but just limits its flat-out acceleration to 100kmph, a task it completes in 12.98 seconds. Kickdown (20-80kmph) takes 7.75 seconds and the automatic, while not lightning quick, works well with the torque-loaded engine to make overtakes a breeze.
As far as NVH levels are concerned, they are well controlled and the engine noise is only audible in the cabin when revved beyond 2,500 rpm. However, the same cannot be said for the Bridgestone Ecopia tyres which emit a lot of rolling noise with some of it making its way inside cabin. But that still isn't bothersome and can be washed away with the audio system.

Ride and Handling
The XUV has always been structured on a monocoque platform so it isn't bogged down by as much body roll through the corners that most body-on-frame SUV like the Scorpio and the Safari face. There is no hint of wobble or nervousness while taking curves at speeds north of 70kmph. It's agile for its size, but while its steering is fairly accurate, it doesn't provide great feel. The top-spec W11 variant we drove gets the optional 18-inch alloy wheels with tyre profiles reduced from 235/65 to 235/60. The usual 17-inch wheels will still be available as standard. The ride on the bigger wheels felt sporty but not stiff at any point. That said, the tendency of the XUV's back end to feel bouncy over sharp bumps still remains.
Stopping power doesn't disappoint, with the all-wheel disc brakes getting this near 2-ton SUV down from 100-0kmph in 44.66 metres. The braking behaviour, though, does need a little getting used to. There is a little dead play initially, following which, the brakes bite sharply. This can take some time to adapt to but isn't really a hassle.
Variants
The variant codes have now changed to odd numbers. Instead of the earlier W4, you get each variant with a +1. So the base variant is now W5 followed by W7, W9 and the top-spec W11.
Verdict
With the update, the Mahindra XUV500 facelift has held on to its roots. It doesn't bring about any breakthrough changes but focuses on its strengths. While most facelifts are limited to superficial changes, Mahindra has done well by upgrading the engine. While it never felt underpowered, the update reduces the gap between it and its rivals such as the Tata Hexa and the Jeep Compass. Some shortcomings like the flimsy air con vents, lack of simple ergonomically placed spaces for holding a standard smartphone and negligible boot space (with the third row in place) are yet to be addressed though.
Pros & Cons of Mahindra XUV500 Car
CarDekho Experts:
With the entry prices dropping for the base variant, the XUV500 facelift now retails in the range of Rs 12.32 lakh to 18.98 lakh (ex-showroom Mumbai) and comes across as a lot of car for your money.
Things We Like
In terms of performance, the XUV500 is an all-rounder. It is not only a good highway mile muncher but is also perfect four regular city commute
4WD option offered with both manual and automatic transmissions
Feature Loaded: Even the base variant of the XUV500 is loaded with features such as dual front airbags, ABS with EBD, all wheel disc brakes, powered wing mirrors, basic music system with 6-inch display, tilt steering, manual AC and all four power windows.
The XUV500 is the only SUV in its class to offer an automatic transmission with every variant except the base
The XUV500 has a lot of road presence thanks to its large dimensions and muscular design
Things We Don't Like
Petrol derivative available only with an automatic transmission
Quality of some of the switches and the AC vents aren't up to the mark, especially when you consider the price of the higher-spec variants
The XUV500 is a can seat seven. However, the third row is not a comfortable place to be in. It is best suited for kids as there is not enough headroom, shoulder room or kneeroom for an adult to sit comfortably
The 4WD variant is exclusive to the top-spec W11(O) variant, which puts it out of reach for many buyers
With all seats up, the amount of space left for luggage is very less, barely enough for a laptop bag. Its rival, the Hexa, has enough room for some more bags
Stand Out Features
The XUV500 gets Mahindra Blue Sense App which allows the user to control various car functions like climate control and infotainment system and view vehicle stats like fuel range and mileage or tyre pressure on a smartphone or a smartwatch

The electric sunroof along with large windows make the XUV500's cabin feel airy and spacious

The cabin gets plush and premium-looking tan leather upholstery
Specification of Mahindra XUV500
| | |
| --- | --- |
| ARAI Mileage | 16.0 kmpl |
| Fuel Type | Diesel |
| Engine Displacement (cc) | 1997 |
| No. of cylinder | 4 |
| Max Power (bhp@rpm) | 140bhp@3750rpm |
| Max Torque (nm@rpm) | 320Nm@1600-2800rpm |
| Seating Capacity | 7 |
| TransmissionType | Manual |
| Boot Space (Litres) | 720 |
| Fuel Tank Capacity | 70.0 |
| Body Type | SUV |
| Ground Clearance Unladen | 200mm |
Mahindra XUV500 Car News & Updates
Latest News
Must Read Articles
Mahindra XUV500 User Reviews
All (628)
Looks (195)
Comfort (234)
Mileage (138)
Engine (136)
Interior (97)
Space (75)
Price (97)
More ...
LATEST
HELPFUL
VERIFIED
CRITICAL
Been self-driving my XUV since Jan 2013. Have enjoyed the experience. Smooth, efficient, and powerful engine. Have driven long journeys to the hills, highways, and city t...Read More

Gear clutch and string are not smooth as other cars, not bad. But the company can something better thank you

Great and comfortable, mileage is great, the engine block is poor, and suspensions work is due. Overall experiences are better.

King of the cars and many features in this car and very much comfort in this car the sunroof is amazing

Very rich, comfortable, stylish, luxurious, dynamic, prestigious, sporty, and royal Mileage has to compromise little
Mahindra XUV500 Car Latest Update
Latest Update: Mahindra has discontinued the XUV500. It had priced the SUV from Rs 15.56 lakh to Rs 20.07 lakh (ex-showroom, Delhi). The XUV500 was sold in three trims: W7, W9, and W11. Mahindra's mid-size SUV could carry up to seven people. It was powered by a 2.2-litre diesel engine (155PS/360Nm), coupled with a 6-speed manual and an optional torque converter gearbox. The XUV500 was equipped with a 7-inch touchscreen infotainment system with Android Auto and Apple CarPlay, a 6-way adjustable driver seat, a sunroof, and cruise control. Its safety kit included dual front airbags, ABS with EBD, and rear parking sensors. The XUV500 went up against the Jeep Compass, Hyundai Tucson, Toyota Innova Crysta, MG Hector, and the Hyundai Alcazar.
Read More
Mahindra XUV500 Videos
Mahindra XUV500 2023 has 3 video of its detailed review, pros & cons, comparison & variant explained,test drive experience, features, specs, interior & exterior details and more. Watch our Latest Hindi video of Mahindra XUV500 to know price, safety features & more.
6:7

2018 Mahindra XUV500 - Which Variant To Buy?

May 09, 2018 | 161 Views

6:59

2018 Mahindra XUV500 Quick Review | Pros, Cons and Should You Buy One?

May 02, 2018 | 1062 Views

5:22

2018 Mahindra XUV500 Review- 5 things you need to know | ZigWheels.com

Apr 19, 2018 | 2010 Views

Mahindra XUV500 Mileage
The claimed ARAI mileage: Mahindra XUV500 Diesel is 16.0 kmpl.The claimed ARAI mileage for the automatic variants: Mahindra XUV500 Diesel is 16.0 kmpl | Mahindra XUV500 Petrol is 16.0 kmpl.
| Fuel Type | Transmission | ARAI Mileage |
| --- | --- | --- |
| Diesel | Manual | 16.0 kmpl |
| Diesel | Automatic | 16.0 kmpl |
| Petrol | Automatic | 16.0 kmpl |
Found what you were looking for?
Mahindra XUV500 Road Test

Are you Confused?
Ask anything & get answer in 48 hours
Write your Comment on Mahindra XUV500
1 comment
1
G
guddu kumar
Sep 28, 2019 1:26:51 PM
Purani garo
Read More...
Reply
Write a Reply
*Ex-showroom price in New Delhi
×
We need your city to customize your experience