Tata Has Answered The Demands Of The Market, Will Bring Turbo-petrol Engine To Harrier And Safari
Published On Jan 14, 2023 02:24 PM By Sonny for Tata Harrier
Both SUVs have only been offered with a diesel engine since launch
Tata debuted two new turbo-petrol engines at Auto Expo 2023.

The larger 1.5-litre turbo-petrol engine is confirmed for Harrier and Safari SUVs.

It makes 170PS and 280Nm, expected with a DCT automatic.

Harrier and Safari only get Fiat's 2-litre diesel engine since launch.

Turbo-petrol variants of Harrier and Safari expected in 2024.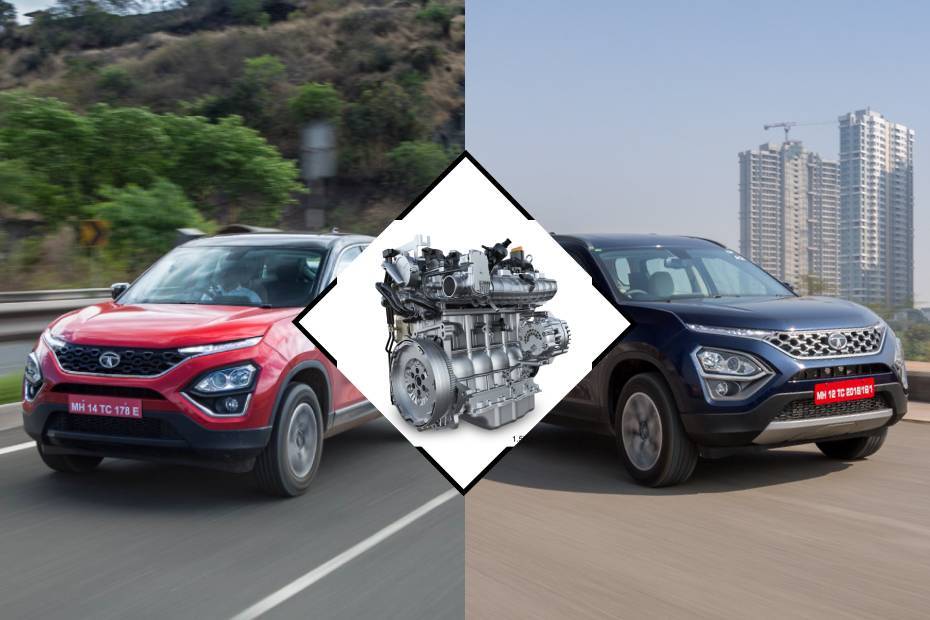 The Tata lineup at Auto Expo 2023 was headlined by EVs and concepts, but one of the key announcements was the introduction of a new 1.2-litre and 1.5-litre turbo-petrol direct-injection (TGDi) engines. The Vice President of Tata Motor's Product Line, Mohan Savarkar, later confirmed that the latter will be offered with the Harrier and Safari SUVs too.
Related: Auto Expo 2023: Tata Bolsters Its Future By Introducing New Range Of Turbo-petrol Engines
The Harrier made its market debut in early 2019 with only a 2-litre diesel engine, rated at 170PS and 350Nm, mated to a six-speed manual. It got the option of a six-speed automatic in 2020, and in 2021, Tata introduced the seven-seater iteration of the Harrier as the new Safari. However, one of the much needed updates still pending for Tata's flagship SUVs is the choice of a petrol engine.
New Turbo-petrol Engine Details
Both of Tata's new turbo-petrol direct-injection engines are compliant with the Phase 2 BS6 emission norms and can run of E20 fuel. The 1.5-litre turbo-petrol unit with four cylinders is rated to produce 170PS and 280Nm of peak performance. While Tata did not disclose the transmission options for these new engines, they're expected to get the choice of a dual-clutch automatic.

While the new turbo-petrol engine will not be as torquey as the 2-litre diesel engine, it has the same power output which should be sufficient for these mid-size SUVs.
Why Offer The Petrol Engine At All?

While Tata plans to keep offering diesel engines for the time being, it is a costly affair to keep updating them to meet the stricter emission norms. Even before governments outright ban the sale of new ICE vehicles, those updates could make diesel engines too expensive for most mass-market buyers. That's where the option of a petrol engine is important for the longevity of the model in India, at least until the industry is forced to go EV only.
Also read: At Long Last! Tata Harrier Finally Gets All-Wheel Drive, But With One Big Catch!
Petrol-powered Rivals

The rivals of both Harrier and Safari already come with the choice of petrol engines. The MG Hector and Hector Plus come with a 143PS 1.5-litre turbo-petrol engine while the Mahindra XUV700 packs a powerful 200PS 2-litre turbo-petrol engine. Even larger SUVs like the Toyota Fortuner are offered with the choice of a petrol engine alongside the diesel engine.
With the new turbo-petrol engine, Tata's SUVs will offer competitive performance while likely being fairly fuel efficient too.
Expected Launch
Given that the new 1.2-litre turbo-petrol engine will debut on the Curvv in 2024, the turbo-petrol variants of the Harrier and Safari may be introduced around the same time. For now, the next big update for Tata's top SUVs will be a mild facelift and the addition of features like ADAS, larger touchscreen, and more.
Also read: 5 New Features That Debuted On The Tata Harrier And Safari At Auto Expo 2023
Read More on : Harrier diesel
Was this article helpful ?
0 out of 0 found this helpful