Key Specs of Tata Safari
| | |
| --- | --- |
| Mileage (upto) | 16.14 kmpl |
| Engine (upto) | 1956 cc |
| BHP | 167.62 |
| Transmission | Manual/Automatic |
| Seats | 6, 7 |
| Boot Space | 73 |
Safari Latest Update
Latest Update: The Safari now gets three additional features with the top-spec variants.
Tata Safari Price: Tata has priced the SUV from Rs 14.99 lakh to Rs 23.19 lakh (ex-showroom, pan-India).
Tata Safari Variants: It is available in the following trims: XE, XM, XT, XT+, XZ, XZ+, and XZ+ Gold Edition.
Tata Safari Seating Capacity: The Safari is a 6- and 7-seater SUV, depending on the chosen variant. The former gets the choice of captain seats in the top-spec variant.
Tata Safari Engine and Transmission: It is powered by the Harrier's 2-litre diesel engine (170PS/350Nm), paired with a 6-speed manual and an optional 6-speed automatic. Going forward, Tata may provide the SUV with a 1.5-litre turbo-petrol mill and an AWD.
Tata Safari Features: Tata has equipped the third-gen Safari with an 8.8-inch touchscreen infotainment system, iRA connected car tech, wireless Android Auto and Apple CarPlay, a 9-speaker JBL sound system, a wireless phone charger, an air purifier, a panoramic sunroof, and a 6-way powered driver seat. It also gets cruise control, auto AC (with second- and third-row vents), mood lighting, tyre pressure monitoring, and premium leatherette upholstery (for the dual-tone cabin).
Tata Safari Safety: The Safari gets disc brakes all around, an electronic parking brake with auto hold, traction control, up to six airbags, rollover mitigation, and cornering stability control.
Tata Safari Rivals: It fights it out with the MG Hector Plus, Hyundai Alcazar, Mahindra XUV700, and the Kia Carens.
Read More
Tata Safari Price
The price of Tata Safari starts at Rs. 14.99 Lakh and goes upto Rs. 23.19 Lakh. Tata Safari is offered in 20 variants - the base model of Safari is XE and the top variant Tata New Safari XZA Plus Gold AT which comes at a price tag of Rs. 23.19 Lakh.
XE1956 cc, Manual, Diesel, 16.14 kmpl2 months waiting
Rs.14.99 Lakh*
XM1956 cc, Manual, Diesel, 16.14 kmpl2 months waiting
Rs.16.53 Lakh*
XMA AT1956 cc, Automatic, Diesel, 14.08 kmpl2 months waiting
Rs.17.83 Lakh*
XT1956 cc, Manual, Diesel, 16.14 kmpl2 months waiting
Rs.18.05 Lakh*
XT Plus1956 cc, Manual, Diesel, 16.14 kmpl2 months waiting
Rs.18.85 Lakh*
XZ1956 cc, Manual, Diesel, 16.14 kmpl2 months waiting
Rs.19.80 Lakh*
XTA Plus1956 cc, Automatic, Diesel, 16.14 kmpl2 months waiting
Rs.20.15 Lakh*
XZ Plus 6 Str1956 cc, Manual, Diesel, 16.14 kmpl

Top Selling

2 months waiting
Rs.20.49 Lakh*
XZ Plus1956 cc, Manual, Diesel, 16.14 kmpl2 months waiting
Rs.20.64 Lakh*
XZ Plus 6 Str Adventure Edition1956 cc, Manual, Diesel, 16.14 kmpl2 months waiting
Rs.20.70 Lakh*
XZ Plus Adventure Edition1956 cc, Manual, Diesel, 16.14 kmpl2 months waiting
Rs.20.85 Lakh*
XZA AT1956 cc, Automatic, Diesel, 14.08 kmpl2 months waiting
Rs.21.10 Lakh*
XZA Plus 6 Str AT1956 cc, Automatic, Diesel, 14.08 kmpl2 months waiting
Rs.21.79 Lakh*
XZ Plus Gold1956 cc, Manual, Diesel, 16.14 kmpl2 months waiting
Rs.21.89 Lakh*
XZ Plus Gold 6 Str1956 cc, Manual, Diesel, 16.14 kmpl2 months waiting
Rs.21.89 Lakh*
XZA Plus AT1956 cc, Automatic, Diesel, 14.08 kmpl2 months waiting
Rs.21.94 Lakh*
XZA Plus 6Str Adventure Edition AT1956 cc, Automatic, Diesel, 14.08 kmpl2 months waiting
Rs.22.00 Lakh*
XZA Plus Adventure Edition AT1956 cc, Automatic, Diesel, 14.08 kmpl2 months waiting
Rs.22.15 Lakh*
XZA Plus Gold 6 Str AT1956 cc, Automatic, Diesel, 14.08 kmpl2 months waiting
Rs.23.19 Lakh*
XZA Plus Gold AT1956 cc, Automatic, Diesel, 14.08 kmpl2 months waiting
Rs.23.19 Lakh*
View All Variants
Tata Safari Comparison with similar cars

Ex-showroom price in New Delhi
Tata Safari Review
Not only does the Safari have to fill in the big shoes of its predecessor, it also has to carry the mantle of being Tata's flagship SUV
A lot of eyebrows were raised when in early January, the Gravitas was named the Safari. And despite test mules and early dealership vehicles being spotted with the "Gravitas" lettering on the boot, Tata claims that it was meant to be the Safari all along. Nevertheless, today we will refrain from getting into this debate. The SUV is here, it's called the Safari and we are only allowed a short drive.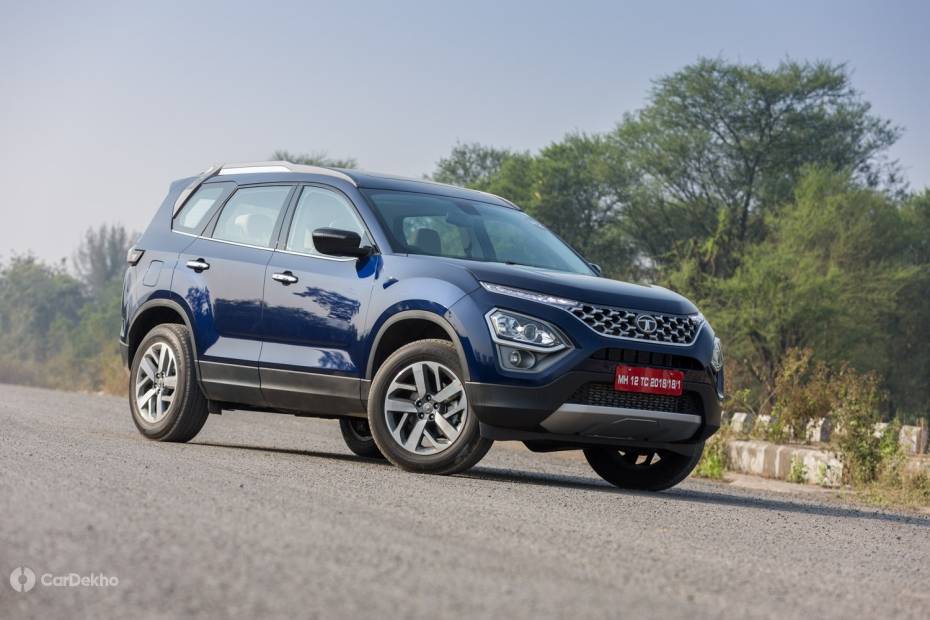 Till the Mahindra XUV500 and the Hyundai Creta 7-seater arrive later this year, the Safari's only competition is the Hector Plus. Our points of focus are going to be its 7-seating abilities, creature comforts, the cabin practicality and its ride manners. But first, can it command respect on the road?
Exterior

The Safari is a big SUV. And while it is smaller than the likes of the Fortuner, it certainly is a size larger and commands better presence than the likes of the Kia Seltos and Hyundai Creta. That being said, there isn't much to differentiate it from the Harrier from the front. The grill is new and looks more polished, and the skid plate here is finished in silver to help with the SUV look. Other than that the Xenon HID headlamps, LED DRLs, fog lamps, and even the bumper is the same as the Harrier. To an untrained eye, the two might even look the same.

However, this similarity goes out of the kinked-up window as soon as you move to its profile. The roofline here does not slope down for a sporty stance. In fact, it does not slope down at all. It keeps rising all the way to the rear spoiler. And with this added mass, it certainly looks different, and larger than the Harrier. A good aspect of the design here is that even from the side, the Safari does not look like an MPV, but reassuringly SUV.

The elements which help it look butch are the muscular flared wheel arches, the kink on the rear quarter glass, the step on the roof rails and the cladding on the C-pillar. And then comes the 18-inch alloy wheels--they have the same design as the Harrier but are an inch taller and has marginally taller sidewalls, which increases the ground clearance of the Safari as well. Get the measuring tape out and the Safari will measure +63mm in length and +80mm in height compared to the Harrier. The width and wheelbase remain the same.

At the back, the slim parallel LED lighting helps break the mass of the bootgate. But it still looks a bit uncle-ish in design, especially those fake dual exhausts. Overall, the Safari will remain a head turner, at least for the first few months of it going on sale.
Interior

The Safari's interiors are warm and welcoming. And a lot of this has to do with the new upholstery. The Oyster White faux leather combined with the Ashwood trim on the dashboard add an upmarket feel to the cabin. The steering is wrapped in leather and even the door pads are well draped in the same upholstery as the seats. All of this makes for a premium experience from the get-go. Plus, the driver's seat is power-adjustable and along with the tilt and telescopic steering adjust, getting into a commanding position won't be an issue.

The cabin is full of features: automatic headlamp and wipers, digital instrument cluster, push-button start stop, mood lighting in doors, automatic climate control and auto day/night IRVMs. However, the biggest highlight has to be the 'Sky Dome' panoramic sunroof. While you don't feel a lack of features here, the list isn't complete by modern day standards. You don't get a wireless charger, ventilated front seats, a 360 degree camera or sunglasses holder--features that are now almost the norm from the competition.

And then comes the case of the connected car features. While this tech is still relatively new in modern cars, the Safari's list already feels old. You get geofencing, car health, speed alerts, find my car, remote lock/unlock, lights on/off and horn. However, you cannot start the AC, start the car or even lower the windows. In fact, even the natural "Hinglish" voice commands that the Altroz and Nexon now get are missing here.

And then comes the infotainment. The 8.8-inch touchscreen display looks good and the layout too feels right. However, it has started to feel old in functionality. It is no longer as fluent and smooth as the others in the market and this especially becomes an issue while using Android Auto. It is super laggy and feels like using an old smartphone. Even the display of the rear parking camera is unacceptable and it lags even while reversing. Hence, while the display feels good to look at, the functionality aspect needs a desperate update.

However, the moment you fire up the 320W, 9-speaker JBL sound system with 4 speakers, 4 tweeters, a subwoofer and an amplifier, your worries simply fade away. It is a fantastic sound system and it would be really interesting to see which is better, the Infinity on the MG Hector or this JBL.
Second Row

The Safari can be had with captain seats (6-seater) or bench seats (7-seater). The former is only available in the top of the line XZ+ variant. So let's start there. The captain seats of the Safari are tall and set high. In fact, they are close to 40mm taller than the bench seat base in the Harrier. As a result, you sit quite high up. But despite this, there is no issue of headroom at all and knee and legroom is ample as well. Furthermore, the seats recline and slide for you to get comfortable. And if you still want more room, then you can, with the Boss Mode lever on the side of the front passenger seat, push it forward too. This place truly feels opulent, especially with the sunroof curtain open.
However, there are a few drawbacks here. The seats will feel narrow and the cushioning intrusive to someone with a generous proportion. And because they are so tall, taller people will feel a bit weird in the seat as they'll end up being too close to the top window line. And because of these issues, they don't feel quite as luxurious. The simple solution to this is opting for the bench seats.

Being 10mm lower than the captains seats and having softer cushioning, you immediately feel more at home and more comfortable here. Plus, all the features of the captain seats--like adjustable headrests, recline, slide and Boss Mode are present here as well. What you get additionally is a large centre armrest with cupholders, an essential storage space which is missing on the captain seats. This seat feels more supportive, natural and comfortable than the captain seats. No matter what your usage is - being chauffeur driven or going out with the family, the bench seats do a much better job.
In terms of features, you get B-pillar-mounted rear AC vents, 2 USB chargers and a phone holder. The door pockets further have a smartphone tray and can hold multiple water bottles.
Third Row

The biggest talking point of the Safari is its third row of seats. If you have the captain seats configuration, then getting in can be tricky as the seats don't tumble. The easier way is to walk in between the seats. The bench seat does tumble forward and that makes getting in easier still.

The third row is surprisingly spacious. There is space to stretch your legs by tucking them under the front seats, knee room is ample, and headroom is impressive as well. In fact, two adults will not have a hard time sitting behind one another here. The backrest is not recline adjustable; however, the angle is comfortable even for longer journeys. Another reason why this place feels comfortable is the stadium sitting. In this, the second row occupants sit higher than the first row occupants, and the third row passengers sit even higher. As a result, there's a sense of space and openness here. Combined with a large quarter glass and the white upholstery, you won't feel caged in here. We have sampled the Hector Plus, and the Safari does feel more spacious.
Tata has not neglected the third row when it comes to features. There is a separate AC unit for the last row with separate blower controls, phone holders, 2 USB chargers and individual cupholders.
Boot

With 73 litres of storage behind the third row, all you will be able to keep in here are soft bags or laptop bags. However, fold one of the seats and it lays down flat, and you can easily place multiple suitcases. Fold the last row and you have 447 litres, slightly more than even the Harrier. This will accommodate almost everything you want to throw in the boot. However, it falls a bit shy of the MG Hector Plus' 530 litres.
Safety

Tata's assurance of safety comes in full fold here. You get 6 airbags (driver, co-driver, side and curtain airbags), electronic parking brake with auto hold, all-wheel disc brakes, tyre pressure monitor system (TPMS) and child seat ISOFIX anchor points.
Performance

The Safari continues to be powered by the Harrier's powertrain: a 1956cc diesel making 170PS at 3750rpm and 350Nm torque at 1750-2500rpm. It comes mated to a 6-speed manual alongside an option for a 6-speed automatic. Specs out of the way, the Safari feels very car-like to drive, in a good way. Given that the SUV will be driven by multiple people in the family, it needs to feel easy. The visibility is good and despite the A-pillar being slightly wide, driving around town will not be problematic. The steering feels light at city speeds, however you do have to muscle it a bit for u-turns.

The engine offers good torque starting right from 1000rpm, which makes getting off the line effortless. And this torque lets you pull cleanly without having to change gears too often, which is certainly a good thing in city traffic. Get hard on the gas and the engine response is impressive. It is quick to build speeds and keeps the momentum going. Switching to the Sport drive mode helps with quicker acceleration as the throttle response becomes sharper. However, if you are looking to save diesel, you also have the option of an Eco mode.

There are terrain response modes as well: Rough Road and Wet. These alter the electronic stability program's settings to offer you better traction in slippery conditions. However, don't consider these to be off road modes.

Of the two transmission options available, the automatic is the clear pick. While the manual is still usable, the long throws of the shifter and the heavy clutch will tire you in city traffic. The automatic, on the other hand, is beautifully tuned. The transmission upshifts very smoothly and the downshifts are quick as well. And, the shifts are very responsive to your throttle inputs and speed needs. It's almost as if they can read your next input and shift accordingly. So, if you can, do extend for the automatic.
Ride And Handling

The Safari is longer and taller than the Harrier, and hence we expected the suspension and the body stability to be a bit lazy. Surprisingly, that isn't the case. The suspension has been brilliantly adjusted for the new dynamics. It keeps the occupants comfortable at all times. Be it going over speed breakers or potholes, the harshness never creeps into the cabin. And while you are aware about the surface beneath the wheels, it won't ever bother you as the ride never becomes jarring. There can be a bit of side to side movement on certain bumps but that is well controlled too. The same remains true on the highways as well. The stability of the Safari is admirable and even quick lane changes will not trouble the passengers. The ride remains flat while cruising and long journeys will be a lot of fun in the Safari.

The steering feedback isn't the best, but doesnt leave you wanting more on the highways. It weighs up well and while it could have done with a bit more weight post 100kmph, it still remains predictable and feels safe. The Land Rover D8 platform remains sporty when you want to push this behemoth around corners, but just remember it's a 1.3 tonne tall vehicle and not your average compact SUV.
Tata Safari 2.0L D AT (Wet)
Performance
Acceleration
Braking
Roll ons
0-100kmph
Quarter mile
100-0kmph
80-0kmph
3rd
4th
kick down (20-80kmph)
12.27s
18.49s @ 123.04kmph
55.22m
34.94m
7.39s
Efficiency
City (50 kilometers test through mid day traffic)
Highway (100 kilometers test on Expressway and State highway)
9.96kmpl
16.99kmpl
Verdict

Honestly, we did not expect much from the Tata Safari. After all, it was supposed to be a Harrier with a third row of seats. But after spending close to 12 hours with it, we are pleasantly surprised. The Safari has its own personality, and a charming one at that. It can seat 7 people in comfort, the cabin feels really premium and the ride quality is fantastic. Overall, it offers everything you'd want from your next family car. This deal could have been made sweeter with the addition of certain modern day features like ventilated seats, a wireless charger, 360 degree camera and a better infotainment package.

However, all of these cuts can be justified with the price. We expect the Safari to be priced a lakh over the Harrier, which would mean it could cost between Rs 15 lakh - 22 lakh, ex-showroom. Anything beyond that will be asking for a bit too much, especially considering that the MG Hector Plus, the Safari's biggest competitor in the market, is already less expensive than the Harrier itself. If Tata manages to get the price right, then the Safari could be the go to choice for a 7-seater, till more competition arrives later this year.
Pros & Cons of Tata Safari

CarDekho Experts:
The Safari has its own personality, and a charming one at that. It can seat 7 people in comfort, the cabin feels really premium and the ride quality is fantastic.
Things We Like
Comfortable and spacious seating for 7
Impressive ride comfort
Cabin feels premium
Fantastic automatic drivetrain
Loads of practical storage in cabin
Impressive handling
Things We Don't Like
Missing some modern day features
White upholstery gets dirty easily
Captain seats are narrow
Infotainment experience is disappointing
Stand Out Features
SkyDome Sunroof

9-speaker JBL sound system

Ventilated seats for 1st and 2nd row
Tata Safari User Reviews
All (178)
Looks (57)
Comfort (28)
Mileage (14)
Engine (16)
Interior (14)
Space (19)
Price (18)
More ...
Complete package but missing 4x4 option. If that comes in the safari will be unbeatable in the market.

Excellent vehicle with great power, comfort, sound system, build quality and looks. The only drawback is boot space, rear door opening, and average infotainment display. ...Read More

Safari is a fantastic product. Its performance is mind-blowing, safety feels top of the line, styling is also top of the world. I'm fully satisfied with this car.

Have been an ardent TATA customer, and the new Safari is just amazing, looking great. The build quality is robust, ride quality is incomparable.

Car di dicky aise band hoti hai jaise truck ho itni jor se marni padti hai. 31 may ko purchase ki thi dicky ke lock bhi khrab ho gye. Barish main power window bhi kam nhi...Read More

Tata Safari Videos
Tata Safari 2021 has 16 video of its detailed review, pros & cons, comparison & variant explained,test drive experience, features, specs, interior & exterior details and more. Watch our Latest Hindi video of Tata Safari to know price, safety features & more.
Tata Safari Gold Edition: सोना ही सोना! | New Features, MUST WATCH!

Sep 24, 2021

Tata Safari vs Hyundai Alcazar Fully-Loaded | Not A Review!

Sep 24, 2021

New Tata Safari First Drive Review | Does the legend truly live on?

Mar 01, 2021

5 Tata Launches We're Excited About! | HBX, Gravitas, Altroz EV & The Mysteries | Zigwheels.com

Feb 10, 2021

10 BEST UPCOMING SUVs: इन्हें देखें बिना नयी SUV मत खरीदो! | CarDekho.com

Apr 14, 2021
Tata Safari Colours
Tropical Mist

Black Gold

White Gold

Royal Blue

Orcus White

Daytona Grey


Users who viewed this car also viewed
Ex-showroom price in New Delhi

Best Sport Utilities cars In This Range

Ex-showroom price in New Delhi
Best Cars Under 23 Lakh
Kia Seltos

Rs.9.95 - 18.10 Lakh*

Mahindra XUV700

Rs.12.49 - 22.99 Lakh*

Mahindra Scorpio

Rs.12.77 - 17.61 Lakh*
Ex-showroom price in New Delhi

Are you Confused?
Ask anything & get answer in 48 hours
Tata Safari Questions & Answers
What is the exact on-road price of Tata Safari?
The on-road
price of Safari in Delhi
starts at Rs. 17,82,018. The on-road price is inclusive of RTO charges and insurance.
What are the latest December offers available on Tata Safari?
For the month of December 2021, 1 offer is available on the Tata Safari in Delhi.
Which car is better Safari or Harrier?
Safari price
starts at Rs 14.99 Lakh ex-showroom and
Harrier price
starts Rs 14.39 Lakh ex-showroom.
Compare
these two models on the basis of their price, features & specs.
What will the EMI or down payment for Tata Safari?
Tata Safari EMI
starts at ₹ 35,490 per month for a tenure of 60 months @ 9.8% for a loan amount of Rs 16.78 Lakh & down payment will be ₹ 1.87 Lakh.
Is Tata Safari a 5 or 7 seater SUV?
Tata Safari is a 7 seater car, Which is priced at Rs 21.89 Lakh. Check more
7 seater SUV
options on CarDekho.
Write your Comment on Tata Safari
7 comments
1
M
maan saab
Jul 25, 2021 10:05:31 PM
Not good car sem feeling teqtar
Read More...
Reply
Write a Reply
1
H
hemant sharma
Feb 14, 2021 6:23:08 AM
Gr8 safari only real lovers ?
Read More...
Reply
Write a Reply
1
t
tvs prasad
Feb 12, 2021 10:42:49 AM
How many Air bags in this vehicle
Read More...
Reply
Write a Reply
2
J
jeet 5533
Apr 12, 2021 2:35:43 PM
There are 8 airbags
Read More...
Reply
Write a Reply


Tata Safari Price in India
Choose your city