Maruti Strengthens Trust Factor, Introduces New Warranty Plans
Modified On Nov 03, 2017 11:31 AM By Khan Mohd. for Maruti Vitara Brezza
All three warranty plans - Gold, Platinum and Royal Platinum - are available on all Maruti Suzuki cars sold through Arena outlets, while the Nexa dealerships feature only the latter two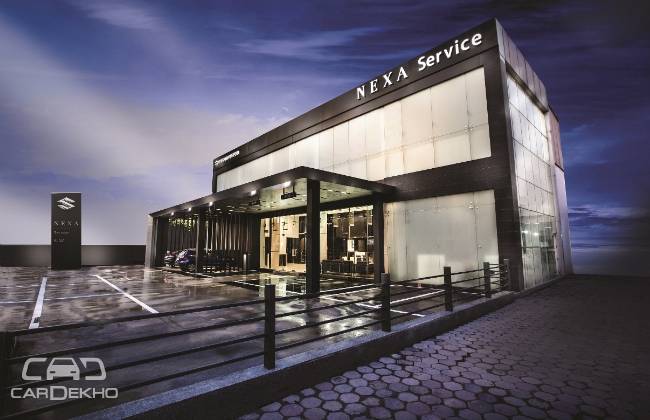 India's no. 1 passenger carmaker Maruti Suzuki has come up with yet another reason to go for its products: extended warranties of up to 5 years/ 1 lakh kilometres. The extended warranty is available on Maruti Arena as well as its premium Nexa showrooms across the country. The carmaker is already making merry with continuous month-on-month growth despite the overall dip in the Indian automotive market. The addition of these service packages is likely to boost its desirability factor among masses.
Among the three packages offered – Gold, Platinum and Royal Platinum – the Gold one isn't available with Nexa outlets as its website lists only the other two. The new warranty plans offer below benefits:
| Warranty Package | Year | Kilometres |
| --- | --- | --- |
| Existing | 2nd | 40,000* |
| Gold | 3rd | 60,000* |
| Platinum | 3rd and 4th | 80,000* |
| Royal Platinum | 3rd, 4th and 5th | 1,00,000* |
*Whichever is earlier
Under these packages a variety of vehicle parts are covered including, compressor, steering assembly, strut, engine, self assy, turbocharger assembly, high pressure pump and ECM. For details on the spare parts not covered, visit Maruti Suzuki's official website here.

Below is the exhaustive list of all Maruti Suzuki cars along with their warranty package prices.
Maruti Suzuki cars sold through Arena outlets
Car Model

Days elapsed since vehicle sale

Extended warranty type prices (varies with variants)
Gold
Platinum
Royal Platinum
0~60
Rs 2460 - Rs 3590
Rs 3260 - Rs 4390
Rs 4360 - Rs 5490
61~365
Rs 2830 - Rs 4130
Rs 3750 - Rs 5050
Rs 5020 - Rs 6320
366~730
Rs 3200 - Rs 4670
Rs 4240 - Rs 5710
Rs 5670 - Rs 7140
0~60
Rs 1400 - Rs 3070
Rs 2200 - Rs 3870
Rs 3300 - Rs 4970
61~365
Rs 1610 - Rs 3540
Rs 2530 - Rs 4460
Rs 3800 - Rs 5720
366~730
Rs 1820 - Rs 4000
Rs 2860 - Rs 5040
Rs 4290 - Rs 6470
0~60
Rs 3430 - Rs 5150
Rs 4230 - Rs 6860
Rs 5330 - Rs 8860
61~365
Rs 3950 - Rs 5930
Rs 4870 - Rs 7890
Rs 6130 - Rs 10190
366~730
Rs 4460 - Rs 6700
Rs 5500 - Rs 8920
Rs 6930 - Rs 11520
0~60
Rs 4720 - Rs 11380
Rs 5920 - Rs 13780
Rs 7520 - Rs 15880
61~365
Rs 5430 - Rs 13090
Rs 6810 - Rs 15850
Rs 8650 - Rs 18270
366~730
Rs 6140 - Rs 14800
Rs 7700 - Rs 17920
Rs 9780 - Rs 20650
0~60
Rs 5630 - Rs 6550
Rs 6430 - Rs 7350
Rs 7530 - Rs 8450
61~365
Rs 6480 - Rs 7540
Rs 7400 - Rs 8460
Rs 8660 - Rs 9720
366~730
Rs 7320 - Rs 2640
Rs 8360 - Rs 9560
Rs 9790 - Rs 10990
0~60
Rs 1280 - Rs 2030
Rs 2080 - Rs 2830
Rs 3180 - Rs 3930
61~365
Rs 1480 - Rs 2340
Rs 2400 - Rs 3260
Rs 3660 - Rs 4520
366~730
Rs 1670 - Rs 2640
Rs 2710 - Rs 3680
Rs 4140 - Rs 5110
0~60
Rs 6200 - Rs 13410
Rs 7400 - Rs 15810
Rs 9000 - Rs 17910
61~365
Rs 7130 - Rs 15430
Rs 8510 - Rs 18190
Rs 10350 - Rs 20600
366~730
Rs 8060 - Rs 17440
Rs 9620 - Rs 20560
Rs 11700 - Rs 23290
0~60
Rs 4110 - Rs 8110
Rs 5310 - Rs 10510
Rs 6910 - Rs 12610
61~365
Rs 4730 - Rs 9330
Rs 6110 - Rs 12090
Rs 7950 - Rs 14510
366~730
Rs 5350 - Rs 10550
Rs 6910 - Rs 13670
Rs 8990 - Rs 16400
0~60
Rs 7740 - Rs 12250
Rs 10140 - Rs 14650
Rs 12240 - Rs 16750
61~365
Rs 8910 - Rs 14090
Rs 11670 - Rs 16850
Rs 14080 - Rs 19270
366~730
Rs 10070 - Rs 15930
Rs 13190 - Rs 19050
Rs 15920 - Rs 21780
0~60
Rs 2420 - Rs 4320
Rs 3220 - Rs 5120
Rs 4320 - Rs 6220
61~365
Rs 2790 - Rs 4970
Rs 3710 - Rs 5890
Rs 4970 - Rs 7160
366~730
Rs 3150 - Rs 5620
Rs 4190 - Rs 6660
Rs 5620 - Rs 8090
0~60
Rs 3550 - Rs 5190
Rs 4350 - Rs 5990
Rs 5450 - Rs 7090
61~365
Rs 4090 - Rs 5970
Rs 5010 - Rs 6890
Rs 6270 - Rs 8160
366~730
Rs 4620 - Rs 6750
Rs 5660 - Rs 7790
Rs 7090 - Rs 9220
Maruti Suzuki cars sold through Nexa outlets
Car Model

Days elapsed since vehicle sale

Extended warranty type prices (varies with variants)
Platinum
Royal Platinum
0~60
Rs 11520 - Rs 18310
Rs 13620 - Rs 20410
61~365
Rs 13250 - Rs 21060
Rs 15670 - Rs 23480
366~730
Rs 14980 - Rs 23810
Rs 17710 - Rs 26540

Baleno/ Baleno RS

0~60
Rs 5980 - Rs 12150
Rs 7580 - Rs 14250
61~365
Rs 6880 - Rs 13980
Rs 8720 - Rs 16390
366~730
Rs 7780 - Rs 15800
Rs 9860 - Rs 18530
0~60
Rs 4970 - Rs 10870
Rs 6570 - Rs 13880
61~365
Rs 5720 - Rs 12510
Rs 7560 - Rs 15970
366~730
Rs 6470 - Rs 14140
Rs 8550 - Rs 18050
0~60
Rs 9300 - Rs 17430
Rs 10900 - Rs 19530
61~365
Rs 10700 - Rs 20050
Rs 12540 - Rs 22460
366~730
Rs 12090 - Rs 22660
Rs 14170 - Rs 25390
Read More on : Maruti Vitara Brezza diesel
Transmission
Manual/Automatic
*Ex-showroom Price in New Delhi