Maruti Vitara Brezza
Change car
Rs.7.84 - 11.49 Lakh*
This car model has discontinued
Key Specs of Maruti Vitara Brezza
| | |
| --- | --- |
| Engine | 1462 cc |
| BHP | 103.26 Bhp |
| Transmission | Manual/Automatic |
| Mileage | 17.03 - 18.76 kmpl |
| Fuel | Petrol |
Explore Price of Vitara Brezza Alternatives

Maruti Vitara Brezza price list (Variants)
Vitara Brezza LXI1462 cc, Manual, Petrol, 17.03 kmplDISCONTINUED
Rs.7.84 Lakh*
 
Vitara Brezza VXI1462 cc, Manual, Petrol, 17.03 kmplDISCONTINUED
Rs.8.93 Lakh*
 
Vitara Brezza ZXI1462 cc, Manual, Petrol, 17.03 kmplDISCONTINUED
Rs.9.68 Lakh*
 
Vitara Brezza ZXI Plus1462 cc, Manual, Petrol, 17.03 kmplDISCONTINUED
Rs.9.98 Lakh*
 
Vitara Brezza VXI AT1462 cc, Automatic, Petrol, 18.76 kmplDISCONTINUED
Rs.10.12 Lakh*
 
Vitara Brezza ZXI Plus Dual Tone1462 cc, Manual, Petrol, 17.03 kmplDISCONTINUED
Rs.10.14 Lakh*
 
Vitara Brezza ZXI AT1462 cc, Automatic, Petrol, 18.76 kmplDISCONTINUED
Rs.10.88 Lakh*
 
Vitara Brezza ZXI Plus AT1462 cc, Automatic, Petrol, 18.76 kmplDISCONTINUED
Rs.11.33 Lakh*
 
Vitara Brezza ZXI Plus AT Dual Tone1462 cc, Automatic, Petrol, 18.76 kmplDISCONTINUED
Rs.11.49 Lakh*
 
View All Variants
Maruti Suzuki Vitara Brezza Review
Maruti Suzuki seems to have swapped the lead actor in the sequel to a blockbuster. Hit or flop?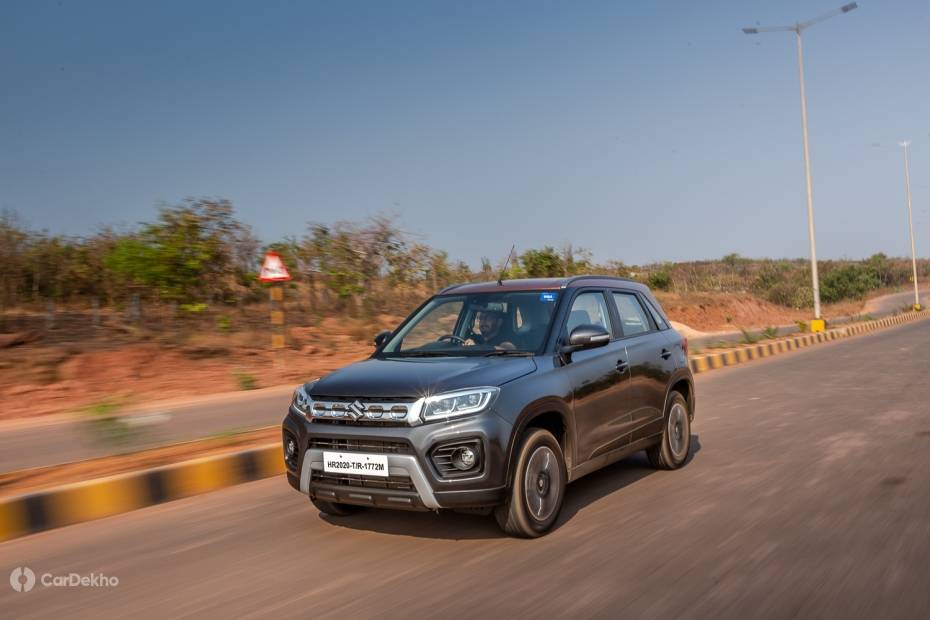 It's a bold move, alright. From giving us nothing but a diesel-powered Brezza for four years to replacing it with a petrol motor. Maruti Suzuki's updated Vitara Brezza isn't exactly a comprehensive makeover many were hoping it'd be. It's underwhelming even by facelift standards, at least on paper. So, is the 2020 Vitara Brezza worth your attention at all?
Exterior
Looks

It will take you a while to tell that the Brezza in front of you is in fact the 2020 iteration. Most of the updates are of the blink and miss variety.
Dimensions
Vitara Brezza
Venue
EcoSport
Nexon
XUV300
Length
3995mm
3995mm
3998mm
3993mm
3995mm
Width
1790mm
1770mm
1765mm
1811mm
1821mm
Height
1640mm
1590mm
1647mm
1606mm
1627mm
Wheelbase
2500mm
2500mm
2519mm
2498mm
2600mm

These include dual-barrel full-LED headlamps with LED DRLs (which double up as the turn indicators) available from the V variant onwards. You also get white fog lamps like we've seen on the XL6.

As you'd expect, the grille is dipped in extra shiny chrome that makes it look like the Brezza is clenching its teeth looking at you. There's a mild redesign for the front bumper and rear bumper and faux skid plates too.

In profile, the obvious difference is the new design for the 16-inch alloy wheels. Take the updated LED tail lamps out of the equation and you'd struggle (hard) to tell the updated Brezza apart from the older one from the rear. Pick the automatic variant and you will see a hybrid badge on the boot.
Interior
Inside the cabin, the Brezza remains unchanged, save for new fabric upholstery. That's to say the key pillars of space, quality and design have been carried on as is.

Compared to free-standing touchscreens and knurled knobs on rivals, the Brezza's dash looks a bit utilitarian and almost unimaginative in terms of design. You can't fault it for practicality, though. There's plenty of space shared between the twin gloveboxes, large door bins (1-litre bottles are an easy fit!) and the cup holders near the handbrake area. All immensely useful, and well within reach.
Unlike the Nexon facelift where the quality of materials saw a tangible improvement, the Brezza soldiers on unchanged there too. There are plenty of hard plastics used throughout the cabin, and the number of parts shared with other (cheaper) Maruti Suzuki cars could put a few off. What you'd appreciate, however, are the seats.

Set in a likeably high position as before, the front seats are cushioned well, and supportive. This means anyone upgrading from a smaller car will almost immediately feel confident about piloting the Brezza. You get to adjust the height of the seat too, along with tilt adjustment for the steering wheel.

The backseat is a familiar place to be. It continues to function well as a family car with ample knee room and headroom for rear-seat occupants. Given the width, it's among the few small SUVs that can fit three abreast if needed.

Its 328-litre boot isn't setting benchmarks. On paper, it's lower than what the EcoSport, Venue or even the Nexon offer. To make up for it, the Brezza offers a 60:40 split rear bench in the top-spec Z and Z+ variants.
| | | | | | |
| --- | --- | --- | --- | --- | --- |
| | Vitara Brezza | Venue | EcoSport | Nexon | XUV300 |
| Boot Space | 328 litres | 350 litres | 352 litres | 350 litres | 260 litres |
Technology & Features

Maruti Suzuki has added a grand total of two new features to the Brezza's cabin. There's an auto-dimming IRVM and an auto-retracting ORVM (mirror folds when you lock the car; but doesn't auto-open when unlocked); but both are exclusive to the top-spec Z+ variant.

There's a new touchscreen (in the top two trims) but it hasn't grown in size. It runs Suzuki's latest SmartPlay Studio interface that we've seen on pretty much every Maruti car right from the S-Presso. It's easy to use and gets the usual connectivity options including Apple CarPlay, and Android Auto. The touchscreen is paired with a 6-speaker music system, whereas lower trims get 4 speakers. Other highlights include a leather-wrapped steering wheel, automatic climate control, auto headlamps and rain-sensing wipers.
Given the Brezza's price, it isn't excusable that features such as a sunroof, rear-AC vents, a tyre pressure monitoring system and connected car tech have been skipped.
Safety
With the 2020 Brezza, you get dual airbags, ABS with EBD and ISOFIX child seat mounts as standard. Reverse parking sensors, a seatbelt reminder and the high-speed alert chimes are standard too. The automatic variants get hill-hold as well.

Here too, Maruti Suzuki could've pushed the envelope a bit and offered side and curtain airbags. However, it's heartening to know that the pre-facelift Brezza scored a respectable 4 out of 5 stars in the GNCAP crash test. We don't expect the new version to fare any differently.
Performance

Replacing the 1.3-litre diesel is the 1.5-litre petrol engine we've seen in the Ertiga and the Ciaz.
Petrol
Vitara Brezza
Venue
EcoSport
Nexon
XUV300
Engine
1.5-litre
1.0-litre Turbo
1.2-litre
1.5-litre
1.2-litre
1.2-litre
Power
105PS
120PS
83PS
123PS
110PS
110PS
Torque
138Nm
172Nm
114Nm
150Nm
170Nm
200Nm
Transmission
5MT/4AT
6MT/7DCT
5MT
5MT
6MT/6AMT
6MT
Mileage
17.03kmpl/18.76kmpl
18.27kmpl / 18.15kmpl
17.52kmpl
15.9kmpl
17.4kmpl
17.0kmpl

Unsurprisingly, the engine feels like a diametric opposite of the 1.3-litre diesel. It's butter smooth when you start it up. You'd struggle to hear it at idle even with the music system turned off. Vibrations are next to none too. It settles into a relaxed hum, and that's a sign of what the engine has in store for you as you get driving.

Let go of the feather-light clutch and the Brezza picks up clean. You'll see yourself upshift to 2nd gear pretty quickly, possibly under 10kmph. And you could stay in this gear for practically the entirety of your city commute. It doesn't mind being pulled from single digit speeds (handy for those speed breakers!) all the way past 50kmph. Third shows similar versatility too. You could realistically drop down to as low as 15kmph here, and then pull clean. It will take a second or two to start accelerating, but at no point does it feel stressed.

For the office commute, school and grocery runs, the Brezza impresses thoroughly. You'd never want more power. Similarly, if your idea of road trips involve you sitting in the middle lane comfortably between 80-120kmph, you'll love this engine. It's at absolute ease when it's settled into a cruise. However, should you want to pull away from traffic or overtake, you will have to downshift to fourth (or wait a lot).
The Brezza automatic shows similar traits. It too prefers to be within the confines of the city rather than be out exploring. The 4-speed automatic is old enough to be finishing school, but it isn't as undesirable as you'd think. For city usage, you'd have no complaints with the gearbox. It's smooth, going up and down the gears without letting you know. It will stick to second gear for the most part of the commute, and that's bound to take a toll on the efficiency. To counter this, Maruti Suzuki has called upon the SHVS mild-hybrid tech. It helps save some fuel when you're stuck in jams or at a red light by automatically turning the car off. You don't necessarily have to shift to neutral for the car to switch off, it does so when the car is stationary in Drive (D) too. Release the brake, or shift back to D and the motor starts up instantly.

Now, allow us to geek out a bit. Since the gearbox has just four ratios to play with, each has been given a wide spread of speeds it can tackle. This means that when you slam on the accelerator pedal at 60kmph-80kmph, the gearbox insists on pulling in third gear instead of downshifting to second for acceleration. Similarly when you'd step on it at triple digit speeds, acceleration can be woefully slow. Thus, overtakes require a little bit of planning. This nature of the gearbox haunts it on inclines too, where it seems a bit puzzled and prefers pulling in a higher gear versus downshifting. Also, do note that there's no dedicated Sports or Manual mode, or even paddle shifters. You can force it to stay in lower gears by using the L, 2 or O/D off (prevents the gearbox from engaging fourth) modes, though.
This makes the automatic hard to recommend. Especially given that it's asking for an extra Rs 1.40 lakh from your pocket vs the manual. We'd happily live with the manual. It isn't asking for any extra effort to begin with.
Now, you might ask if the petrol makes us miss the diesel. Yes, and no. Yes, since highway performance has taken a noticeable hit. That punchy diesel motor felt at home munching down highway miles. And it was pretty damn efficient too.

No, because the petrol motor is fun in its own way. It happily revs to its redline and the engine makes a sweet noise too. It isn't as rev happy as say Honda's 1.5-litre motor, but does enough to make you feel involved. The refinement is a bonus compared to the diesel, too.
Ride and Handling

The 2020 Brezza brings with it a comfier ride. It no longer crashes and thuds over broken surfaces. You'll feel some side to side movement over some really bad roads, though. But, the suspension now absorbs undulations better, and silently at that. Couple this with the silent motor, and that road and wind noise have been clamped down on and you've got a properly relaxing ride. Maruti Suzuki credits the improvement in ride to reworked suspension and different tyres. At triple digit speeds too, there's none of that vertical hopping and bobbing business. This means long highway trips with the family should be a happy affair.

The steering is just the right weight at low speeds and on highways it weighs up enough. It's expectedly quick and direct too, letting you have some fun around the corners. While you'll know exactly what the front wheels are up to, it does feel a bit numb.
Variants
Maruti Suzuki is offering the Brezza in a total of four trims: L, V, Z and Z+. While the manual gearbox is available across all variants, the automatic gearbox is available from the V variant onwards. With the update, the manufacturer has made certain features available in lower variants.

For those on a budget, the base-spec L variant offers tremendous value, especially since it gets plenty of safety features as standard. The other variant that stands out from a value stand point is the Z variant. For a detailed explanation of the variants, check out our variants explained article.
Verdict

The 2020 Vitara Brezza has its basics in place. A smooth petrol engine, a spacious cabin, and a very comfortable ride quality. Compared to the diesel, you'd appreciate not just the refinement of the motor, but also the smooth nature of the automatic compared to the AMT. But the petrol engine takes the versatile Brezza and pushes it into a city-centric corner. For those wanting to run wild and free on the highway, the giggle-inducing torque kick and the pocket-friendly efficiency of the diesel will definitely be missed.
As a package, the Brezza could've definitely done better. If not for feel-good features like a sunroof, or safety features like side and curtain airbags, Maruti Suzuki could've chosen to focus on upping the cabin experience of the Brezza with better materials.

With that for context, the Brezza's pricing seems a bit optimistic - especially for the top-spec variants, and doubly so for the automatic. In fact, if a small, automatic SUV is all you want, you could get one with a DCT or a better 6-speed automatic by spending not much more. The lower manual variants, however, continue to offer solid value given that many features have now trickled down the lineup.
Pros & Cons of Maruti Vitara Brezza Car
CarDekho Experts:
The 2020 Vitara Brezza has its basics in place. A smooth petrol engine, a spacious cabin, and a very comfortable ride quality. Compared to the diesel, you'd appreciate not just the refinement of the motor, but also the smooth nature of the automatic compared to the AMT.
Things We Like
Smooth petrol engine is relaxing and fun!
Comfortable ride quality. Tackles bumps, potholes much better.
Spacious cabin for a family of five. Ample boot space too.
Things We Don't Like
Old-school 4-speed automatic feels slow on inclines and highways.
Missing features: sunroof, rear-AC vents, side and curtain airbags.
No option of a diesel engine.
Stand Out Features
Full-LED dual projector headlamps give the Brezza a different personality.Full-LED dual projector headlamps give the Brezza a different personality.

7-inch Smartplay Studio Touchscreen supports Android Auto and Apple CarPlay.7-inch Smartplay Studio Touchscreen supports Android Auto and Apple CarPlay.

Lots of customisation options to personalize and deck up your Brezza.Lots of customisation options to personalize and deck up your Brezza.
Specification of Maruti Vitara Brezza
| | |
| --- | --- |
| ARAI Mileage | 18.76 kmpl |
| Fuel Type | Petrol |
| Engine Displacement (cc) | 1462 |
| No. of cylinder | 4 |
| Max Power (bhp@rpm) | 103.26bhp@6000rpm |
| Max Torque (nm@rpm) | 138nm@4400rpm |
| Seating Capacity | 5 |
| TransmissionType | Automatic |
| Boot Space (Litres) | 328 |
| Fuel Tank Capacity | 48.0 |
| Body Type | SUV |
Maruti Vitara Brezza Car News & Updates
Latest News
Must Read Articles
Maruti Vitara Brezza User Reviews
All (381)
Looks (103)
Comfort (127)
Mileage (125)
Engine (73)
Interior (54)
Space (36)
Price (40)
More ...
It's a good car for a small family and also for a long tour. Its performance and features ...Read More

I sharing my Vitara Brezza ZXI experience, the car is awesome and the performance is too good. ...Read More

Comparatively good than other cars. Good looking and smooth driving, good suspension, and excellent ...Read More

Two-color looks very good. The Interior is also good-looking. Mileage compactable and service M...Read More

Simplicity is the secret of beauty. Maruti has really done amazing work, Best car one can have at th...Read More

View All Vitara Brezza Reviews
Maruti Vitara Brezza Car Latest Update
Latest Update: Maruti is set to launch the new-gen Brezza today. The current model can be had with discounts of up to Rs 17,500 this June.
Maruti Vitara Brezza Price: It is priced between Rs 7.84 lakh and Rs 11.49 lakh (ex-showroom Delhi).
Maruti Vitara Brezza Variants: The sub-compact SUV is sold in four trims : LXi, VXi, ZXi, and ZXi+.
Maruti Vitara Brezza Seating Capacity: It is a five-seater.
Maruti Vitara Brezza Engine and Transmission: It gets a 1.5-litre petrol engine (105PS/138Nm), paired with a standard 5-speed manual. An optional 4-speed AT is also available.
Maruti Vitara Brezza Features: Maruti has packed the Vitara Brezza with cruise control, a height-adjustable driver's seat, auto AC, 7-inch touchscreen infotainment system with Apple CarPlay and Android Auto, rain-sensing wipers, and push-button start/stop.
Maruti Vitara Brezza Safety: Safety kit on board consists of dual front airbags, ABS with EBD, and rear parking sensors.
Maruti Vitara Brezza Rivals: Maruti's su-compact SUV rivals the Toyota Urban Cruiser, Mahindra XUV300, Hyundai Venue, Tata Nexon, Renault Kiger, Nissan Magnite, and Kia Sonet.
Read More
Maruti Vitara Brezza Videos
Maruti Vitara Brezza 2023 has 1 video of its detailed review, pros & cons, comparison & variant explained,test drive experience, features, specs, interior & exterior details and more. Watch our Latest Hindi video of Maruti Vitara Brezza to know price, safety features & more.
8:28

Maruti Vitara Brezza Petrol 2020 Review | Get The Manual! | Zigwheels.com

Apr 11, 2020 | 20058 Views
Maruti Suzuki Vitara Brezza Images

Maruti Suzuki Vitara Brezza Mileage
The claimed ARAI mileage: Maruti Vitara Brezza Petrol is 17.03 kmpl.The claimed ARAI mileage for the automatic variants: Maruti Vitara Brezza Petrol is 18.76 kmpl.
| Fuel Type | Transmission | ARAI Mileage |
| --- | --- | --- |
| Petrol | Automatic | 18.76 kmpl |
| Petrol | Manual | 17.03 kmpl |
Found what you were looking for?
Maruti Vitara Brezza Road Test

Are you Confused?
Ask anything & get answer in 48 hours
Write your Comment on Maruti Vitara Brezza
85 comments
1
a
ayush kumarumar ayush kumar
Jul 20, 2021, 8:48:10 PM
Patrol 110 rs hai
Read More...
Reply
Write a Reply
1
K
karan sharma
May 26, 2021, 4:30:32 PM
My uncle has recently purchased this car from Sai Service showroom. He received good services by the dealer. The car provides 17 kmpl mileage on manual transmission.
Read More...
Reply
Write a Reply
1
D
dance hub
Mar 19, 2021, 5:07:12 PM
Waiting period
Read More...
Reply
Write a Reply
*Ex-showroom price in New Delhi
×
We need your city to customize your experience