Auto Expo 2023: This Is What The Hilux Looks Like When It Is Properly Unleashed
Modified On Jan 13, 2023 01:41 PM By Ansh for Toyota Hilux
Slap on this extensive list of modifications to your own Hilux, and we reckon you'd also be able to ride literally anywhere on earth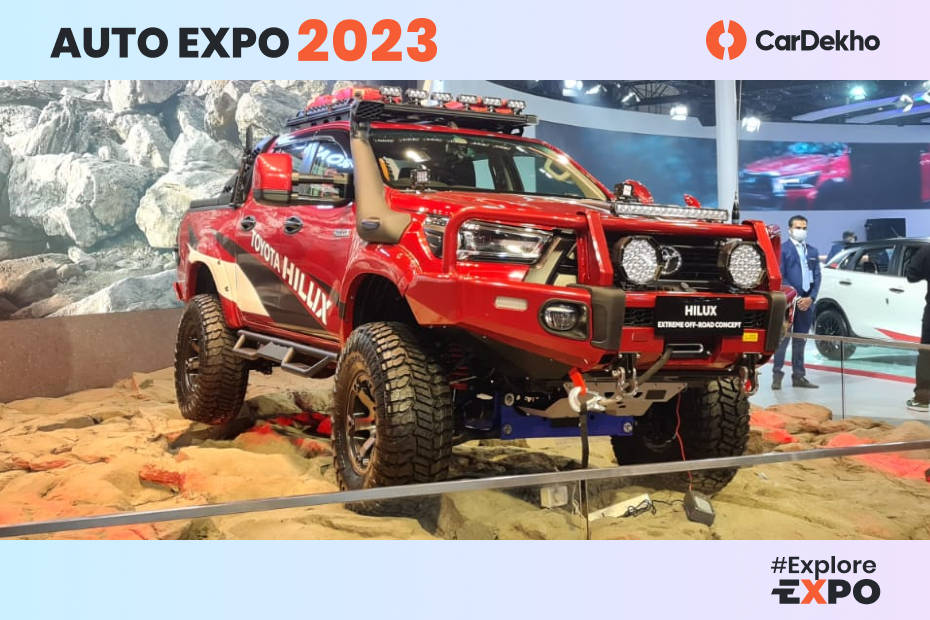 In the midst of all the facelifts, EVs and new cars being showcased at the 2023 Auto Expo, Toyota had a proper monster on display. A red-coloured Hilux concept kitted out with specialist off-roading modifications standing on an uneven, mountainous platform. These are some of the key changes made to the pickup to take it from stock to over-the-top:
A Lifted Chassis

As if the existing ground clearance for the iconic pickup wasn't enough, Toyota has increased it for this concept using a six-inch lift kit, making it even more suitable for off-roading tracks. Dedicated long-travel off-road suspension and purpose-suited control arms help increase your distance from the ground.
Bigger Tyres

The concept comes with a set of mammoth 37-inch Radar Renegade R/T rugged off-road capable tyres. Any seasoned off-roader will agree that the four tyres fitted to your pickup are not enough, so you also get two more placed in the back as spares.
Roof Rack

Since all the pickup's luggage bay is being used up by the spare wheels, the carmaker has equipped the Extreme Off-road Hilux concept with a roof rack to strap your belongings to. In this case, it is being used to store jerry cans.
Telescopic ORVMs

The carmaker has used a new tubular design for the ORVMs, which can be pulled out to have a better look at the other off-roaders you left behind in the swirling dust.
Blinding Lights

Once you get over the large wheels and the added height, you will notice the sheer amount of lights on the Hilux concept. Apart from the existing headlamps, you see a huge number of auxiliary lights on the bull bar, roof, and an LED light bar on the bonnet.
Tow Hooks

Lights aren't the only thing that's in abundance – the concept is loaded with plenty of tow hooks. You can see them under the front bumper, in the back tying up the spare wheels and under the rear bumper. These are useful to help those who cut corners in building the ultimate off-roader, unlike this Hilux concept.
Other Modifications

There are even more modifications on this purpose-built Toyota pickup but details on them are limited. You can also see a snorkel exhaust system, tubular side steps and a massive skid plate.
Also Read: Toyota Brings Out The Big Guns At Auto Expo 2023 With The Massive New Land Cruiser
With all these modifications, the Hilux concept looks no less than a beast, ready to rule any terrain it rides on (or through).
Check out more Auto Expo 2023 content here
Read More on : Toyota Hilux diesel
Was this article helpful ?
0 out of 0 found this helpful