Volvo S90 Excellence: Interiors previewed
Published On Apr 27, 2016 08:02 PM By Abhijeet for Volvo S90 2016-2021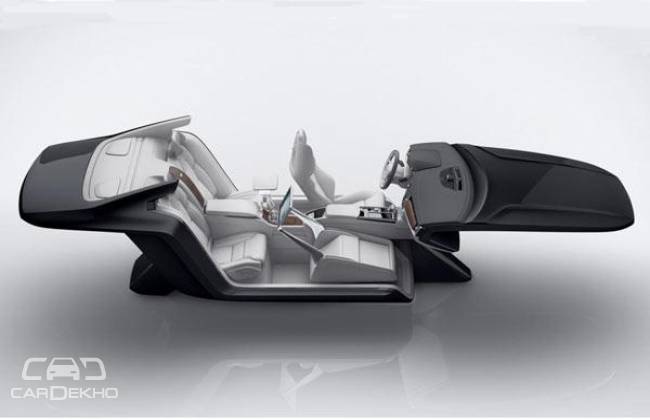 Swedish luxury car manufacturer, Volvo, has previewed the interiors of the range-topping version of its upcoming sedan, the S90. The manufacturer, at the ongoing Beijing Motor Show creatively displayed the car's interior tub, explaining the Excellence concept.

To start with, it has only three seats as opposed to five in the standard S90. The rear gets two electrically adjustable seats, while the front has shed the passenger seat for the sake of a stubby hassock. Well, wait! It's not just your ordinary hassock, it seems to have a brain of its own. In the video, the hassock or the lounge console, as Volvo calls it, can accommodate passenger's shoes and houses a hidden multi-function screen that doubles up as a workstation, if and when required. In addition to this, there are several other opulent features such as rear massage chairs, a rear central console with a refrigerator, a tray, a couple of heated/chilled glass holders and crystal glasses from Orrefors.
The concept boasts a 19-speaker Bowers and Wilkins music system along with wireless headphones. The cabin supports enhanced noise insulation as compared to the basic S90.
This top-of-the-line version is likely to come with a hybrid powertrain, the one seen on the XC90 T8 Twin Engine. If this holds true, the combination of a 2.0-litre supercharged petrol and the electric motor might produce a hefty 400 bhp of power and 610 Nm of torque. Speaking of the XC90, we did a detailed road test, hope you enjoy it!
The regular S90 is due for its global launch later this year and the Excellence variant will only be offered post that. The flagship saloon from the manufacturer will be available in different states of tune including an all-wheel drive version. Expect to see the S90 rolling on Indian streets by the end of this year!
Was this article helpful ?
0 out of 0 found this helpful