5 Interesting Facts About The Honda WR-V
Modified On Mar 08, 2017 10:05 AM By CarDekho for Honda WRV 2017-2020
691221 Views

Write a comment
The Honda WR-V may seem like the Jazz with some SUV styling, but there's more to it than meets the eye

With the Honda WRV ready to hit showrooms in mid-March 2017, you may have already flipped through a few reports to give you the obvious bits of information. Here's a quick summary of those facts:
The WR-V is based on the same platform as the Jazz and the Honda City.
It will share its powertrain options with the Jazz i.e. a 1.2-litre petrol and a 1.5-litre diesel motor. The petrol will get a five-speed manual gearbox while the diesel will be offered with a six-speed manual.
Since this is a Jazz-based crossover, the dashboard, and interiors at large, will be carried over as is.
Now, here's a look at some of the more interesting bits:
Infotainment

As confirmed to us by Honda's R&D executives, the WR-V will get the same seven-inch Digipad touchscreen infotainment system as the City facelift, on its higher variants. The system supports Bluetooth audio streaming and telephony, an SD card-based navigation system and a media player for playing audio and video files. It will also come with an HDMI port and USB connectivity, along with Wi-Fi and MirrorLink support. On a side note, it doesn't get a CD drive or AUX port.
Sunroof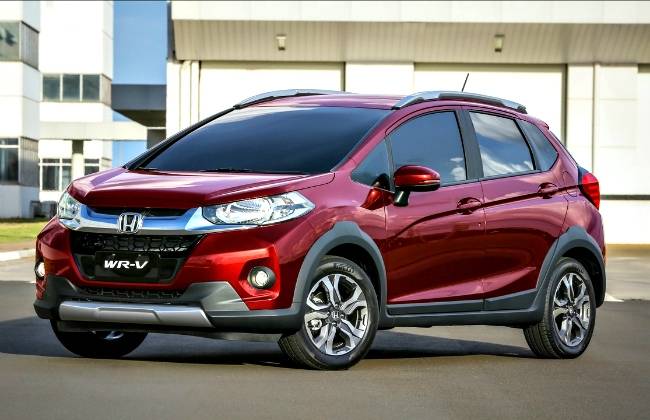 While it is based on the Jazz, the WR-V does borrow a fair bit from the City, including the option of a sunroof, which will be offered on the top-end grades.
Cruise Control
The WR-V will get the added benefit of cruise control. This feature, while sometimes difficult to use on our road conditions, will be a big boon for those looking at extensive highway usage. Not only does the WR-V have the look of an SUV, it also offers a lot of utility, thanks to its flexible cabin (derived from the Jazz). Chances are, a lot of people will be using it for inter-city trips or weekend getaways, where cruise control will come in handy. Additionally, Honda is also expected to throw in a push button starter!
Ground Clearance

Honda cars generally have a reputation of offering a weak ground clearance, making them prone to bottoming-out on our punishing road conditions. The WR-V, on the other hand, is expected to get a GC of around 200mm, which puts it in the same league as the Ford EcoSport. Even if you aren't looking at driving through dirt tracks or semi-urban roads, the high ground clearance will give the WR-V an advantage while ferrying heavy passenger loads.
Greater Dimensions Than The Jazz

The WR-V has a longer wheelbase than the hatchback it's based on (Jazz = 2,530mm, WR-V = 2,555mm). Even the width and height are greater at 1,730mm and 1,600mm respectively, as per Honda Brazil's official press release. The Brazil-spec WR-V is also said to measure four metres in length, though, Honda Car India may give it a little nip and tuck to keep the car within the four-metre length mark.
What's your take on the Honda WR-V? What's the price you'd consider buying it at? Let us know in the comments!
Also Read:
Video
Was this article helpful ?
0 out of 0 found this helpful