6 Lifestyle Pickups We Want In India
Modified On Nov 08, 2016 08:43 PM By Tushar
Pickups have been a relatively untouched segment in the Indian car market. Of course, we mean lifestyle pickups, which thus far have been limited to the Scorpio Getaway and Tata Xenon XT. A breath of fresh air came in earlier this year when Isuzu launched the D-Max V-Cross. In fact, we've driven this monstrosity and absolutely loved it. We're not the only ones who think so and the V-Cross has been well received. Its utility, road presence and off-road ability has made many 'want' it, even if they don't 'need' it.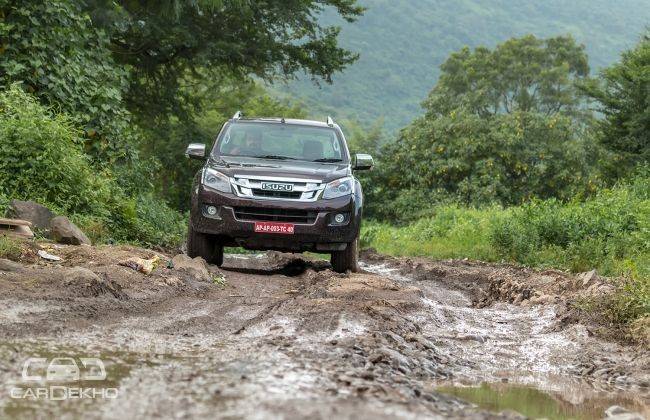 This, of course, made us look at the number of options available worldwide, so here's a list of pickups we'd like to see in India.
Ford Ranger
Any similarity you notice with the Ford Endeavour is no accident. The Ranger is the open-bed counterpart of the Endy and both brutes have a lot in common. On the inside, it gets the same premium ambience and expansive feature list you see in the Endeavour. The feature-kitty includes automatic climate control, touchscreen infotainment, rear parking sensors, a rear camera, leather upholstery and a power-adjustable driver's seat – all to keep you in comfort when you're exploring places out of your comfort zone.

It also gets the same 2.2-litre and 3.2-litre turbo-diesel engines with 6-speed manual and automatic transmissions. However, it'd be best if Ford offered only the 3.2-litre, 5-cylinder engine that makes 200PS and 470Nm of torque, of course, with 4x4.

Length x width x height x wheelbase dimensions = 5,355mm x 2,163mm x 1,821mm x 3,220mm
Chevrolet Colorado
Now Chevrolet did showcase the Colorado at the 2016 Auto Expo, but no plans to launch it have been announced. Apart from the potential to win over a niche audience, the Colorado should be considered because Chevy needs a differentiator. None of the brand's cars are performing well and it needs to do something to grab attention.

Importantly, if the Colorado is considered for India, it should come with 4x4, which the India-spec Trailblazer unfortunately misses out on. The pickup gets a 2.5-litre diesel engine that makes 180PS of power and 440Nm of torque, paired with a 6-speed automatic gearbox. Globally, the Trailblazer and Colorado have received a facelift and get more upmarket interiors than what we've seen in the current-gen Trailblazer too, making it more appealing to the discerning premium-pickup buyer.

Length x width x height x wheelbase dimensions = 5,408mm x 1,874mm x 1,858mm x 3,096mm
Toyota HiLux
Easily one of the most legendary names in the pickup world, the HiLux has proven itself as a global favourite. Based on the same platform as the Fortuner and Innova Crysta, the HiLux is a symbol of reliability and go-anywhere ability. It's also used by many armed forces around the world. On first impressions, it's not much of a looker, but run a search for a few modified examples and you'll need to wipe some drool off the keyboard.

The HiLux is available with the same '1GD-FTV', 2.8-litre diesel engine as the Innova Crysta, but delivers more power (177PS) and considerably more torque (420Nm). Yep, it gets 4x4 too and comes with features like LED headlights, a rear diff-lock, cruise control, push button start and a cabin that's as luxurious as the Innova Crysta's.

Length x width x height x wheelbase dimensions = 5,330mm x 1,855mm x 1,815mm x 3,085mm
Mazda BT-50
Like Isuzu, Mazda could consider beginning its Indian journey with a pickup; more specifically, the BT-50. If you like something big and bulbous, it's hard to ignore the BT-50. Like the V-Cross, there're plenty of modification options available and it too comes with the promise of Japanese reliability. The interiors are a bit old-school, but that's exactly how some like it.

It shares its underpinnings with the Ford Ranger (and the Endeavour) and gets the same 3.2-litre diesel engine in the 200PS/470Nm tune. Transmission options include 6-speed manual and automatic units.
Length x width x height x wheelbase dimensions = 5,365mm x 1,850mm x 1,821mm x 3,220mm
Nissan Navara
The NP300 Navara is another old-fashioned pickup that offers plus-sized proportions and a reliable 2.3-litre diesel engine that makes 190PS and 450Nm of torque. It's available with a 6-speed manual and 7-speed automatic gearbox with dual-range 4x4.

Features include a powered driver's seat, flip-up rear seats, NissanConnect smartphone integration, a 7-inch touchscreen infotainment system with navigation, dual-zone climate control with rear AC vents.

Length x width x height x wheelbase dimensions = 5,255mm x 1,850mm x 1,840mm x 3,150mm
Mercedes-Benz X-Class
The X-Class is based on the Nissan Navara and a luxury pickup would be the ultimate expression of exclusivity and quite a toy for someone with reasonably deep pockets. Not to mention, it'd be more affordable and easier to live with than Mercedes' other pickup, the G63 6x6.

It's a bit too hopeful to see this in India, but all it takes is a few eccentric customers to make it happen.
Of course, this list could go on to include the likes of the Ford F-150, Chevrolet Silverado and Dodge Ram, among others, but we'd like to hear from you. What pickups do you want to see in India?
Was this article helpful ?
0 out of 0 found this helpful