5 Most Tasteful Suzuki Swift Modifications
Modified On Nov 24, 2015 08:02 PM By Manish
22957 Views

Write a comment
When Suzuki launched its Swift hatchback in the international markets, it became a favorite of all the boy racers and car customizers across the globe. In India, if you want a car that has striking aesthetics, better handling, plenty of grunt and all the creature comforts you could ask for, then you can't help but consider Swift as your "dzired" car. The car holds its value in terms of depreciation because of its excellent build quality, competitive pricing, effective service facilities, impressive fuel­efficiency and exhilarating performance. No wonder Cristiano Ronaldo was picked to be the global brand ambassador for this car. So let's take a look at some of the most tastefully modified Maruti Swifts in India.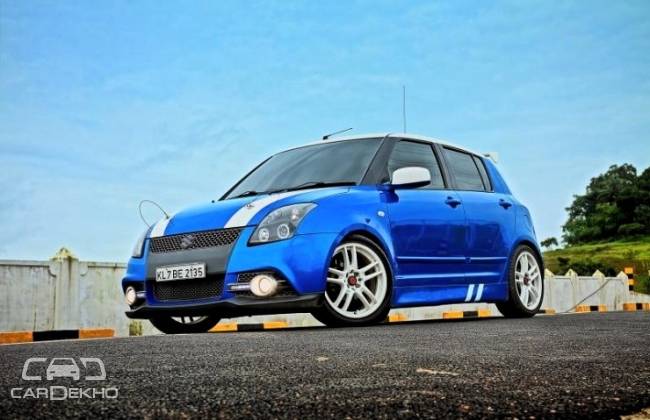 When Swift was first launched in India many compared it to a Mini Cooper and over the last decade the car has managed to live up to the honor bestowed on it with this comparison. This particular modification, along with its blue and white contrasting color scheme, white star-­shaped alloys and racing stripes capitalize on that very same comparison. If Mark Wahlberg or for that matter Michael Cain (from the original 'Italian job') were to swap their rides for a pack of Swifts, then this little number will definitely be the star of the show.

If we are talking about modifications, then there is no way that we can exclude India's leading automotive design house, DC designs out of our roster. Looking at what DC has to offer, we were surprised to see how subtle the designer was with its interpretation of the Maruti Swift, especially considering the car's key demographic and their partiality towards a sporty design approach. This modified Swift flaunts a redesigned bumper that features a contrasting black and blue highlights and incorporates redesigned fog lamp encasing and DRLs. The rear of the car gets the same treatment.
Also Read: Evolution: Maruti Suzuki Swift

Speaking of design approaches, the Maruti Suzuki Swift is one of those rare cars that is capable of carrying a wide range of versatile styling cues and though, the sporty styling is eye­catching, one can never go wrong with a classy, subtle design approach. This particular offering is brought to us by the minds behind Big Daddy Customs, which is based out of New Delhi. The car features subtle styling and includes a matte gray paint job along with contrasting blue accents on the sides, which go well with the blue after-market star-­shaped alloy wheels. The headlamps have been blacked out to help the car further embody the stealth spirit and the rear gets black highlights surrounding the taillight clusters. This particular model is indeed subtle but striking.

In a close second, we have another offering that makes its way to us out of the stable of DC designs. This particular modification however, is relatively much more striking when compared to the design house's previous interpretation. The car features similar redesigned bumpers, DRLs and fog-lamp enclosures, but what makes the car stand out differently is the gob-smacking red and black color scheme, which only goes on to demonstrate that you don't have to be too loud to stand out of the crowd. This modification will cost you about Rs. 2.65 lacs over the actual cost of the car.

Topping our list is the modification brought to us by Autopsyche, based out of New Delhi. This car features a plethora of modifications, which include Custom Advan Red & Black Stripe Paintjob, Widebodykit with Front & Rear Bumpers, Side Skirts, Front Splitters, Rear Diffuser, Extended Front & Rear Fender Arches, Custom Vented Hood & Sport Spoiler, Projector Headlamps & LED Tail Lamps, Lowering Springs & Bilstein B6 Sport Shocks, 17" Lenso Samurai Wheels & 205/45 Tires and Twin Exhaust System with Full Downpipe. This black and red beauty has managed to tread the very thin line that separates tasteful modifications and overdone monstrosities, especially while dealing with so many incorporations.
Find Out More About: Maruti Suzuki Swift
Image Source: Internet
Recommended Reads:
Was this article helpful ?
0 out of 0 found this helpful