Sponsored
Tata Tiago NRG iCNG: India's First Toughroader CNG
Published On Nov 30, 2022 06:28 PM By Sponsored for Tata Tiago NRG
The Tiago NRG iCNG is not only capable of running your daily drives but also suitable of the frequent off-road adventures while not compromising on the safety and user experience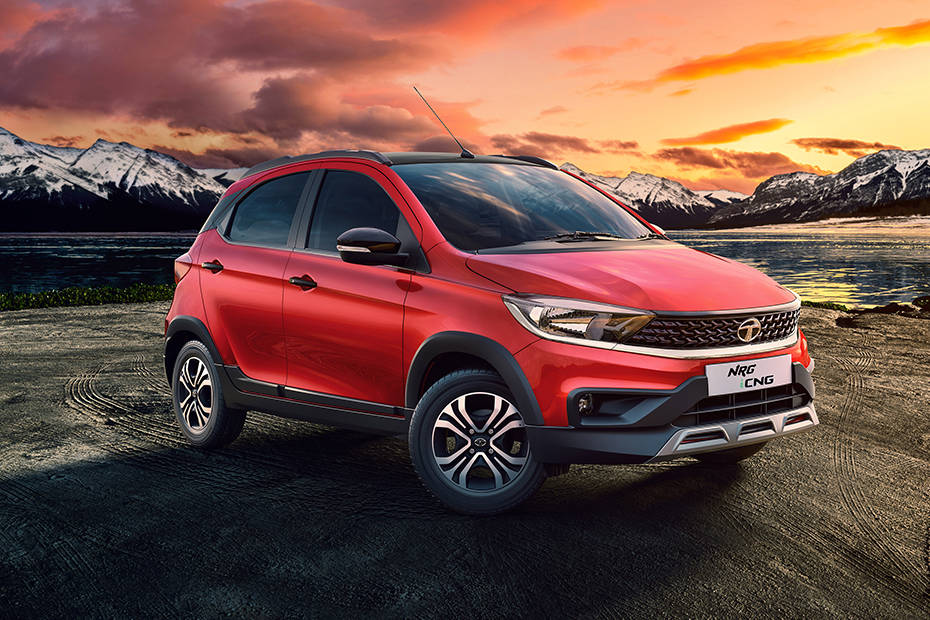 Until now, we have seen regular cars being offered with a CNG option. With the introduction of the Tiago NRG iCNG, India's first toughroader CNG, Tata has changed the dynamics of the game, i.e., of offering a crossover with the alternative fuel option. This comes in the light of the strong demand witnessed by the Tiago iCNG in almost a year's time period.
Here's why the Tata Tiago NRG iCNG is a cut above the rest:
A CNG Car like no other
While CNG cars have their evident advantages in terms of lower running costs, the one area where they lack is in their ability to tackle rough roads. This is where the Tata Tiago NRG iCNG truly stands out compared to any other competitor in its segment. With its 177mm of Ground Clearance, the Tiago NRG iCNG can clear any obstacle with ease - whether it's in a rural environment, light trails or even behemoth speed breakers in the city, making it a true Toughroader. Furthermore, the specially tuned suspension further enhances this crossover's go-anywhere credentials to give you the ease of mind that no matter where you take the Tiago NRG iCNG, it will get you there. Its ability of offering top-class performance irrespective of the patches on which it is being driven makes its ride a breeze for all occupants seated inside, which are not really strong points of other CNG cars in the market.
Striking Looks

The Tiago NRG, which is based on the facelifted Tiago, is a crossover version of the hatchback and has created a buzz among customers due to its SUV inspired design and offroading capabilities. These include the Armoured front design, Squircle wheel arches (which essentially means squared and circular wheel arches), a muscular tailgate finish, and an Infinity black roof with roof rails.
Furthermore, the Tiago NRG iCNG carries on with the rugged appearance from the petrol-powered NRG crossover, which is accentuated by the black body cladding all around the hatchback. It also gets wider section tyres measuring 175/65 R14 which only makes it easy to go on off-road surfaces.
For those who like to stand out in the crowd, there are a total of four exterior shades to choose from: Foresta Green, Fire Red, Polar White and Cloudy Grey.
iCNG Technology
There are four Is in Tata's iCNG technology– Incredible performance, Intelligent technology, Iconic safety and Impressive features. Let's check them out one by one:
1) Incredible Performance
Wherever the road takes you, the Tiago NRG iCNG's advanced technology ensures unparalleled performance. Fast enough to navigate city traffic and powerful enough to undertake long drives on highways. It's the ideal marriage of pickup and power. The Tiago NRG iCNG offers the best-in-class output of 73PS and 95Nm in CNG mode, which ensures you never have to make any compromises.

Another advantage of owning the Tiago NRG iCNG over its competitors is ability to offer an effortless drive in every terrain– Be it cities, ghats or rough roads, it delivers optimum power to ensure you can go anywhere in CNG mode without switching to petrol mode- unlike other cars in its segment. The iCNG technology guarantees that you can move through the city traffic with comfort and convenience. No more losing your cool by continuously pressing the clutch.
A segment-best ground clearance of 177mm and the re-tuned suspension setup to support the added weight of the tank work wonders in providing the smoothest ride possible to the occupants sitting in the vehicle.
2) Intelligent Technology

To ensure seamless switching between CNG and petrol modes, the iCNG technology makes use of a single advanced ECU. An advanced ECU keeps the air-fuel ratio at its ideal level to provide tremendous performance and good fuel efficiency.

As seen with other Tata iCNG models, the Tiago NRG iCNG is also equipped with the industry-first 'direct start in CNG' feature. It allows you to start the vehicle directly in CNG mode, allowing you to be stress-free during all drives and without having to worry about switching to CNG mode. In case you ever run low on CNG power, the Tata hatchback will automatically switch over to petrol mode. It will show the 'CNG low fuel' sign in the instrument cluster to alert the driver about the low fuel.
The iCNG technology guarantees quicker and safer gas refuelling with a specific nozzle for the NGV1 receptacle. It also gets a Modular Fuel filter which needs only cartilage change instead of the entire filter, thereby generating less hazardous waste and lowering the cost of maintenance. This technology is also environmentally friendly as it reduces CO2 emission by 24 percent compared to regular internal combustion engine-powered vehicles.
3) Iconic Safety
The Tiago NRG also boasts of being the safest car in its segment as it had secured an impressive five stars in the crash test conducted by the Global NCAP. This is down to the hatchback's high strength steel and reinforced structure, which keeps the cabin intact in a crash thereby keeping its occupants safe.
Even the Tiago NRG iCNG gets a few of its customised safety features to ensure all-round protection. These are:
(i) leak-proof design- Uses high quality Stainless steel tubes and fittings to prevent gas leaks – Have been thoroughly tested across various temperatures and pressures

(ii) Micro Switch- Switches off the car as soon as the fuel lid is open – Car remains switched off during refuelling – Also does not allow car to start unless the lid is closed
(iii) Leak detection feature- Automatically switches to petrol mode in case the system detects any gas leak
4) Impressive Features
Going against the norms set by carmakers, Tata brought a shift in the variants that a CNG kit was being offered until now. Usually, buyers have associated a CNG car as a feature-lacking model but this was changed with the introduction of Tata's iCNG range, which came even in the mid-spec and top-spec trims.

The Tiago NRG iCNG is no different and gets all the bells and whistles you would expect from the hatchback. It is decked with push-button start/stop, a seven-inch touchscreen system by Harman, an eight-speaker surround sound system, a digital instrument cluster, auto-folding ORVMs, rearview camera with dynamic guidelines, a cooled glovebox and many more.
Was this article helpful ?
0 out of 0 found this helpful