Upcoming Tata Harrier Platform Details Revealed
Published On Sep 24, 2018 06:26 PM By Raunak for Tata Harrier
Parameters such as wheelbase, door apertures, front suspension architecture, seating and steering positions will be identical to the Land Rover Discovery Sport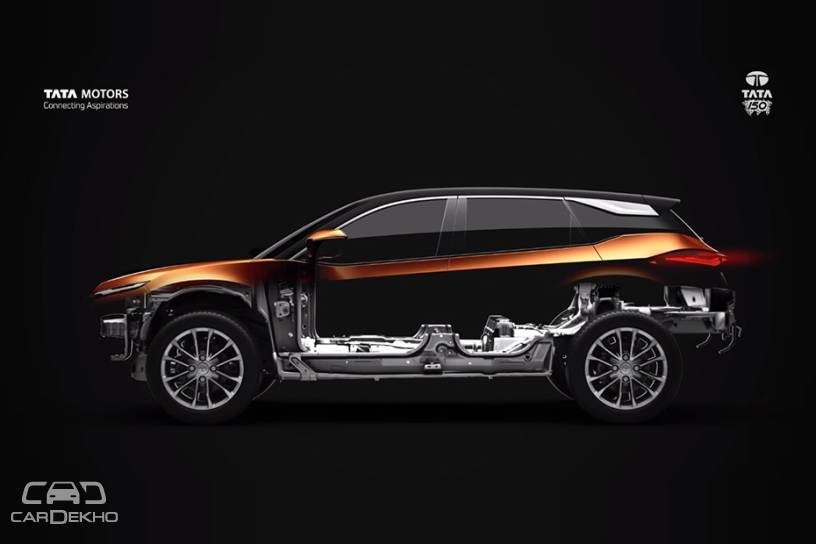 It is a known fact that Tata Motors' Optimal Modular Efficient Global Advanced Architecture (OMEGA ARC) is derived from the Land Rover's D8 architecture. Apart from the Harrier, which will debut the OMEGA ARC, there will be more SUVs based on the same in the near future, confirms the carmaker.

Tata Motors' OMEGA ARC uses a steel monocoque just like Land Rover's D8 architecture. In fact, the carmaker highlights that key parameters such as wheelbase, opening width of the doors, front suspension architecture, seating and steering positions are identical to those of the D8 architecture. Hence, like the H5X concept from the Auto Expo, the Harrier too will have a whopping wheelbase of 2,740mm, same as the Discovery Sport. Compared to the Creta and the Compass, the Harrier's wheelbase will be 150mm and 104mm more, respectively. Moreover, it will also be 40mm larger than the Mahindra XUV500's.

The D8 is JLR's only steel-based platform and underpins cars like the Evoque, Discovery Sport and the Jaguar E-Pace (yet to be launched in India). So, expect the stiffness of the Harrier's platform to be among the best at its price point. Besides stiffness, another similarity between the two platforms lies in the fact that the steel used in the construction of both is provided by Tata Steel. The Tata Harrier should conform to India's upcoming crash test norms, which will be mandatory in India in 2020.

While the Discovery Sport uses a steel body, its bonnet, roof, tailgate panels and suspension components are made out of lighter aluminium. The Tata Harrier, which will be offered at less than half the price of the Discovery Sport, is unlikely to feature aluminium in its construction. While the Discovery Sport is locally assembled with knocked down kits coming from the UK, the Harrier will be heavily localised and will be built on, what Tata calls, an advanced automated assembly line.
The Tata Harrier is expected to launch in January 2019. And its prices are expected to begin from around Rs 15 lakh. Once launched, it will go up against SUVs such as the Jeep Compass (with which it is expected to share the 2.0-litre diesel engine), along with higher variants of the Hyundai Creta, Mahindra XUV500, MG SUV and the Mahindra-Ford midsize SUV.
Check out: MG Confirms Internet SUV and Electric SUV for India
Was this article helpful ?
0 out of 0 found this helpful