This Modified Mahindra Thar Is A 4x4 Luxury Lounge
Published On Aug 11, 2021 10:25 AM By CarDekho for Mahindra Thar
This customised Thar features rear touchscreens like the BMW 6 Series GT, and even a sunroof

A Mumbai-based modification company has transformed the rough-and-ready Mahindra Thar into a soft, luxurious SUV. The Executive Modcar Trendz' (EMT) concept is for everyone who thought the Thar's interior could be better off with some beige and leather. Even the rear seat looks inviting now! Check out this Thar's bright new interior in the video below:
The team at EMT has custom-built this Thar for a client. They have reupholstered the stock all-black interiors with beige leather and added a sense of space in an otherwise compact cabin with roof lighting.
Also Read: This Modified Mahindra Thar Is All You Need To Go Camping In The Wilderness
The second-generation Mahindra Thar is a highly capable off-roader with segment-leading hardware -- four-wheel high and low gear ratios, electronically locking wheel hubs, and a traction control system with hill descent control. It can be had with a powerful 150PS 2.0-litre turbo-petrol or a 130PS 2.2-litre diesel engine, paired with a 6-speed manual or 6-speed automatic transmission.


Despite the Rs 15 lakh price tag (for its range-topping variant), the Thar's interior doesn't match up to standards set by similarly priced SUVs like the Hyundai Creta or Tata Harrier. After all, the interior isn't as much a priority as off-road capability. Mahindra has equipped it with modern creature comforts like a touchscreen infotainment system, a four-speaker audio system, and climate control. But EMT takes that to the next level.


The seats and door trims are upholstered in beige leather, and some dashboard components and door trim bits have been painted tan to go along with the theme. This and the aftermarket ambient lighting alone are enough to spruce up the front seating area. An aftermarket front armrest with a storage cubby and USB charging point adds some practicality, too.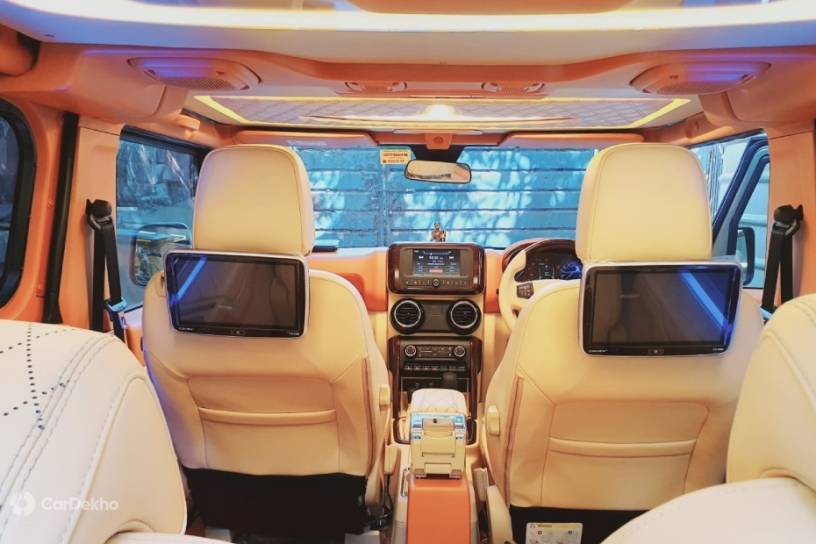 Rear seat passengers will no longer feel like second-class citizens. Sure, the two-seater bench itself is a bit cramped, but the roof lighting and sunroof make up for the lack of space. The seats are leather, as are the side armrests. You even get a pair of screens, each larger than the stock 7-inch touchscreen up front.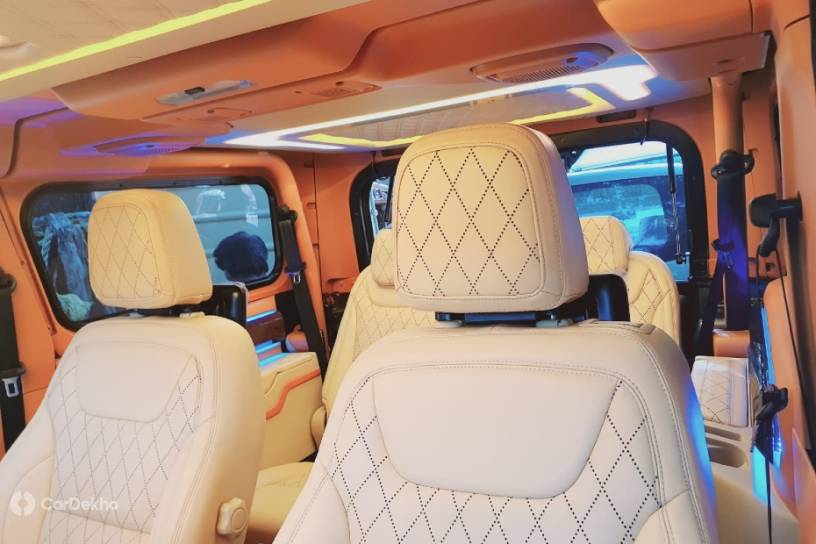 Custom-painted trim bits stay true to the theme, and even the structural beam that forms the C-pillar gets wrapped in leather. Custom roof lighting lends this Thar a sense of space that the regular SUV just doesn't possess. There's even a sunroof that opens above the rear passengers so you won't miss the Thar's soft-top variant.
Also Read: Mahindra Thar In Custom Colours - Which One Do You Like?
As you would have guessed, these interior modifications can add significantly to the price. The interior modification package from EMT costs Rs 5 lakh, including the pair of touchscreens. EMT also offers an exterior package -- including new custom-built LED headlamps and a new grille -- for Rs 50,000.
So, what do you think of this Mahindra Thar? Let us know in the comments below.
Read More on : Mahindra Thar on road price
Was this article helpful ?
3 out of 4 found this helpful