Force Gurkha
Force Gurkha is a 4 seater SUV. The Force Gurkha is expected to launch in India in September 2021. The Force Gurkha will rival Thar. Expect prices to start from 13.00 Lakh.
Change car
8 reviewsRate This Car
Rs.
13.00 Lakh
*
*Estimated Price in New Delhi
Expected Launch - Sep 27, 2021
Gurkha Latest Update
Latest Update: Force has revealed the production-ready Gurkha.
Force Gurkha Launch: The new Gurkha will be launched on September 27, 2021.
Force Gurkha Price: It could be priced from Rs 13 lakh (ex-showroom) onwards.
Force Gurkha Engine and Transmission: The new Gurkha will continue with its existing 90PS/260Nm 2.6-litre diesel engine, paired with a 5-speed manual. The more powerful 140PS 2.2-litre diesel engine from the previous Gurkha Xtreme is unlikely to return. The Gurkha will continue with the 4X4 drivetrain with a low-range transfer case and manual (front and rear) locking differentials as standard.
Force Gurkha Features: Force will offer the new Gurkha with a manual AC, a new touchscreen system, and power windows.
Force Gurkha Safety: Safety will be covered by dual front airbags, ABS with EBD, and rear parking sensors.
Force Gurkha Rivals: Its prime rival will be the Mahindra Thar. If you are looking for a monocoque SUV, you can consider similarly priced compact SUVs such as the Kia Seltos, Hyundai Creta, Nissan Kicks, and Renault Duster.
Read More

Force Gurkha Comparison with similar cars
Ex-showroom price in New Delhi
Force Gurkha Videos
Force Gurkha 2021 has 4 video of its detailed review, pros & cons, comparison & variant explained,test drive experience, features, specs, interior & exterior details and more. Watch our Latest Hindi video of Force Gurkha to know price, safety features & more.
2021 Force Gurkha First Look | Old vs New Walkaround | CarDekho.com

Sep 15, 2021
Force Gurkha Colours
Red

Gray

White

Olive Green

oragne
*Ex-showroom price

Force Gurkha price list (Variants)
UPCOMINGDiesel2596 cc, Manual, Diesel
Rs.13.00 Lakh*
 
Force Gurkha Review
In an age where balance is key, can a focused off-roader maintain its niche?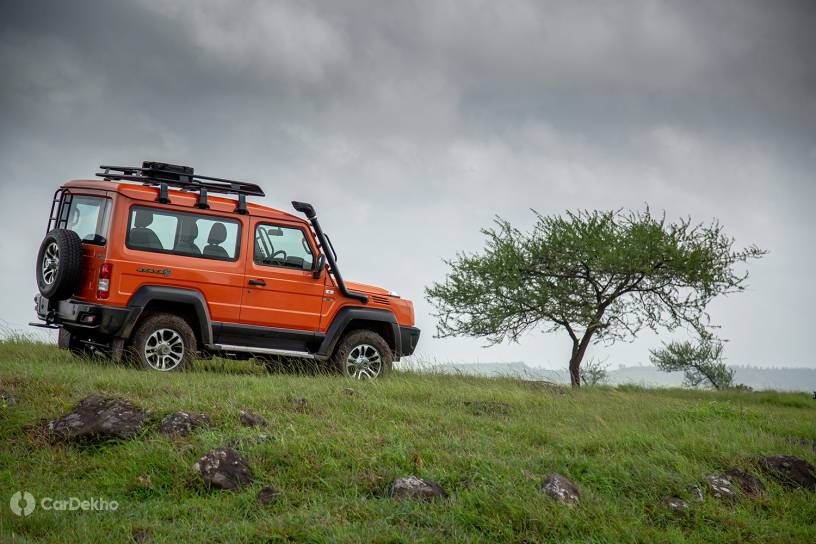 The Force Gurkha has its roots dating back to 1997 when it did a trial for the Indian Army. While the Army had other requirements, the Gurkha saw a demand from the focused off-roaders in the country. People who either lived in punishing terrains, mine operators or the lifestyle buyers who were fond of getting their boots dirty on the weekends. Not to mention, mod it and take part in off-road competitions like the Rain Forest Challenge. As a result, since 2005, it has been one of the most off-road focused passenger vehicles on sale.
In 2021, times have changed. SUVs have moved on to offer not just capability, but comfort and sophistication as well. We will test the Gurkha from the same angle. Has the 2021 Gurkha maintained its off-road bias or has it become softer to be a better lifestyle vehicle?
The Gurkha has evolved. But the focus of this evolution has been on making it better for the Gurkha buyer, rather than attracting new ones.

Overall, the Force Gurkha presents a unique paradox. It looks better, but the same. Gets more features and a better dashboard layout, but is still dated and rugged. The engine is more refined and the ride quality is impressive over bad roads, but it still is not a highway tourer. Clearly, Force has focused on ensuring the Gurkha is more capable off-road than on it. The positive points of the Gurkha have been improved upon in this update while polishing some of the negatives to make them less jarring.
If you are a Gurkha buyer and are buying it for its capability, or the blank canvas it can be for the mods, this is a mighty impressive update. One that won't compromise on its true nature while making life easier for you in the cabin. But if you are a lifestyle buyer, then the Gurkha still will ask for a lot of compromises like the ergonomics, cabin quality and highway manners. All of which the competition has been better able to combine together in a more palatable package. The saving grace for the Gurkha can be its price if Force manages to cap it around Rs 13 lakh ex-showroom. At that price, it will remain a viable option for a no-nonsense and capable off-road vehicle.
Exterior

While it may not be evident in the first look, the 2021 Gurkha shares no body or platform part with the older SUV. What remains true even today is the boxy shape of the Gurkha which even Force admits (unlike some) is inspired by the Mercedes G-Wagen. The placement of the turn indicators, round headlamps and the tall body are the elements that keep the 2021 Gurkha true to its design heritage. It continues to feature metallic bash plates as well. That said, the elements are a lot more polished and modern.

The front gets full-LED headlamps along with jewel-like LED DRLs. The grille proudly features the Gurkha name, instead of the round Force Motors logo. From the side, you still get the snorkel, the only passenger car in India to get it as a factory fitment, that helps the Gurkha achieve a water wading depth of 700mm. The large ORVMs feature a Khukri emblem, the fighting knife of the mighty Gurkha warriors, and the rest of the side is dominated by a large single glass window for the rear passengers. The 4x4x4 badge has been retained and remains a marketing spiel hinting towards the terrains the Gurkha can conquer - desert, water, forest and mountains.

In terms of dimensions, the new 4116mm length is now longer by 124mm but the 1812mm width is now shorter by 8mm. The height and the wheelbase remain the same at 2075mm and 2400mm respectively. At the back, the tough-looking bumper, ladder and the spare tyre help it look brute. However, the roof rack, ladder and wheel along with the tyres are accessories that customers can opt for. Everything else you see on the car is stock. On the road, the presence of the Gurkha is unmistakable as it stands tall and loud, especially in the new funky colours like red and orange. Other colours are white, green and grey.
Interior

While the exteriors are reminiscent of the past Gurkhas, the interiors are all new. By modern passenger car standards, they do feel dated and rather utilitarian. However, for the Gurkha, they are a step in the right direction. You still have to climb into the cabin and to help you, there is a side step and a grab handle on the A-pillar. The new seats with fabric upholstery are supportive and comfortable and even wear an embroidered Gurkha badge. Once seated though, the steering wheel feels a bit too large and old school. The finish is average and it has no controls for audio/calls either. And despite it now getting tilt and telescopic adjustment, taller drivers will still feel it to be a bit low and very close to the thighs. A smaller and better feeling steering would have surely helped with ergonomics here.

The instrument cluster is a more conventional one with speedo, tacho and a small digital MID for trip and fuel info. Very basic, but still better than the old Gurkha's analogue unit which had the tachometer in the middle of the dashboard!

The centre console features an aftermarket 7-inch Kenwood touchscreen infotainment unit which gets all your usual connectivity options like Bluetooth, Android Auto, Apple CarPlay and even screen mirroring. It is a responsive system and also features a lively Gurkha screensaver. It is paired to a 4-speaker sound system which sounds dull. Also, this time around, you even have four USB ports in the cabin. Two in the front along with a 12V socket, and two at the back. Again, while this unit is acceptable for an off-road-focused Gurkha, passenger cars of all shapes and sizes have moved on to offer more sophisticated systems. Other features in the cabin include a manual AC which is quite powerful, power windows with one-touch down for both and a lane change indicator.

In terms of safety tech, you get dual airbags, ABS with EBD, rear parking sensors (no camera), passenger seat belt reminder, central locking, rear seat lap belts (not three-point seat belts), and a tyre pressure monitoring system. All three passenger seats also get ISOFIX child seat mounts. However, even in our short drive, the sensors started to malfunction. The TPMS is an aftermarket unit and on multiple cars, the reading kept on fluctuating and at times went to zero, which triggered an alarm and became annoying. The passenger seatbelt reminder started beeping even without the passenger and the reverse parking sensors sensed things that weren't there. We hope these sensors are fixed in the production car.

In terms of cabin practicality, you get two cupholders, dedicated mobile storage and coin storage in the centre console. Door pockets are rather thin and can only hold juice boxes and papers. The glovebox has become bigger in this generation and can accommodate knick-knacks. The rear-seat passengers, however, get no storage.

Speaking of the rear seats, you now get two captain seats instead of the benches. Getting in only happens from the rear door and it's pretty comfortable. These seats are large and comfortable and get armrests of their own. You can recline them for more comfort but they do not slide, not that you will have any lack of knee room. The view outside is unobstructed with the large glass panel and because you are seated much higher than the front occupants, even the front view is clear. The only needed additions I can think of are three-point seatbelts, especially given its bouncy ride at higher speeds and cup holder or storage for the rear seat occupants.

Boot space figures are not given, but space behind the rear seats is ample for large suitcases and duffel bags. And because the space between the rear two seats is flat, you can even load up things there. But, if you have a large article, say some furniture, that will not fit in the Gurkha because the seats do not fold flat, and that is a big downside.
Performance

The previous generation Gurkha, in its last stint, moved to the Force One's 2.2-litre (140PS/321Nm) diesel engine from the older 2.6-litre (85PS/230Nm) motor. This gave it a massive 55PS and 91Nm jump. However, Force has now introduced the 2.6-litre diesel that now makes 91PS power and 250Nm of torque in a bid to get the NVH levels in the cabin down. Transmission is still a 5-speed manual.

Right from the start-up, the engine feels more refined and the NVH levels are much better than the older SUV. If you compare the two side by side, which we had an opportunity to do, they do not feel like the same engine. Start driving and there is no lack of usable power. The engine makes its peak torque from 1400-2400rpm and that is where it feels meaty and effortless. Pickups are easy and staying in bumper to bumper traffic is a breeze with light and short-travel clutch. Overtakes too happen effortlessly as the tall second and third gears let you pull from lower RPMs with ease. The Gurkha can surf the urban jungle at 40kmph in 4th gear all day.

However, beyond the 2500rpm mark, there is a sudden drop in pull. This starts to become an issue on highway drives and overtakes. The engine just runs out of breath and forces you to upshift early. It can also get loud at higher RPMs. Shifting, however, is much cleaner now with a short-throw car-like gear stick. It would have been better still if it was a bit closer to the driver as the first and second are still a bit of a reach.

The first gear has been intentionally kept very short to help with the Gurkha's off-road prowess. On steep inclines or declines, leaving it in first lets you crawl out of obstacles. And oodles of torque at lower RPMs won't let you get stuck either. The Gurkha still comes with a 4 wheel drive along with independently locking front and rear differentials, making it the most focused off-roader of the country.

The ability to put it in a 4 wheel drive low gear and locking the required differential helps it get out of some seriously tricky situations. While we did not encounter any terrain when we would have had to use this feature in our rather short drive, we did a lot of cross country in 4-wheel-drive high gear and the Gurkha never broke a sweat. We can't wait to get it back for a proper road test to put it to the ultimate off-road test.
Safety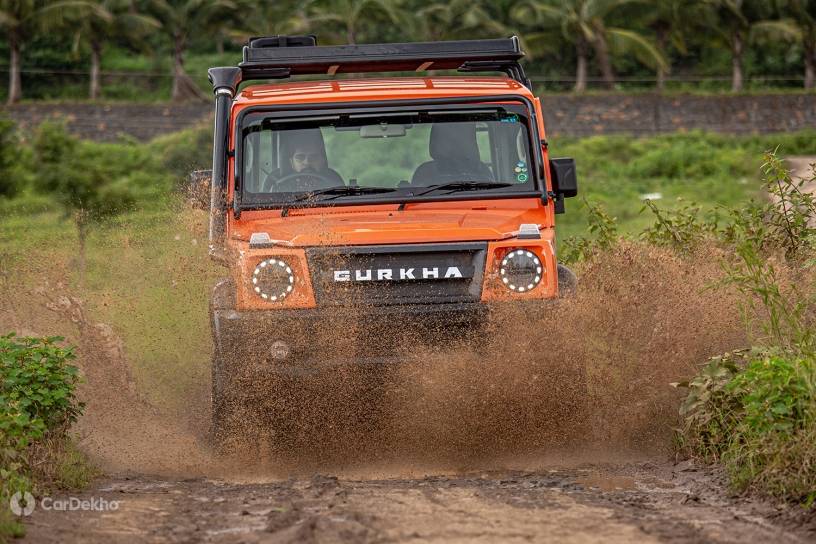 The Gurkha is probably the most comfortable ladder-frame SUV on broken roads. The way it can flatten out broken patches and imperfections on the road at city speeds is mighty impressive. Occupants just glide over the roads and this comes with a sense of indestructibility as well. As a bonus, the suspension is quiet. This will be ideal for people who want to use it for commutes to their farms or project sites where roads do not exist.

However, as the speeds start to climb, this floatiness of the Gurkha starts to become a disadvantage. The driver no longer feels connected to the tarmac and the cabin too moves around a lot. It's not jarring or harsh, but the movement itself can be scary. Handling too involves a lot of body roll and the steering barely offers feedback. All of this combined makes the Gurkha master of one trade - and that is to keep you comfortable where there are no roads. Road trips on highways will require a certain amount of trust in the driver.
Pros & Cons of Force Gurkha

CarDekho Experts:
The Gurkha has evolved to be a better all-rounder and will keep the occupants more comfortable. However, the reason to buy still remains singular - you need an uncompromising off-road capable SUV.
Things We Like
Looks intimidating on the road
Off-road capability
Now offers creature comforts like touchscreen, power windows and USB chargers
Ride comfort over bad roads
Commanding driving position
Things We Don't Like
No automatic on offer
Cabin feels dated
Rear seats get lap belts
High-speed stability
Stand Out Features
Manual locking differentialsManual locking differentials

7" touchscreen 7" touchscreen

Stock snorkelStock snorkel

Tyre pressure monitoring systemTyre pressure monitoring system
Must read articles before buying Force Gurkha
Force Gurkha User Reviews
All (8)
Looks (2)
Comfort (1)
Seat (1)
Clearance (1)
Driver (1)
Ground clearance (1)
Seat comfortable (1)
More ...
It is a great rival to Mahindra Thar. Though it is a very capable SUV, the suspensions are great and its features are also very good, overall it is a great product

Gurkha is always been a strong mid-SUV car. It's always known for its tough body and ground clearance, it competes with Mahindra Thar which is also tough compet...Read More

First word for the Force Gurkha is dhasu and market killer. Loved the design and really to keen to buy if pocket allows.

Make some advertisement like a teaser, trailer before the launch for awareness of the product.

Made in India. Majbuti me best. Force Gurkha bahut damdar hai. Ek vyavasayik vahano me khari utri he. Force Gurkha 1 acchi SUV thi lekin jab SUV ka chalan nhi ...Read More


Are you Confused?
Ask anything & get answer in 48 hours
Questions & Answers
What is the expected price of Force Gurkha?
The price of Force Gurkha is expected to be Rs. 13.00 Lakh*.
What is the estimated launch date of Force Gurkha?
The estimated launch date of Force Gurkha is Sep 27, 2021.
What are the expected key specifications of Force Gurkha?
Force Gurkha will be a suv available in Manual transmission & Diesel options.
What are the alternatives/competitors of Force Gurkha?
Force Gurkha will be competed with Thar.
Does the Force Gurkha have a sunroof?
Force Gurkha does not have a sunroof.
More Car Options to Consider
Write your Comment on Force Gurkha
16 comments
1
v
vinay singh
Jun 23, 2021 2:07:26 AM
Can we get a Gurkha modified like the green Gurkha showcased in the motor show
Read More...
Reply
Write a Reply
1
G
gregory michael roche
May 28, 2021 6:02:00 AM
The man's Suv
Read More...
Reply
Write a Reply
1
D
dr. prasanna h r
Mar 20, 2021 11:57:16 AM
Can we fix trailer for gurkha
Read More...
Reply
Write a Reply


Trending Force Cars
Force MPV

Rs.12.00 Lakh*

Expected Launch: Jan 01, 2050
×
We need your city to customize your experience