2017 Mercedes-Benz GLA Unveiled
Modified On Jan 12, 2017 09:44 AM By Arun
Mercedes-Benz' baby SUV – the GLA – has gone under the knife, only to come out looking a tad sharper. As is the case with most Mercedes facelifts, the upgrade is the blink and you miss it variety.
Here's a look at the pre-facelift version of the GLA -

...and here's what the facelift looks like -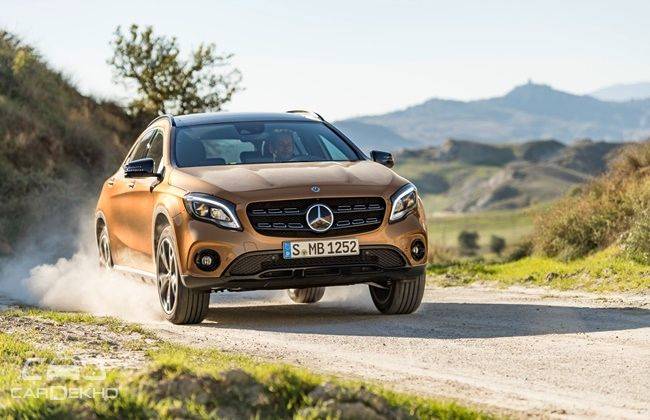 Among the first things you'd notice is the new 'Canyon Beige' paint shade, which we must admit, looks rather nice and outdoorsy. Then there are the new wheels, finished in black, that add to the SUV appeal. Subtler updates include a revised front and rear bumper, and all-LED headlamps. The updated face now looks in line with the big boys in Mercedes' SUV line-up, such as the GLC and the GLS. The matte-black cladding is a lot more prominent now, giving the GLA the much-needed dose of butchness.

Step inside, and you are in for a game of spot the difference. There are new upholstery options to choose from, and a dash of chrome around the centre stack. Just like the updated CLA, the two biggest changes include the 8.0-inch display that supports Navigation, Apple CarPlay and Android Auto, and a new instrument cluster. Also, the facelifted GLA gets a first-in-class 360° camera, feed from which can be seen as a full image, as seven different split screens and even a virtual top-view.

On the engines front, the GLA carries over the same set of petrol and diesel units. For the Indian market, we expect the compact SUV to be offered in the 200d (136PS), 220d 4MATIC (170PS) and 200 (184PS) variants. Both engines come paired with Mercedes' seven-speed transmission. Globally, there's a new GLA220 petrol variant as well, that slots in between the base 200 and the top-spec 250. That said, there's no word on it making its way to India at the moment.

Speaking of engines, the GLA with the best engine in the line-up – the Mercedes-AMG GLA45 – gets the update as well. The gem of a 2.0-litre petrol motor remains untouched, producing 381PS and 475Nm. Changes come in the form of a restyled front apron, new air intake grilles, and some silver detailing on the grille and the front splitter. It also gets a new set of 20-inch wheels to go along with the updated all-LED headlamps. The rear gets the new tail lamps, and the spoiler now features a lip. Other upgrades are minimal, and include a revised instrument cluster, and some AMG lettering on the vehicle key and the gear lever.



Mercedes' most affordable SUV is hugely popular in India, and we expect the German automaker to bring the facelift to our shores very soon. Since the GLA is locally produced, expect prices to remain competitive, starting around the Rs 32 lakh mark.
Read More on : Mercedes-Benz GLA india
Was this article helpful ?
0 out of 0 found this helpful