Tata Tiago EV Vs Tiago Petrol: On-road Price And Running Cost Comparison
Published On Sep 30, 2022 01:12 PM By Tarun for Tata Tiago EV
Let's see how much extra will you have to shell out for the Tiago EV as opposed to buying the petrol version and how different their daily running costs are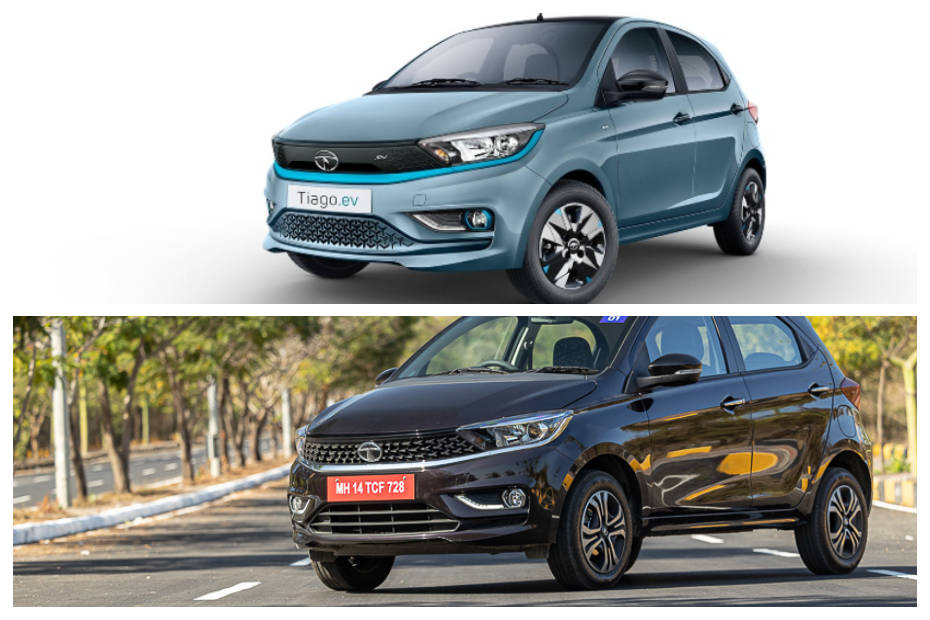 Tata has launched India's most affordable electric car, the Tiago EV and its introductory prices range from Rs 8.49 lakh to Rs 11.79 lakh (ex-showroom). With this, the Tiago can now be had in three different versions - Petrol, CNG and Electric.
Here's a brief variant-wise comparison between the on-road prices of the Tiago EV and Tiago petrol-AMT.
Variants (on-road prices Bangalore)

Tiago EV

Tiago petrol AMT

Difference

XE

Rs 9.22 lakh

-

-

XT 19.2kWh

Rs 9.87 lakh

Rs 8.19 lakh

Rs 1.68 lakh

XT 24kWh

Rs 10.84 lakh

Rs 2.65 lakh

XZ+ 3.3kW Charger

Rs 11.81 lakh

Rs 9 lakh

Rs 2.81 lakh

XZ+ 7.2kW Charger

Rs 12.36 lakh

Rs 3.36 lakh

XZ+ Tech Lux 3.3kW Charger

Rs 12.36 lakh

-

-

XZ+ Tech Lux 7.7kW charger

Rs 12.90 lakh

-

-
Key Takeaways:
The AMT transmission is available from the XT variant of the Tiago petrol. However, if we compare the difference between XTA and the EV's base-spec XE, the difference is around a lakh rupees.

The XT variant of the Tiago EV, when compared with the ICE version, is costlier by up to Rs 2.65 lakh. If you're going for the 19.2kWh variant, the difference is around Rs 1.7 lakh.

In the case of the top-spec XZ+ variant, the difference goes up to Rs 3.36 lakh.

The Tiago EV comes with two battery pack options - 19.2kWh and 24kWh - with a claimed driving range of 250km and 315km, respectively. With a DC fast charger, the Tiago EV can be charged from 10 to 80 per cent in 57 minutes. Around three and a half hours will be required for the same when a 7.2kW AC charger is used, while the smaller battery takes less time, around 2.6 hours.
How Affordable Is The Tiago EV's Daily Running?
Tiago EV

Tiago Petrol AMT

Battery Capacity / Fuel Tank Capacity

19.2kWh

24kWh

35 litres

Efficiency

13.02 km/kWh

13.13 km/kWh

20.09kmpl (claimed)

Public Charging Cost per unit / Fuel Cost (In Bengaluru)

Rs 18 per unit (kWh)

Rs 101.94 per litre

Range (claimed)

250km

315km

700km

Full Charge / Tank Up

Around Rs 350

Around Rs 450

Around Rs 3,500

Per kilometre running cost

Rs 1.4 per kilometre

Rs 1.43 per kilometre

Rs 5

Monthly running cost (Average 50km daily)

Rs 2,100

Rs 2,145

Rs 7,500

Running Cost for 20,000 Kms

Rs 28,000

Rs 28,600

Rs 1 lakh
Now, we have calculated the daily running costs of both models based on Bengaluru prices (fast charging CCS-2 Tata Power station) and claimed efficiencies. So, the Tiago EV's per kilometre running cost is around Rs 1.4 per kilometre as opposed to Rs 5 per kilometre of the petrol AMT.

Also Read: Electric Cars In India
With an average daily running of 50km monthly, you're spending around Rs 2,100 with the Tiago EV, while the running cost of the Tiago petrol AMT is almost four times more.
Read More on : Tata Tiago EV Automatic
Was this article helpful ?
4 out of 4 found this helpful