Mahindra XUV700 ADAS Misuse: The Driving Fail That Can Be Deadly
Modified On Mar 17, 2023 11:18 AM By Sukrit for Mahindra XUV700
Abusing driver assistance systems has caused deadly crashes in India and overseas already. Misusing ADAS, like in this video, with our road conditions, can quickly end in a catastrophe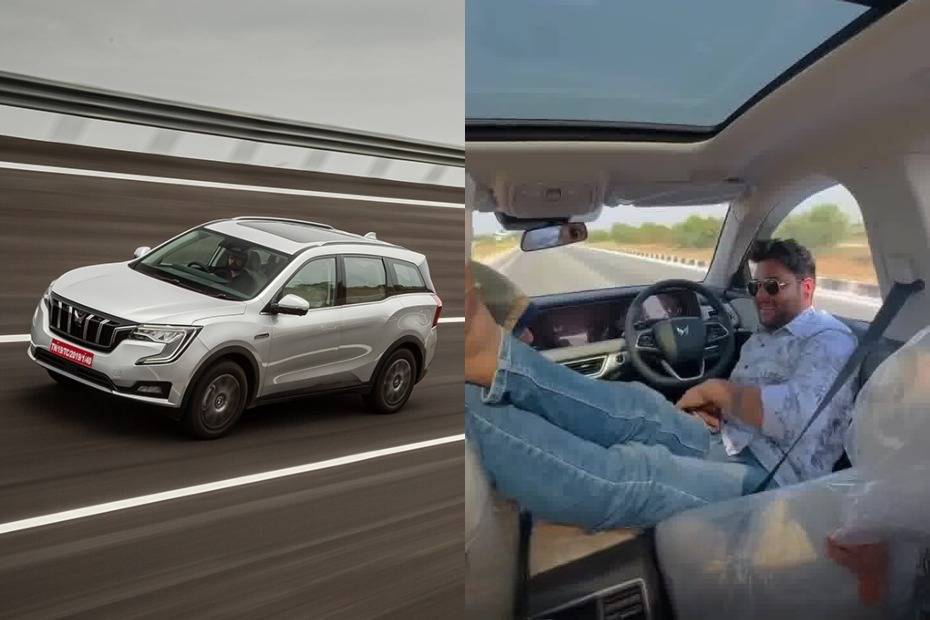 Human development hasn't quite kept pace with technological advancement, and it couldn't be more apparent than in this new video that's been circulating on social media. It shows a Mahindra XUV700 driver abusing the SUV's ADAS (driver-assistance) systems on a public highway while performing hijinks and distracting his partner in the next seat.
Just randomly happened to come across a reel !!Trust,me you would not see such a bizarre and moronic stuff related to Automobile stuff !!Unreal just for reel @anandmahindra @MahindraXUV700 it's a travesty that we have to share roads with people like theseThis is just insane… https://t.co/WOmgtvtVdb pic.twitter.com/jZhkX6YKIO

— Xroaders (@Xroaders_001) March 11, 2023
This highly dangerous, aggressive behaviour could have easily ended in a tragedy. The driver is seen letting go of all vehicle controls while using the adaptive cruise control (ACC) and lane-keeping assist (LKA) systems in the XUV700. His hands and feet are off the pedals, getting further away as the video goes on. For almost the full duration of the 26-second video, his eyes are off the road, too.
Not only does the driver fully let go of the vehicle's controls, he even distracts his partner in the other seat, who could have otherwise seen an oncoming hazard and prompted him to take his feet off her headrests.
Abusing ADAS can be deadly

Let's be clear – Mahindra didn't design the XUV700's driver-assistance system for hands-off, eyes-off driving. Its adaptive cruise control and lane-keeping assist can theoretically obey lane markings and keep the car going at a certain speed, but they aren't a replacement for the driver by any stretch. In fact, as of this writing, there are no car models anywhere in the world that are guaranteed to be 100% safe if you aren't looking at the road (even if it's equipped with the top level of safety tech), and aren't in a position to step in whenever necessary.

Driver-assistance systems have also unfortunately contributed to car crashes in India and overseas. Although ADAS is intended as a safety suite, an expensive and exclusive one at that, it can potentially make some drivers less careful or vigilant on the road. That being said, it's still an electronic system that can make wrong decisions on the road or not be fully capable of reading signs, especially on our roads which are infamous for unclear road markings and signages.
And even when it works perfectly, Indian road and traffic conditions are too inconsistent and unpredictable to trust your life on a computer-controlled system that's designed to hand the wheel back to the driver whenever the going gets tough.

With the arrival of relatively affordable vehicles equipped with ADAS, such incidents of misuse or abuse have become more common. A common theme of these videos is the driver intentionally giving up control of the vehicle, seeming too cool to care for the road. Here's another example of this:
Take it from us, at any point in the above video, the SUV's ADAS could have either malfunctioned or stopped working, essentially turning the "sentient" XUV700 into a metal cage hurtling down the road. The driver of this XUV700 is not only endangering the life of his passengers, but of all road users on that stretch of road.
Innovations such as driver-assistance systems can undoubtedly make our lives easier and safer. However, they are by no means a replacement for a human driver – at least until human road users still exist.
Read More on : Mahindra XUV700 diesel
Was this article helpful ?
1 out of 1 found this helpful