Is The Hyundai Verna AT More Frugal Than Honda City And Toyota Yaris?
Published On Jul 29, 2019 04:30 AM By Dhruv for Hyundai Verna
Which petrol-auto sedan returns the best fuel efficiency in the real world? We find out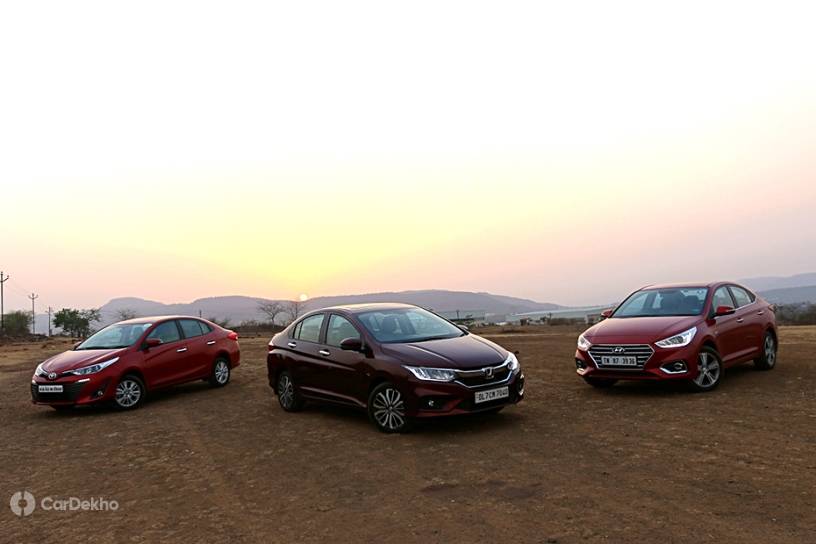 Claimed figures are one thing, but often we find out that what a manufacturer claims as the fuel efficiency of a certain car may not hold true in the real world. Thus, we regularly take out cars in the city and on the highway to test them for efficiency in the real world. This time around, it is the turn of the Hyundai Verna, Honda City and Toyota Yaris. All three sedans we tested had a petrol engine and an automatic gearbox.

Take a look at the specs of the cars we tested, below.
| | | | |
| --- | --- | --- | --- |
| Petrol AT | Hyundai Verna | Honda City | Toyota Yaris |
| Engine Tested | 1.6-litre | 1.5-litre | 1.5-litre |
| Power | 123PS | 119PS | 107PS |
| Torque | 151Nm | 145Nm | 140Nm |
| Transmission | 6-speed AT | CVT | CVT |
| Claimed Mileage | 17kmpl | 18kmpl | 17.8kmpl |
| Tested fuel economy (city) | 12.17kmpl | 11.22kmpl | 16.41kmpl |
| Tested fuel economy (highway) | 18.43kmpl | 16.55kmpl | 16.31kmpl |
The Hyundai Verna's highway fuel efficiency exceeds its claimed figure, but its city rating is way off Hyundai's quoted figure as well. The Honda City's highway figure is a little off the claimed figure and its city efficiency drops considerably. The Yaris returns better fuel efficiency in the city than on the highway and both figures are not far off from the claimed figure.
50% in city and 50% on highway

25% in city and 75% on highway

75% in city and 25% on highway

Hyundai Verna

14.66kmpl

16.33kmpl

13.30kmpl

Honda City

13.37kmpl

14.80kmpl

12.20kmpl

Toyota Yaris

16.36kmpl

16.33kmpl

16.39

kmpl
One look at the table and it becomes clear that the Yaris offers the best efficiency, whether you drive predominantly in the city, on the highway or a mix of both. The Verna manages to match its efficiency in case you drive predominantly on the highway. The Honda City is last in every regard.

These are tested figures that we have used for this comparison. However, the fuel efficiency you get from your car is dependent on factors such as driving style as well as traffic and car condition. If you own any one of the sedans listed above, share with us the fuel efficiency you get in the comments below.
Read More on : Hyundai Verna on road price