Toyota Yaris
Change car
Rs.8.76 - 14.60 Lakh*
This car model has expired
Key Specs of Toyota Yaris
| | |
| --- | --- |
| Engine | 1496 cc |
| BHP | 105.5 - 105.94 Bhp |
| Transmission | Manual/Automatic |
| Mileage | 17.1 - 17.8 kmpl |
| Fuel | Petrol |
| Boot Space | 476 |
Explore Price of Yaris Alternatives

Toyota Yaris price list (Variants)
Yaris J Optional BSIV1496 cc, Manual, Petrol, 17.1 kmplEXPIRED
Rs.8.76 Lakh*
 
Yaris J Optional1496 cc, Manual, Petrol, 17.1 kmplEXPIRED
Rs.9.16 Lakh*
 
Yaris J BSIV1496 cc, Manual, Petrol, 17.1 kmplEXPIRED
Rs.9.40 Lakh*
 
Yaris J Optional CVT BSIV1496 cc, Automatic, Petrol, 17.8 kmplEXPIRED
Rs.9.46 Lakh*
 
Yaris G Optional BSIV1496 cc, Manual, Petrol, 17.1 kmplEXPIRED
Rs.9.74 Lakh*
 
Yaris J Optional CVT1496 cc, Automatic, Petrol, 17.8 kmplEXPIRED
Rs.9.86 Lakh*
 
Yaris G Optional1496 cc, Manual, Petrol, 17.1 kmplEXPIRED
Rs.9.90 Lakh*
 
Yaris J CVT BSIV1496 cc, Automatic, Petrol, 17.8 kmplEXPIRED
Rs.10.10 Lakh*
 
Yaris G BSIV1496 cc, Manual, Petrol, 17.1 kmplEXPIRED
Rs.10.55 Lakh*
 
Yaris G Optional CVT BSIV1496 cc, Automatic, Petrol, 17.8 kmplEXPIRED
Rs.10.94 Lakh*
 
Yaris G Optional CVT1496 cc, Automatic, Petrol, 17.8 kmplEXPIRED
Rs.11.26 Lakh*
 
Yaris J1496 cc, Manual, Petrol, 17.1 kmplEXPIRED
Rs.11.28 Lakh*
 
Yaris V BSIV1496 cc, Manual, Petrol, 17.1 kmplEXPIRED
Rs.11.74 Lakh*
 
Yaris G CVT BSIV1496 cc, Automatic, Petrol, 17.8 kmplEXPIRED
Rs.11.75 Lakh*
 
Yaris V1496 cc, Manual, Petrol, 17.1 kmplEXPIRED
Rs.11.84 Lakh*
 
Yaris G1496 cc, Manual, Petrol, 17.1 kmplEXPIRED
Rs.11.95 Lakh*
 
Yaris J CVT1496 cc, Automatic, Petrol, 17.8 kmplEXPIRED
Rs.11.98 Lakh*
 
Yaris V Optional BSIV1496 cc, Manual, Petrol, 17.1 kmplEXPIRED
Rs.12.08 Lakh*
 
Yaris V Optional1496 cc, Manual, Petrol, 17.1 kmplEXPIRED
Rs.12.39 Lakh*
 
Yaris V CVT BSIV1496 cc, Automatic, Petrol, 17.8 kmplEXPIRED
Rs.12.94 Lakh*
 
Yaris VX BSIV1496 cc, Manual, Petrol, 17.1 kmplEXPIRED
Rs.12.96 Lakh*
 
Yaris V CVT1496 cc, Automatic, Petrol, 17.8 kmplEXPIRED
Rs.13.04 Lakh*
 
Yaris VX1496 cc, Manual, Petrol, 17.1 kmplEXPIRED
Rs.13.06 Lakh*
 
Yaris G CVT1496 cc, Automatic, Petrol, 17.8 kmplEXPIRED
Rs.13.15 Lakh*
 
Yaris V Optional CVT BSIV1496 cc, Automatic, Petrol, 17.8 kmplEXPIRED
Rs.13.28 Lakh*
 
Yaris V Optional CVT1496 cc, Automatic, Petrol, 17.8 kmplEXPIRED
Rs.13.59 Lakh*
 
Yaris VX CVT BSIV1496 cc, Automatic, Petrol, 17.8 kmplEXPIRED
Rs.14.18 Lakh*
 
Yaris VX CVT1496 cc, Automatic, Petrol, 17.8 kmplEXPIRED
Rs.14.60 Lakh*
 
View All Variants
Toyota Yaris Review
Toyota customers have always been willing to pay a premium for the trust that comes with this brand's badge. Of course, we expected Toyota to price the Yaris at a premium over the competition and the brand delivered. But is trust all you're paying for or does the Yaris truly have something unique to offer?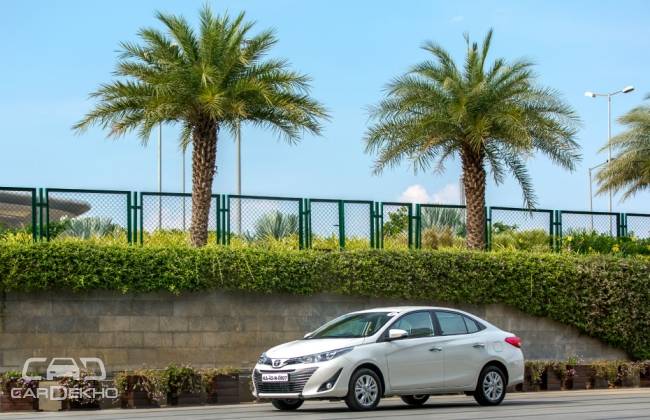 Powered by a heavily reworked version of the Etios' 1.5-litre petrol engine, the Toyota Yaris isn't and will not be available with a diesel engine. It is, however, available with both, a 6-speed manual transmission and a 7-step CVT automatic. The Yaris is the first and only car in the segment to offer 7 airbags as standard and offers other unique features like a touchscreen infotainment system with gesture control, a roof-mounted rear AC vent and front parking sensors. With these unique features at its disposal, the Toyota Yaris rivals well-established players like the Honda City, Maruti Suzuki Ciaz, Hyundai Verna, Skoda Rapid and Volkswagen Vento.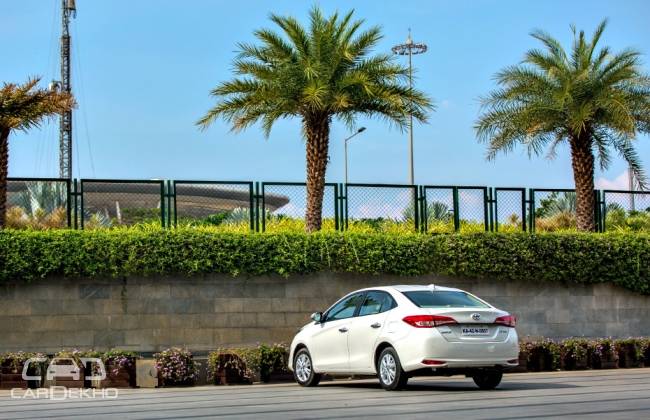 With the competition covering almost every need and want, how does the Toyota Yaris differentiate itself? Importantly, is the premium it commands justified?
Exterior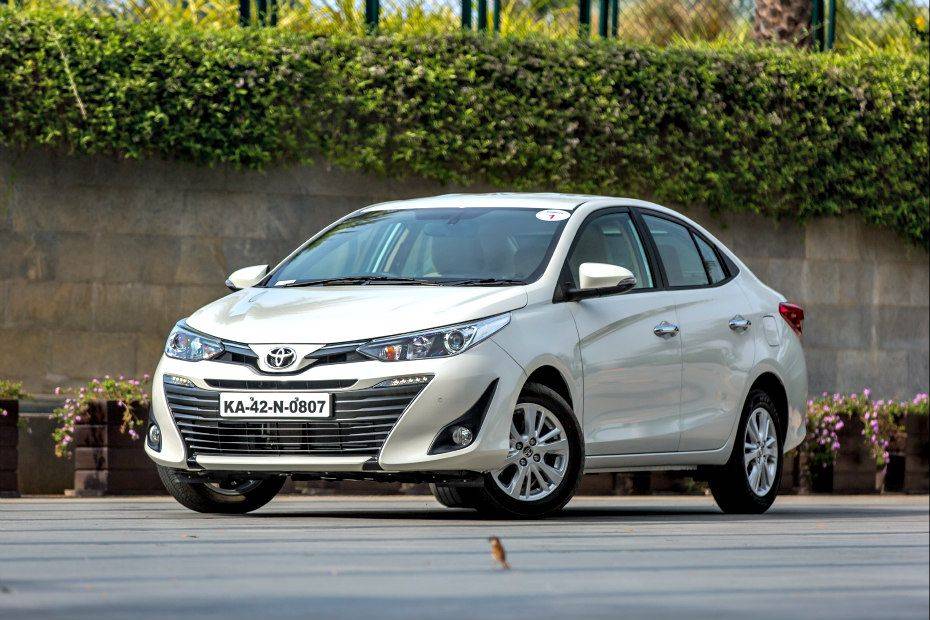 The Yaris doesn't sport the most striking design in the space. If you're looking for a car styled to make you go WOW, the Honda City does a better job. It has a flashier exterior with the cuts and creases of the design complemented by LED lighting. The Toyota Yaris, on the other hand, is a bit polarising in its styling. The large lower grille and not-so-sleek overall stance, will have those who like sporty designs turning away. Toyota has opted to give the Yaris a sober and clean design. Chrome, for example, is limited to the door handles. There's no overdose of cuts or creases either, just the shoulder line that connects the front fender to the tail light.

Even the wheel design isn't over the top and unlike its competition, you don't get 16-inch wheels. 15-inchers are offered across the range, with wheel caps on the Yaris J and Yaris G & alloys on the Yaris V and Yaris VX.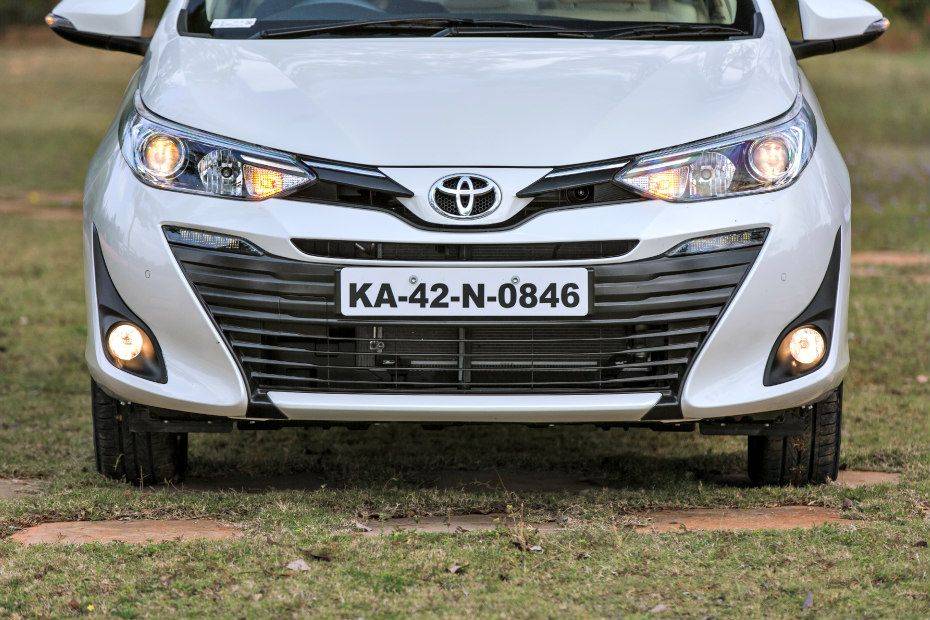 However, this isn't to say the Toyota Yaris doesn't grab attention. The plus-sized lower front grille and vertically stretched fog lamp enclosures add some mass to the face. They also look distinctly Toyota. Even the headlamp clusters that house the standard halogen projectors look similar to units used in the pre-facelift Corolla Altis. LEDs have been used for the grille-integrated daytime running lights (VX grade only) and the tail lights (V and VX grade). But LED headlights or LED wing mirror indicator lights (you get halogen bulbs) remain unavailable.

The curvy haunches make its profile seem Nissan Sunny-like while the rear end gives you a sense of how wide the Yaris is, at least on paper. The design actually plays a bit of visual trickery and the Toyota Yaris sedan looks smaller than its competition. However, while it's shorter in length than the Honda City, Hyundai Verna or Maruti Ciaz, it's one of the tallest and widest cars in the mid-sized sedan segment. The wheelbase, though, is 50mm short of the City and a full 100mm less than the Ciaz.

So what does that mean for cabin space?
Interior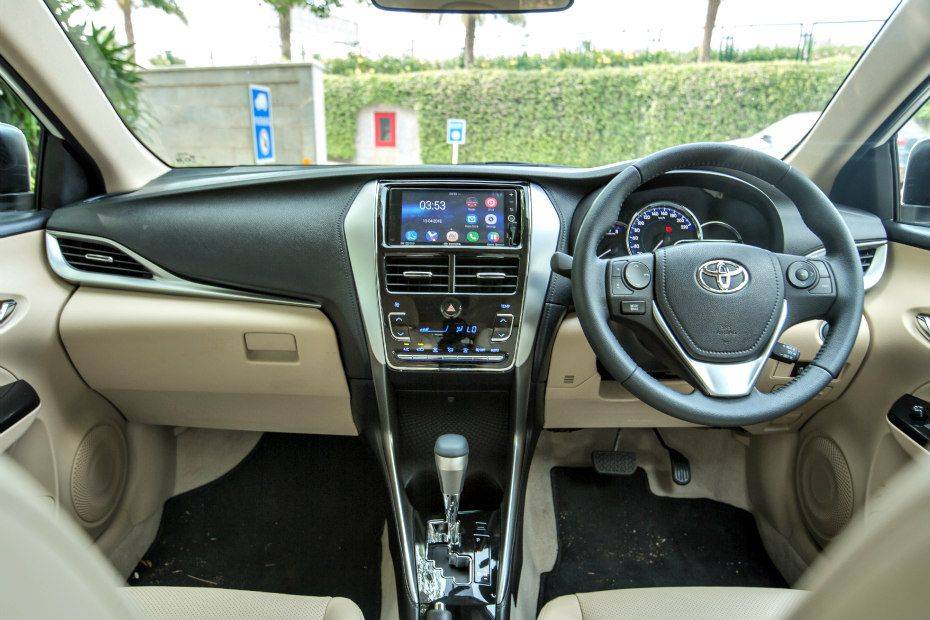 There's one thing that strikes you about the cabin first: It doesn't seem as wide inside as the dimensions chart would suggest. In fact, the cabin feels a bit narrow and even the Toyota Etios has a greater sense of space. It'll even seat 3 abreast better. Rest assured, what you're sensing isn't without reason. With 1275mm of rear shoulder room, the Yaris falls behind rivals like the Honda City (1325mm) and Hyundai Verna (1315mm). Even the maximum knee room is lesser than that of its rivals, especially the Honda City which offers upto 1000mm of knee room, compared to the Yaris' 815mm.
| | | | |
| --- | --- | --- | --- |
| Front | Legroom (min-max) | Knee Room (min-max) | Seat Base Length |
| Toyota Yaris | 870mm-1070mm | 575mm-810mm | 480mm |
Additionally, the front row has a storage console that doubles up as the front armrest. This unit juts into the rear row unnecessarily, nullifying the impact of the flat floor. Not to mention, it's not a very usable front armrest unless you set the seat way back. Simply put, the Yaris' cabin is for four, not five. But it is adequate for two six-footers and no doubt, it's a properly roomy car. There's even oodles of space to tuck your feet underneath the front seats. At 890mm, headroom will feel a bit underserved for tall occupants in the rear (read: over 6ft tall).

But with that caveat out of the way, the experience only gets richer. No matter which variant you pick, the Yaris gets a light beige cabin contrasted with a black dashboard, black door tops and black floor mats. So the cabin may not be the most accommodating in the segment but it feels nice and airy. Oh yeah, sorry to disappoint - there's no sunroof to amplify that sense of airiness.

What will have you sold though, is the quality. Save for a few panel gaps in the door pad and lower half of the centre console, the fitment quality is top notch. We really appreciate the premium grade of plastic used all round that feels almost as good as what we've seen in the Corolla Altis. Then there's the beige fabric headliner and carpeting that leaves no sheet metal exposed. Best of all is the top-spec VX's leather upholstery. Not only does it envelope the seats, armrests, door armrests and steering, the quality is superior to what we've seen in any other car in the segment. It feels quite close to genuine leather! That said, the choice of light beige comes with challenges in upkeep. Our test cars already had stains on the seats and plastics.

What really sets the Yaris apart are the experience enhancers. These subtle additions go miles in making you feel like you're sitting in a car from a segment above. Noise insulating glass that cuts the outside world off impeccably. Just have a conversation with the window open and whirr it shut to see the difference. Or there's the roof-mounted AC that helps cool the cabin more effectively (more details on that in the technology section). There aren't any soft-touch plastics but there is a stitch pattern on the dashboard to make it look richer.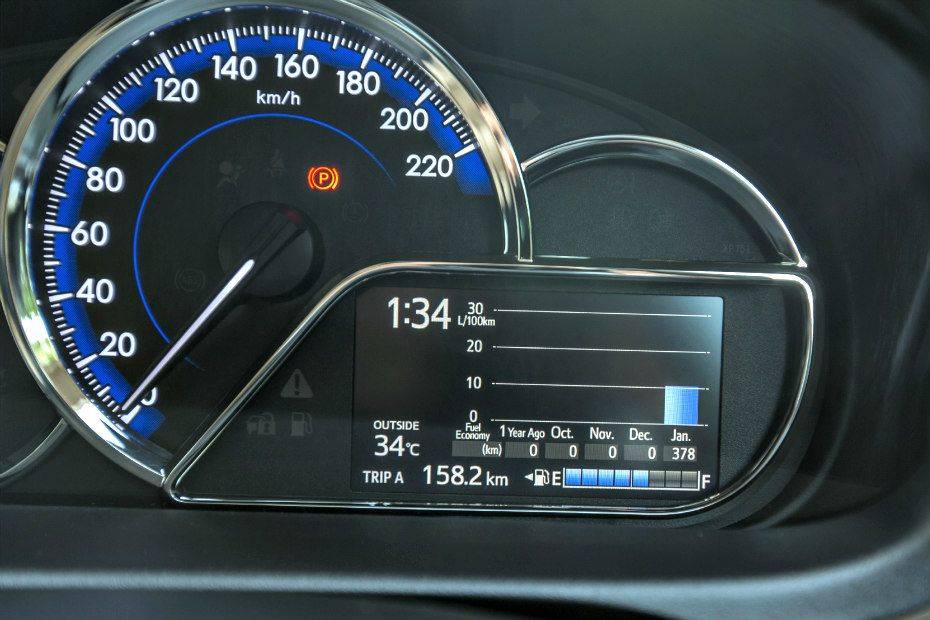 Even the analogue-digital split instrument cluster looks futuristic. It gets a 4.2 inch MID with detailed information like two tripmeters, outside temperature display, a digital fuel gauge and speedometer, distance-to-empty, average speed and fuel consumption. Like in the Innova Crysta and Fortuner, here too we see the Eco wallet that monitors how efficiently you're driving. Backseat occupants are treated with a rear manual sunshade, two 12V power sockets and individual reading lamps.

Seat comfort and support is impressive. With a seat base length of 435mm, the underthigh support isn't segment-leading but it is adequate. The backrest angle is comfortable for both slim and overweight occupants too. Also, the front and rear seats have a little side bolstering for lateral support.
| | | | |
| --- | --- | --- | --- |
| Rear | Shoulder Room | Head Room | Knee Room (min-max) |
| Toyota Yaris | 1275mm | 890mm | 650mm-815mm |

This makes driving the Yaris a comfortable experience, with the driver getting the added benefit of an 8-way adjustable electric seat (manual seat height adjustment comes as standard). But while we may forgive the absent auto-dimming interior rear view mirror, a big miss for the driver is reach adjustment for the steering. The default setting feels like it's glued onto the dashboard.

Finally, the Yaris scores high on practicality. There are 1-litre bottle holders in the centre console and front doors (two each), 500ml bottle holders in the rear doors and armrest (two each), and a phone slot for the driver next to the handbrake, with a smartly placed 12V socket right behind. On paper, the 476-litre boot isn't segment-leading but is large enough for a week's worth of the family's luggage. Besides, it's the only car in the segment that gets folding 60:40 split seat for added storage space. Even the seatbelts have proper harnesses to ensure they don't get tangled up or tucked into the cushioning when the backrest is folded down.

Technology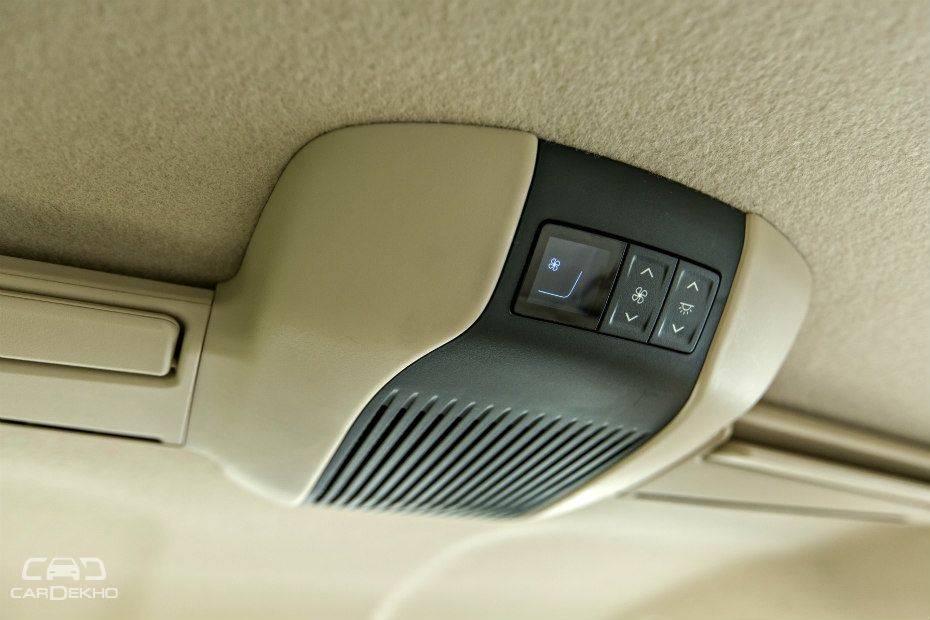 The Toyota Yaris offers many gizmos but let's explore the unique bits first. We begin with the roof-mounted AC. The setup doesn't have an independent evaporator, but it does have a large suction unit that takes in air from the front AC vents and channels it through a nozzle to two vents. These aren't regular vents but rudders the size of your palm that give you a wide spread of cool air. This makes rear seat cooling a lot more effective and it gets ambient lighting of its own with rheostat. Additionally, if you turn the rudders all the way down, the cool air can be channelled towards the front occupants' seat back!

While a basic music system with Aux/USB/Bluetooth/CD comes as standard, the G and V variants of the Yaris get a 7-inch touchscreen infotainment system. The Panasonic unit supports HDMI and Miracast. It's actually better to use and has a cleaner interface than the one you get in the top-spec VX. The range-topping Yaris VX gets a Pioneer head unit and adds MirrorLink, WiFi and navigation. Also, both head units get gesture controls, another first in segment. While the Panasonic head unit gets touch-based gesture controls, the top-spec gets air gesture controls, like you get in the BMW 5-Series and 7-Series! The feature needs you to hold your hand ahead of the sensor to activate it before each use. Then, swipe up and down for volume adjust (raises or drops four points at a time) or swipe left or right to shuffle through songs or switch radio stations. Cool stuff aside, we have a gripe. The placement of the touchscreens makes them prone to glare under direct sunlight.

Of course, you also have the standard segment fare - auto AC, cruise control, auto headlamps and wipers and an impressive 6-speaker sound system.
Safety
Safety is a core differentiator for the Toyota Yaris. While the competition offers 6 airbags on their top-end models, Toyota is offering 7 (including a driver knee airbag) as standard! That aside, ABS with EBD and brake assist, along with ISOFIX and central locking come as standard. Opt for the higher variants and you add hill-start assist, vehicle stability control, front and rear parking sensors, front and rear fog lamps and a rear camera. In fact, with similar safety packaging, the November 2017 ASEAN NCAP crash test of the Toyota Yaris saw the car score a full 5 stars for safety.
Performance
The Toyota Yaris will not be available with a diesel engine and don't expect to see one any time soon. What it uses is a 1.5-litre, 4-cylinder petrol engine that has the same block as the Etios - but everything else, including the head, is unique to the Yaris.
A major draw of this motor is its refinement. At idle, whether it's inside the car or outside, the motor's barely audible. This smooth nature is experienced whether you're driving at 40kmph in the city or cruising at 120kmph on the highway. Where it gets noisy is during overtakes. We drove the CVT-equipped version and even low speed overtakes are usually accompanied with a downshift and a significant surge in revs. Go for a hard launch off the line, and you'll hear the motor bellowing, but the actual performance never gets exhilarating. In our 0-100kmph tests, the Yaris was significantly slower than its rivals, managing the sprint in 13.39 seconds, compared to the City's 11.90 seconds and Verna's 12.04 seconds. That said, while the engine note is quite audible, the vibes remain well in check.

High speed overtakes do need some planning, as even pinning the throttle doesn't get you an immediate surge in performance. In fact, going from 60-100kmph does take a while and you can find yourself playing catch up with highway traffic. That said, it isn't too far behind its rivals with 20-80kmph (kickdown) taking 8.36 seconds; slightly slower than the City CVT (8.22 seconds) and the Verna petrol automatic (7.14 seconds).
On the highway, we discovered the Yaris is a decent cruiser. Left to its own accord (and not in manual mode), the 7-speed CVT drives at 100kmph with the rev counter locked at about 1,600rpm. At that point, the engine note is nothing more than a light hum and the only thing that'll take a toll on your fuel efficiency will be the overtakes. Toyota claims the Yaris CVT will deliver 17.8kmpl (MT = 17.1kmpl), and when tested, it came quite close, delivering 16.31kmpl on the highway.
For us though, this will make for a great city car - to drive or to be driven in. Throttle response is smooth and very predictable. The performance is flat throughout the rev range and while it won't please the enthusiast in you, most drivers won't find a reason to complain. Drive it in a relaxed manner and the Yaris will return the favour by keeping your wallet happy. The CVT we had on test delivered a stellar 16.41kmpl inside the city. That's not a typo, it actually managed to match its highway mileage number. That's down to the fact that the Yaris is usually in its "Eco" mode at city speeds, with the tacho ticking slightly over idle.
For the driven, the smooth throttling results in a jerk-free drive experience with no head nod unless you're really pushing the car. Even the brakes (all round discs on the Yaris V onwards) offer progressive bite under normal circumstances but offer reassuringly sharp shopping power when you need to brake hard. In a hard braking test from 100-0kmph, the Yaris came to a dead halt in a respectable 43.61 metres. But, what is a M-A-J-O-R selling point in our books, is the ride quality.
Performance Comparison (Petrol)
Maruti Ciaz
Toyota Yaris
Power
91.1bhp@6000rpm
105.94bhp@6000rpm
Torque (Nm)
130Nm@4000rpm
140Nm@4200rpm
Engine Displacement (cc)
1373 cc
1496 cc
Transmission
Manual
Automatic
Top Speed (kmph)
190 kmph
0-100 Acceleration (sec)
14 Seconds
Kerb Weight (kg)
1030kg
1110Kg
Fuel Efficiency (ARAI)
20.73kmpl
17.8kmpl
Power Weight Ratio
88.44bhp/ton
-
Ride & Handling
With the Toyota Etios and Corolla Altis both set up for comfort, you'd expect a similar story from the Yaris. But the car actually finds a healthy middle ground. Ride comfort is consistent, no matter what speed you're doing. If you decide to open up your laptop and send a few reports, be assured, you can do it with the same ease at 30kmph or 100kmph, without feeling fatigued.

Low speed bumps and potholes can be heard as light thuds in the cabin, but you won't really feel them. Yes, even with a full passenger load, the Toyota Yaris remains complaint and unphased over bad patches. Also, unofficially, the ground clearance is a touch over 150mm unladen. That's not much, but even with the aforementioned heavy load, it was only the monstrously large speed breakers that saw the car scrape the underbelly. At 0-100kmph, even with 4 passengers and a full boot, the Yaris goes over highway undulations, expansion joints and even rough patches without ever losing composure. Even after exiting an uneven section, the suspension settles immediately, with almost no vertical movement and only small hints of body roll. An achievement even the Corolla can't brag of. Sudden lane changes will struggle to make the Yaris' suspensions break a sweat too as it gets in line instantly.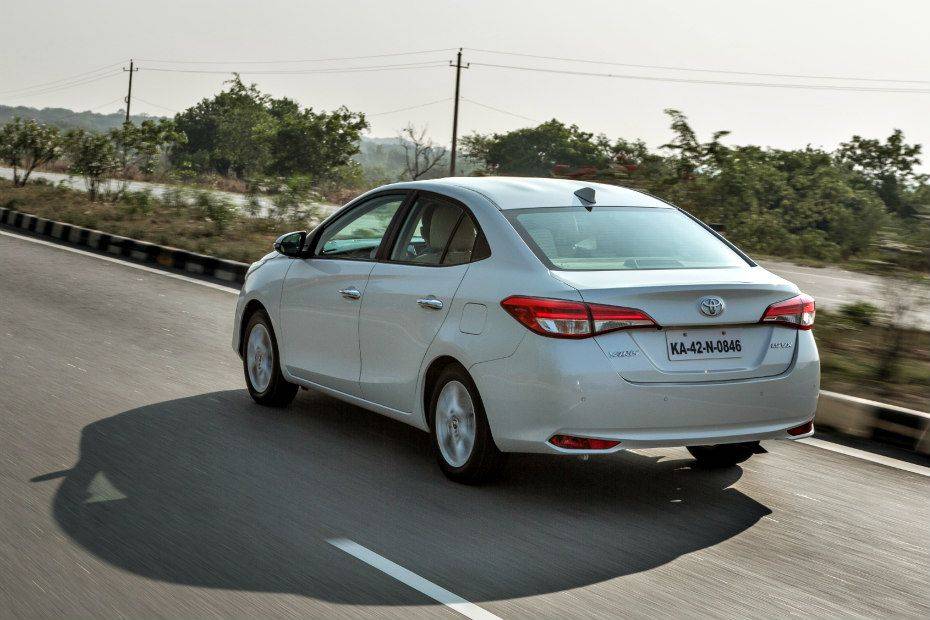 If you take the Yaris cornering, you'll find it out of its element rather quickly. The steering feels lacklustre, and forces you to dial in corrective inputs. It's not something you'd enjoy driving quickly. The comfort-spec suspension setup also means you will feel some body roll when you turn in aggressively. Drive sanely, though, and you'll have nothing to complain about. The weight of the steering is light enough to not tire you out inside the city, and heavy enough to not make you nervous on the highway.
Verdict
The Yaris definitely has more going for it than just the Toyota badge. In fact, the Yaris has done a good job of cutting out a niche for itself. It sets itself apart by setting new expectations for safety features in the segment and even offers many segment firsts. While it does offer segment-first features like the roof mounted AC, front parking sensors and gesture controls, two of its major selling points aren't something you can spot on the brochure.
First, is the noise insulation. If you have daily commutes through traffic-choked roads, the Yaris does phenomenally well in ensuring you're cut off from the outside world. Second is the ride quality. The Yaris' suspension setup is easily among the best in the segment, ensuring great bad-road ability, stability and comfort without being excessively soft or bouncy.
Yes, it isn't the most driver centric car and there have been a few misses, in terms of features and in the sense of space. But these aren't deal breakers, especially since you get a rich in-cabin experience in the tradeoff and there isn't any compromise on usability. In fact, if you wanted the Corolla Altis and didn't have the budget for it, the Yaris matches the experience on most counts and even betters it on some (ride, for example).
Available for Rs 9.29 lakh - Rs 12.85 lakh for the Yaris petrol manual and Rs 9.99 lakh - Rs 14.07 lakh for the Yaris petrol CVT (all prices, ex-showroom pan-India), the Toyota Yaris justifies its price premium well. However, its appeal isn't universal and is something you will appreciate only once you spend enough time with it. If you want a value-for-money family sedan, there's the Ciaz. If you want a lot of features at a bang for buck price, there's the Verna. If you want the wow factor combined with excellent cabin space and road presence, there's the Honda City. But if you want a safe, comfortable sedan that can make every drive relaxing, the Toyota Yaris fulfils that requirement like nothing else in the segment.
Pros & Cons of Toyota Yaris
CarDekho Experts:
The cabin insulation, the premium interior trim/upholstery quality, and the sublime ride comfort make this a great car for a wide range of buyers. 
Things We Like
Segment-first features: roof-mounted rear AC vents with ambient lighting, 60:40 split folding rear seats, front parking sensors, acoustic and vibration control glass, solar energy-absorbing windshield with infrared cut off, infotainment system with air gesture control and rear wheel disc brakes.
Class-leading ride comfort. Manages bad roads and high speed undulations brilliantly, even with a full passenger load.
Premium interior quality. Feels like you're in a car from a segment above
Easy to use and refined petrol engine. CVT available right from base variant.
Standard safety includes 7 airbags, ABS with EBD, brake assist and ISOFIX. Higher variants add tyre pressure warning, hill-start assist, front parking sensors and more!
Cavernous 476-litre boot with folding rear seats. Will easily accommodate the family's luggage.
Things We Don't Like
No diesel engine available, period.
Not a very wide car. Etios has a greater sense of space and can seat 3 in the back with more ease.
Few feature misses: Reach-adjustable steering, auto-dimming IRVM, LED headlights, sunroof, vanity mirror illumination.
Infotainment system looks aftermarket. Glares under harsh sunlight. Misses out on Android Auto and Apple CarPlay.
Stand Out Features
Solar energy-absorbing windshield with infrared cut off

60:40 split folding rear seats

Acoustic and vibration control glass

Roof-mounted rear AC vents with ambient lighting

Infotainment system with gesture control

Rear wheel disc brakes
Specification of Toyota Yaris
| | |
| --- | --- |
| ARAI Mileage | 17.1 kmpl |
| Fuel Type | Petrol |
| Engine Displacement (cc) | 1496 |
| No. of cylinder | 4 |
| Max Power (bhp@rpm) | 105.5bhp@6000rpm |
| Max Torque (nm@rpm) | 140Nm@4200rpm |
| Seating Capacity | 5 |
| TransmissionType | Manual |
| Boot Space (Litres) | 476 |
| Fuel Tank Capacity | 42.0 |
| Body Type | Sedan |
Toyota Yaris User Reviews
All (104)
Looks (22)
Comfort (41)
Mileage (31)
Engine (21)
Interior (11)
Space (14)
Price (7)
More ...
LATEST
HELPFUL
VERIFIED
CRITICAL
I believe Yaris stand for safety, superb comfortable ride, superb build quality, silent, and low maintenance cost

Best comfort, smooth-riding, best safety 7 airbags, Best service. Best trust, best value brand,

Writing this review after driving of 21k in one year. Practical car, no nonsense stuff anywhere. Mileage: 14-15 in city and 18-20 on highway with AC. Maintenance: I just ...Read More

Using this car since last 1.5 year, so would like to share few words based on my experience, This car comes with great comfort, great safety features, great stearing perf...Read More

I chose Toyota Yaris over Volkswagen Vento/Rapid. I never considered buying a Toyota, but Yaris just blew me away. It had every single thing I wanted in a sedan which was...Read More
Toyota Yaris Latest Update
Latest Update: Toyota has pulled the plug on the Yaris in India. However, the sedan will continue to be on sale till stocks last. The Yaris was priced from Rs 9.16 lakh to Rs 14.60 lakh (ex-showroom Delhi) towards the end of its life cycle. Toyota offered the compact sedan with a 1.5-litre petrol engine (107PS/140Nm) paired to a 6-speed MT or 7-step CVT. The manual had a mileage of 17.18kmpl, while the automatic returned a fuel efficiency figure of 18.10kmpl.
Features on offer included a 7-inch touchscreen infotainment system, automatic AC, and an 8-way powered driver's seat. Safety kit included up to seven airbags, front and rear parking sensors, a rear parking camera, and a tyre pressure monitoring system. The Yaris went up against the Hyundai Verna, Skoda Rapid, Honda City, Maruti Suzuki Ciaz, and Volkswagen Vento.
Read More
Must read articles before buying Toyota Yaris
Toyota Yaris Videos
Toyota Yaris 2023 has 1 video of its detailed review, pros & cons, comparison & variant explained,test drive experience, features, specs, interior & exterior details and more. Watch our Latest Hindi video of Toyota Yaris to know price, safety features & more.
14:1

Toyota Yaris vs Honda City vs Hyundai Verna : Which ones the smarter choice? - PowerDrift

Jun 21, 2018

Toyota Yaris Mileage
The claimed ARAI mileage: Toyota Yaris Petrol is 17.1 kmpl.The claimed ARAI mileage for the automatic variants: Toyota Yaris Petrol is 17.8 kmpl.
| Fuel Type | Transmission | ARAI Mileage |
| --- | --- | --- |
| Petrol | Automatic | 17.8 kmpl |
| Petrol | Manual | 17.1 kmpl |

Are you Confused?
Ask anything & get answer in 48 hours
Write your Comment on Toyota Yaris
1 comment
1
k
kalyan
Mar 6, 2019 8:34:54 PM
I have purchased Yari on November, 2018, but the dealer has promised to supply the seat cover, however till today I have not received, pl expedite the same
Read More...
Reply
Write a Reply
*Ex-showroom price in New Delhi
×
We need your city to customize your experience