2018 Recap: Quickest Cars (0-100kmph) In Our Road Tests
Published On Dec 28, 2018 09:59 AM By CarDekho for Audi RS5 2018-2020
The fastest car in our tests did 0-100kmph in 4.29 second! Which one was it?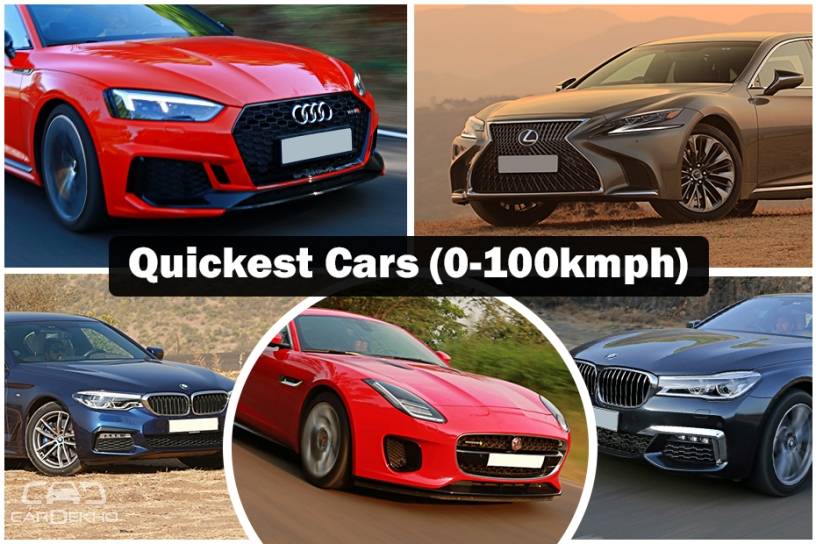 With 2018 coming to a close, we thought it would be the best time to take a trip down memory lane and have a look at some of the most thrilling cars we got our hands on this year. And what better than the top five quickest (0-100kmph) cars that we tested in 2018. Let's start from the bottom of the list.
5. Jaguar F-Type Coupe P300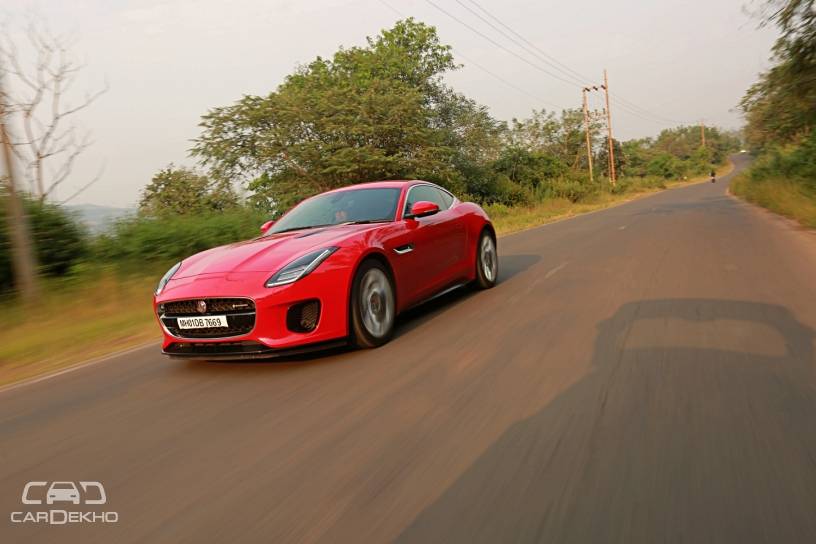 0-100kmph:6.56s
Price: Rs 90.92 lakh to Rs 93.66 lakh (ex-showroom Delhi)
The most affordable variant of the F-Type in India, the P300 Coupe, has managed to make it to our list. Don't let its 2.0-litre 4-cylinder Ingenium petrol engine fool you. The P300 is an authentic sports car with a responsive powertrain. Speaking of power, it produces 300PS and 400Nm of peak torque. All that twisting force is sent to the rear axle via an 8-speed automatic 'box. It also makes this emotional purchase more logical since it's efficient and easy to drive on a daily basis. What's more, it handles like a dream. So much so that you don't have to be an experienced race car driver to have fun in it, like in the V6 and V8-equipped models.
4. BMW 7 Series 730Ld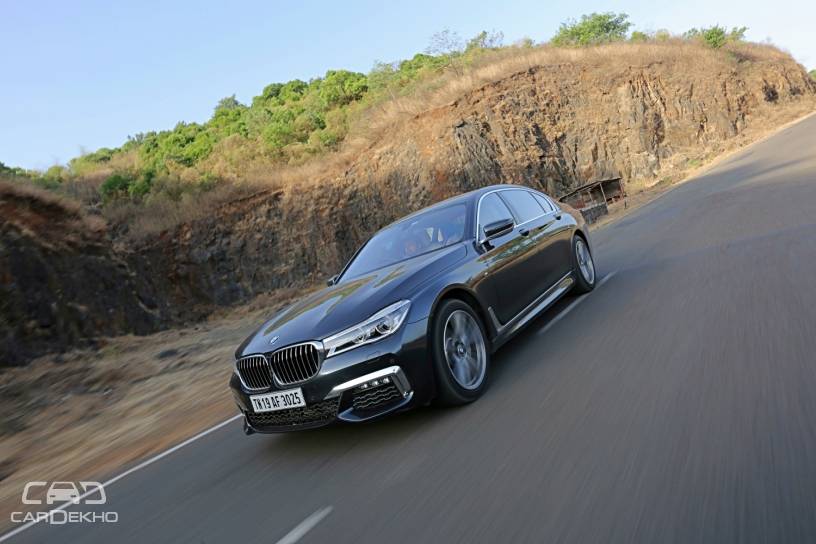 0-100kmph: 6.35s
Price: Rs 1.2 crore to 1.32 crore (ex-showroom pan-India)
Last year the 740Li was the second fastest car in our tests. A year later, its diesel counterpart has also made an appearance in the list. However, it is only the fourth fastest car here. The luxury sedan managed to do the 0-100kmph run in 6.35 seconds, 0.24 seconds slower than its petrol counterpart. Despite its huge size, BMW's flagship sedan is quite agile to drive and ride smooth as it absorbs small and big potholes without breaking a sweat. And it's not only the 0-100kmph runs that 740Ld's 3.0-litre 6-cylinder 265PS/620Nm diesel engine is good at. It's also amongst the best long distance cruisers sold in the country.
3.Lexus LS 500h
0-100kmph: 6.28s
Price range: Rs 1.82 crore to 1.87 crore (ex-showroom pan-India)
The flagship sedan from Lexus is the third fastest car to be tested this year. With a time of 6.28 seconds, it is 0.07 seconds faster than the BMW 730Ld. The LS 500h is the only hybrid car in this list. It is powered by a 3.5-litre V6 petrol engine that works with two electric motors for a combined power output of 354PS. Transmission duties are taken care of by an e-CVT transmission that boast of a shift time of just 100 milliseconds. It gets a very precise steering and the body control is among the best in the segment. Despite its sheer length, it's electronically-controlled four-wheel steering makes it fairly nimble around corners and tight, congested spaces.
2.BMW 5 Series 530d M Sport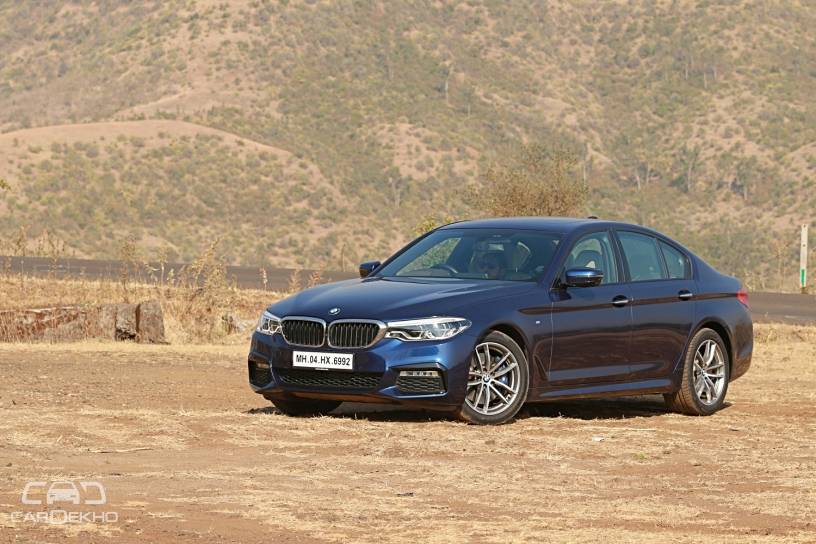 0-100kmph: 5.73s
Price: Rs 66.20 lakh (ex-showroom pan-India)
With a 0-100kmph time of 5.73 seconds, the BMW 5 Series 530d M Sport is the second fastest car we tested this year. This sub-6 second figure is courtesy of the same 3.0-litre 6-cylinder 265PS/620Nm diesel engine that powers the 730Ld featured above. The BMW sedan is 2.28 seconds quicker than the 520d and 1.35 seconds faster than its arch-rival the E 350 d, which did the 0-100kmph run in 7.08 seconds. Like any other BMW, you won't be complaining behind the wheel of the 530d. That's because the engine is quiet when it being driven in a civilised manner. The response from the straight six is also spot on for urban duties - smooth and linear and with overtaking grunt just a toe poke away.
1.Audi RS5 Coupe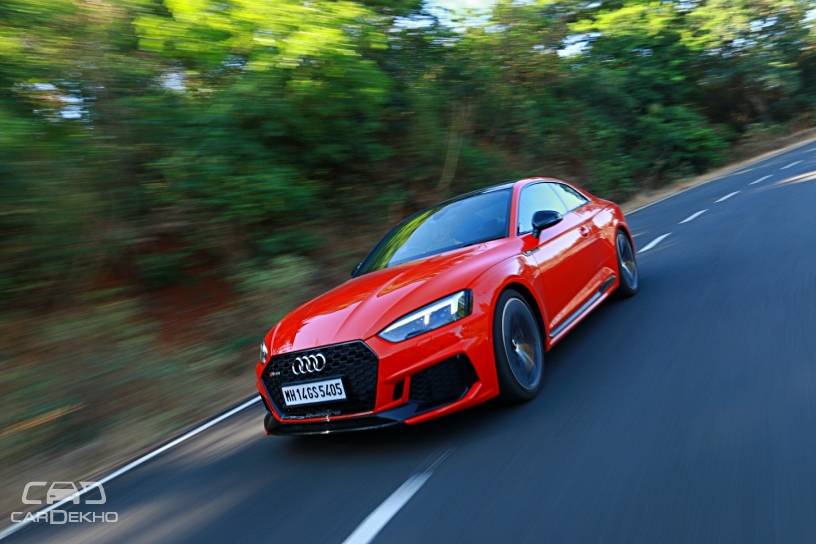 0-100kmph: 4.29s
Price: Rs 1.11 crore (ex-showroom pan-India)
The Audi RS5 is the fastest car we have tested this year. With a 0-100kmph time of 4.29 seconds, it undercuts the BMW 530d M Sport by 1.44 seconds, which is a lot in the racing world. It is also 0.91 seconds faster than the Ford Mustang, which was the fastest car we tested in 2017. The Audi RS5 is the maddest and the most powerful member of the A5 brat pack which includes the A5, S5 and the A5 Cabriolet. It's a very capable car and an all-rounder. It's fast, it's comfortable in the city and can munch miles all day long while consuming relatively less fuel. In essence, it is the perfect car for someone who likes his weekend trips but doesn't want something too serious like the BMW M4. The RS5 is powered by a 2.9-litre bi-turbo V6 petrol engine that makes 456PS/600Nm. Power is sent to all four wheels via Audi's quattro all-wheel-drive system and an 8-speed gearbox.
Top 20 quickest cars we tested in 2018:
| | |
| --- | --- |
| Model | 0-100kmph time |
| Audi RS5 Coupe | 4.29s |
| BMW 5 Series 530d M Sport | 5.73s |
| Lexus LS 500h | 6.28s |
| BMW 7 Series 730Ld | 6.35s |
| Jaguar F-Type Coupe P300 | 6.56s |
| Mercedes-Benz S-Class S350 d | 6.58s |
| | 7.32s |
| | 7.98s |
| Audi A5 Cabriolet TDI | 8.00s |
| | 8.23s |
| | 8.35s |
| | 8.37s |
| | 8.54s |
| | 8.69s |
| | 8.83s |
| | 8.84s |
| | 9.36s |
| | 9.64s |
| Honda Amaze VX Diesel MT (Wet) | 10.06s |
| | 10.16s |
Read More on : Audi RS5 Automatic
Was this article helpful ?
0 out of 0 found this helpful