2017 Mercedes-Benz CLA VS Audi A3: Detailed Spec Comparison
Modified On Dec 01, 2016 06:19 PM By akash for Mercedes-Benz CLA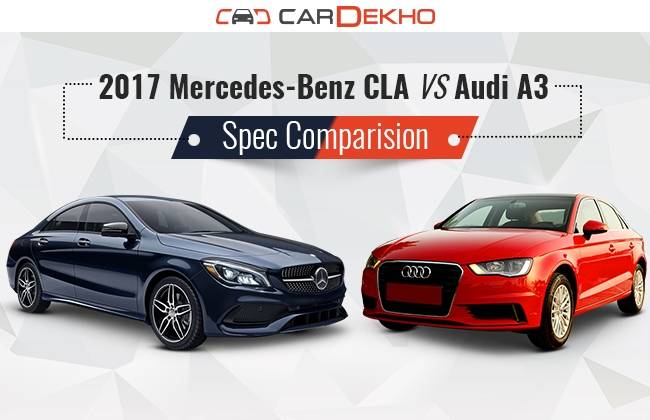 Mercedes-Benz has introduced the facelifted version of its most affordable sedan – the CLA – in the country. The luxury car features minor design tweaks and new equipment. However, Audi, its German rival, is ready with the facelifted A3 and will launch it sometime next year. Let's see how the current A3 fares against the new CLA.
Dimensions

As far as space is concerned, the CLA is more spacious on paper. It is longer (4630mm) and features a longer wheelbase (2699mm). It also has 45 litres of extra boot space (470 litres) than the A3 (425 litres). However, the overall bigger dimensions of the CLA contribute to make it almost 150kg heavier (petrol variants) than the rival sedan.
Performance

Petrol
The Audi is powered by a 1.8-litre petrol engine which churns out 180PS of power, which is almost as much as the 183PS produced by the 2-litre Mercedes engine. However, the petrol mill in Mercedes produces 50Nm more torque (300Nm) compared to the A3 (250Nm). But since the Audi is lighter, it reaches the 100kmph mark from standstill faster (7.3 seconds) and also has a higher top speed (250kmph). Both have a seven-speed automatic gearbox.
Diesel
As far as the diesel variants are concerned, the Merc is powered by a 2.2-litre motor which produces 136PS of power and 300Nm of torque, while the 2-litre diesel motor on the Audi produces 143PS/320Nm. The Audi has a 6-speed automatic transmission while a seven-speed automatic gearbox does its duty in the CLA. The Audi is lighter, and has more torque and power, which results in a shorter 0-100Kmph time (8.6 seconds) than in the CLA. However, the Merc has a higher top speed of 220 kmph.
Features

In terms of features, the CLA clearly stands above the A3. Being a new car, the CLA is equipped with the latest (and better) equipment. It has LED headlamps, an 8.0-inch screen which supports Android Auto and Apple CarPlay, and electrically adjustable front seats with memory. The Audi seems ill-equipped in all these aspects.
The Audi A3 starts at Rs 27 lakh while the new CLA starts at Rs 31 lakh. However, the CLA justifies the price difference with more equipment and eye-catching looks. Though two years older, the A3 performs quite well and will appeal to those looking for a more driver-focused car. If you don't mind the price gap, go for the CLA since it is an up-to-date car. However, if you fancy the A3, it isn't too far behind either, with an attractive package offering a comparatively good performance. Moreover, its facelift might be introduced early next year, and it might just be worth the wait. Stay tuned for a comprehensive head-to-head review.
Read More on : CLA
Was this article helpful ?
0 out of 0 found this helpful