Nissan-Datsun Diwali Offers: Big Benefits On Terrano, Redi-GO. Deals Include Low-Interest Finance, Cashback And Free Insurance. Offers Applicable Only From October 7-10
Modified On Oct 14, 2017 07:38 PM By Rachit Shad
During the four-day Diwali carnival, from October 7-10, all Nissan and Datsun dealerships will stay open for nearly 100 hours
Update: Nissan and Datsun have extended their Diwali offer till October 15, 2017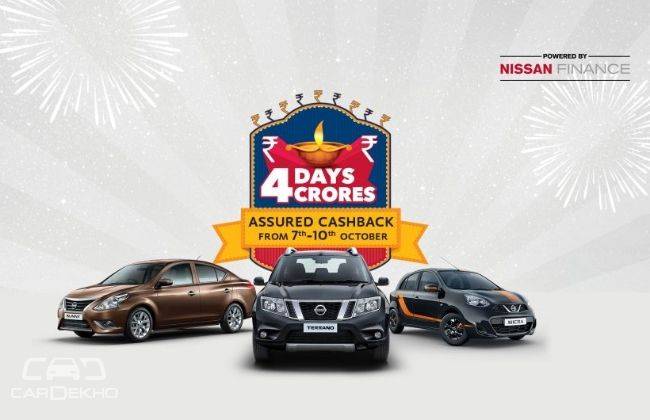 It is an yearly ritual for carmakers to splash out amazing deals to attract customers during the festive period. Japanese carmaker Nissan and its subsidiary, Datsun, have joined the same bandwagon to get their sales numbers up. The duo, under the banner of 'Biggest Diwali Carnival', will be giving out offers in the form of free insurances, exchange bonuses and cashbacks. On top of those, there are additional discounts for government employees or selected corporate executives. This offer is applicable only for bookings done between October7-10 and delivery of cars within October 2017.
Here are the offers available:
Brand
Model
Finance Offer
Free Insurance Worth
Exchange Bonus
Govt. Employee Discount
Cashback Up To
Total Benefits
Nissan
Terrano
7.99%
Rs 45,000
Rs 30,000
Rs 12,000
Rs 50,000
Rs 1.37 lakh
Sunny
No Offer
Rs 10,000
Rs 30,000
Rs 40,000
Micra
7.99%
Rs 25,000
Rs 20,000
Rs 8,000
Rs 20,000
Rs 73,000
Micra Active
Rs 20,000
Rs 10,000
Rs 6,000
Rs 56,000
Micra Fashion Edition
No Offer
Rs 5,000
Rs 20,000
Rs 25,000
Datsun
GO
7.99% at 95% LTV*
Rs 12,500
Rs 10,000
Rs 5,000
Rs 15,000
Rs 42,500
GO+
Rs 14,000
Rs 10,000
Rs 44,000
redi-GO
Rs 11,000
Rs 10,000
Rs 41,000
redi-GO 1.0
Rs 14,000
No Offer
Rs 34,000
redi-GO Gold Edition
7.99%
No Offer
Rs 20,000
On announcing these offers, Jerome Saigot, head, sales and marketing, Nissan Motor India Pvt. Ltd. (NMIPL) said, "As a customer-first company, Nissan always believes in offering innovative and exciting products, and an outstanding sales and after sales experience for our customers. The attractive benefits we have on offer during the Biggest Diwali Carnival will surely delight car shoppers looking to purchase a Nissan and Datsun car."

The company has also confirmed that during the four-day period, from October 7-10, all its Nissan and Datsun dealerships across the country will stay open for nearly 100 hours. 100 hours? If we run a simple calculation, four days account for a total of 96 hours. Is Nissan planning to run its dealerships round the clock?