Mahindra Thar Completes Two Years On Sale, Pricier Today By Up To Rs 2.55 lakh
Modified On Oct 02, 2022 12:30 PM By Sonny for Mahindra Thar
Aside from price hikes, it has also received minor updates along the way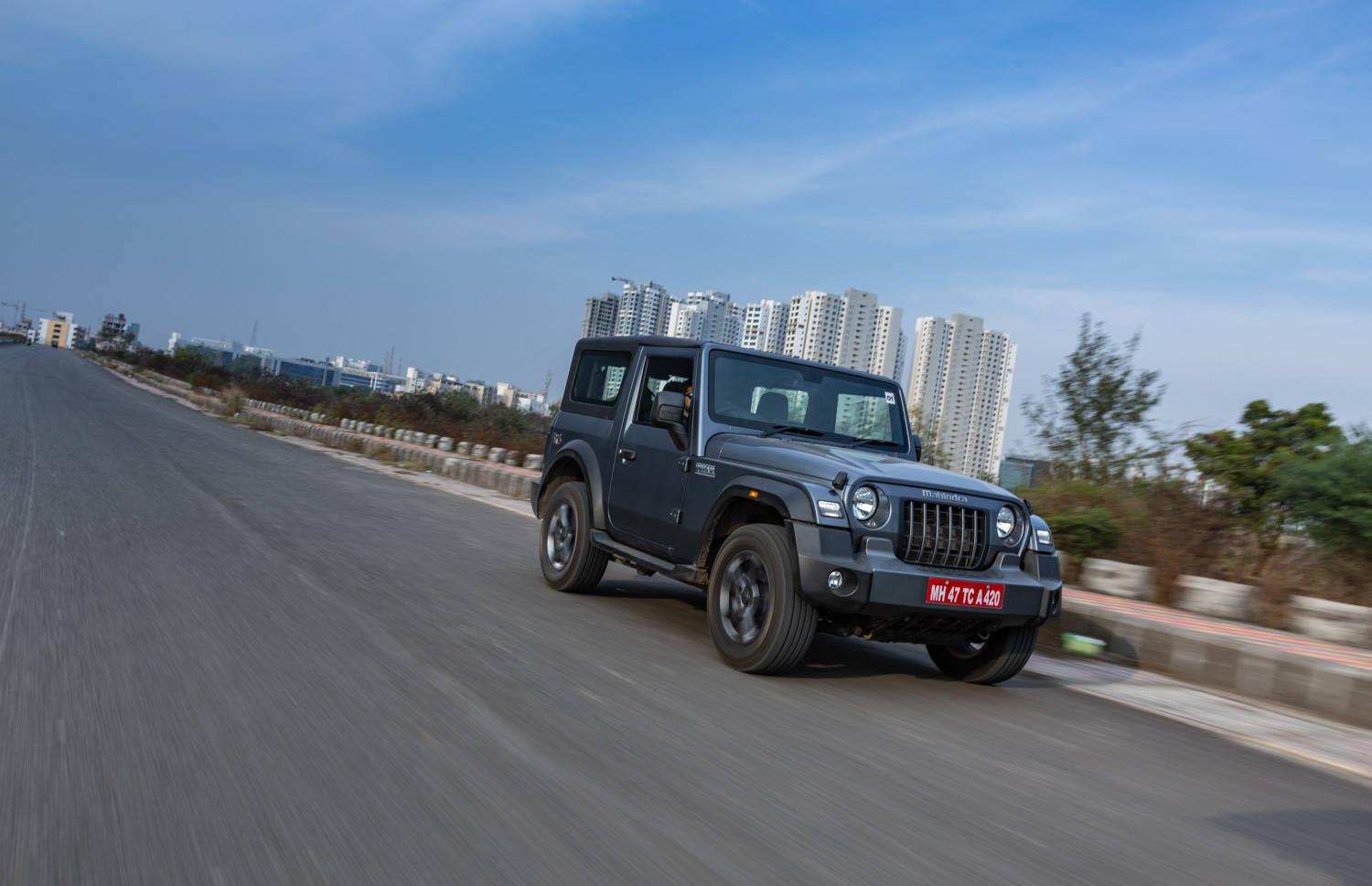 The second-generation Mahindra Thar will celebrate its second anniversary today. It continues to be the most popular lifestyle off-roader in India and still has an average waiting period of around six months.
In the past 24 months, the three-door SUV has undergone various small updates and multiple price hikes. Here's a recap of all the big changes the latest generation Thar underwent since it was launched:
Higher Prices
The second-generation Thar debuted with attractive introductory prices. Within three months from its introduction, Mahindra discontinued the base-spec AX Std and AX variants due to lack of demand and GNCAP safety rating, raising the entry-point pricing. There have not been any other changes to the variant lineup.
Petrol
| | | | |
| --- | --- | --- | --- |
| Variant | October 2020 | October 2022 | Difference |
| AX Std | Rs 9.8 lakh | N.A. | — |
| AX Fixed soft top | Rs 10.65 lakh | N.A. | — |
| AX(O) Convertible | Rs 11.9 lakh | RS 13.59 lakh | Rs 1.69 lakh |
| AX(O) Hard top | N.A. | N.A. | |
| LX Convertible | Rs 13.45 lakh (AT) | Rs 15.74 lakh (AT) | Rs 2.29 lakh |
| LX Hard Top | Rs 12.49 lakh/ Rs 13.55 lakh (AT) | Rs 14.28 lakh/ Rs 15.28 lakh (AT) | Rs 1.79 lakh/ Rs 1.73 lakh |

The petrol-powered AX(O) convertible soft top is the entry-level Mahindra Thar today. It is priced higher than top-spec petrol-powered subcompact SUVs and similar to some mid-spec compact SUVs. The biggest price jump over the two years has been for the LX convertible soft top, only available with an automatic if desired with a petrol engine at over Rs 2 lakh.
Diesel
| | | | |
| --- | --- | --- | --- |
| Variant | October 2020 | October 2022 | Difference |
| AX Fixed soft top | Rs 10.85 lakh | N.A. | — |
| AX(O) Convertible | Rs 12.1 lakh | Rs 14.16 lakh | Rs 2.06 lakh |
| AX(O) Hard top | Rs 12.2 lakh | Rs 14.21 lakh | Rs 2.01 lakh |
| LX Convertible | Rs 12.85 lakh/ Rs 13.65 lakh (AT) | Rs 14.77 lakh/ Rs 16.2 lakh (AT) | Rs 1.92 lakh/ Rs 2.55 lakh |
| LX Hard Top | Rs 12.95 lakh/ Rs 13.75 lakh (AT) | Rs 14.87 lakh/ Rs 16.29 lakh (AT) | Rs 1.92 lakh/ Rs 2.54 lakh |

Nearly all variants of the diesel-powered Thar have gotten pricier by around Rs 2 lakh while the automatic options' cost has gone up by another Rs 55,000. It remains the most popular powertrain option for the three-door off-roader and offers the most variety in terms of trim and roof-type.
Visual Changes
Since the introduction of the second-generation Thar in 2020, Mahindra has undergone a slight rebrand and even adopted the new 'Twin Peaks' logo (passenger vehicle division). The MY2022 models of the Thar now feature this new logo everywhere, from the centre caps of the wheels to the steering wheel and the key fob.

Many were hopeful that Mahindra would introduce more exciting colour options for the Thar, but so far the carmaker has only simplified its choices by removing two of them - Rocky Beige and Mystic Copper. We suspect these were suspended owing to lack of demand.
While various aftermarket cosmetic modifications have become available for the Thar, Mahindra itself is yet to make any changes to the car.
Feature Updates

The Thar only recently got a few changes to its equipment list. It got rid of lumbar support for the front seats, silver finish on the bumpers and reduced the number of front USB ports to one. Mahindra also switched from CEAT Czar AT tyres to CEAT Crossdrive AT tyres, as several owners reported poor performance and life of the Czars. Since then, Mahindra has given a mild update to the off-roader's centre console and added idle engine start-stop (manual variants only).
Bumps along the road
Despite its immense popularity and success, the Mahindra Thar hasn't exactly had a smooth ride since its launch in late 2020. Its biggest hurdle has likely been the global supply chain disruption, especially the shortage of semiconductor chips that is still ongoing.
At one point, Mahindra had several units of the Thar ready for delivery, but could not hand them over to customers as the cars were not fitted with the infotainment system due to the semiconductor shortage. For the longest time, the waiting period for the Thar stood at over a year.

Some units of the Thar also faced a factory recall due to a small batch of faulty parts. For instance, more than 1,500 units of the Thar diesel were recalled in early 2021 due to a camshaft issue.
Future products
Mahindra has already confirmed that it has multiple products planned for the Thar lineup. The first one will be the more practical five-door version of the off-roader that is due to be launched in 2023. Furthermore, we expect the carmaker to introduce a host of Thar special editions which might even feature mechanical upgrades.
Also read: All The Upcoming 5-Door Off-Roaders You Can Have For Less Than Rs 20 Lakh
Read More on : Thar Automatic
Was this article helpful ?
1 out of 1 found this helpful