Lamborghini Aventador S Launching On March 3
Published On Feb 20, 2017 04:45 PM By akash for Lamborghini Aventador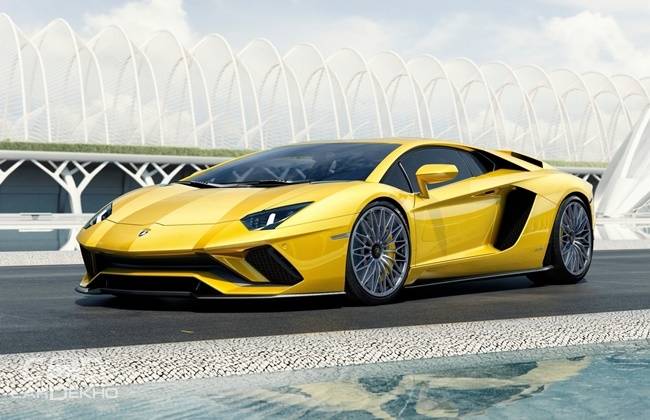 Lamborghini recently unveiled the new version of its flagship supercar, the Aventador S, globally. Now the new Aventador S, with its cosmetic changes, enhanced performance and some new features, will be launched in the Indian market on 3 March, 2017. This would be Lamborghini's second launch of the year in the country after the Italian automaker launched the Huracan RWD Spyder on 1 February, 2017.
The Aventador S features an entirely new front bumper, rear bumper, diffusers and air intakes. All the changes have been made with only one aim in mind: to achieve maximum aerodynamic efficiency. The new front splitter and diffuser account for 130 per cent more downforce. On the rear, the car features an active rear wing which further improves downforce and a new three-piped exhaust which is 20 per cent lighter than the exhaust on the predecessor. Apart from a new TFT display for the instrument cluster, the interiors remain unchanged.

The car is powered by the same naturally aspirated 6.5-litre V12 engine. However, the power output has been increased to 740PS from 700, with a peak torque of 690Nm. The engine has been mated to a seven-speed single-clutch gearbox which powers all four wheels and propels it from 0 to 100kmph in just 2.9 seconds, with a top speed of 350kmph.
The Aventador S is the first production Lamborghini to feature four-wheel steering. While at low speeds the rear wheels turn in the opposite direction compared to the front (up to 3 degrees), at high speeds they turn in the same direction (up to 1.5 degrees). This provides a shorter turning radius at low speed and better cornering ability at high speeds.

The Aventador S offers an additional, 'EGO' driving mode, which lets you customize the steering, suspension and engine settings individually. This is in addition to the standard STRADA, SPORT and CORSA modes. The car also comes with ceramic disc brakes as standard and likely to be priced around the Rs 5.5 crore mark.
Read More on : Lamborghini Aventador
Was this article helpful ?
0 out of 0 found this helpful