Here's All You Need To Know About The Tesla Model 3 Electric SUV Before It Enters India
Modified On Jan 19, 2021 04:50 PM By Tarun for Tesla Model 3
Tesla's most affordable model around the globe is expected to be its first offering here

World's leading electric car manufacturer, Tesla Inc, is finally coming to India and we even have confirmation from Elon Musk himself. Tesla has already set up its base in Bengaluru, Karnataka, and has registered itself in India as well. It will begin operations in the country by early-2021. Initially, Tesla will commence with sales but if there's a good response, they will consider local manufacturing as well.
The first offering for India is expected to be the Model 3 sedan. It is currently the most affordable Tesla you can buy and is also their best selling model. The sedan was launched back in 2017. Since then, it has been a popular model and combined with its SUV counterpart, the Model Y, has recorded global annual sales of 4.5 lakh units. Initially, it will be available as a CBU unit which would surely keep its prices high. However, we can expect some government-backed benefits for EVs which will make it a bit affordable. So, here's what you need to know about the Tesla Model 3:
Variants
The Model 3 comes in three variants: Standard Range Plus, Long Range, and Performance.

All the three variants have different motor specifications, features and performance.

The Standard variant gets RWD (rear-wheel-drive) and is mainly focused on making the car more affordable.

The Long Range and Performance variants get AWD (all-wheel-drive) drivetrain as standard.

Only the Standard and Long Range variants are expected to be introduced in India initially.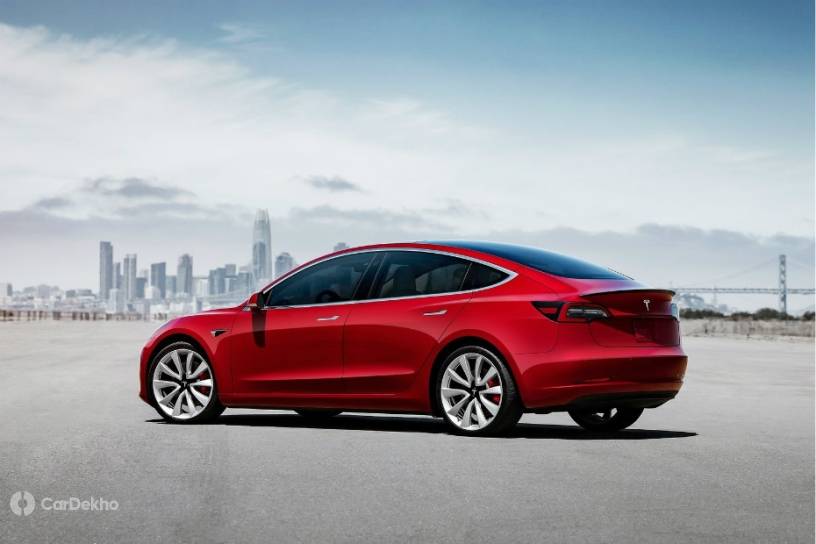 Electric Motor Specifications
The Model 3 comes with two types of electric motor setups. For the Standard variant, you get a single motor while the Long Range and Performance variants use dual electric motors.

The same motor is used for the Long Range and Performance variants, but the latter's motor is calibrated for quicker acceleration.

The standard variant can achieve a top speed of 140mph (225kmph) and complete the 0-60mph (0-96kmph) sprint in 5.3 seconds.

The Long Range variant can reach a slightly higher top speed of 145mph (234 kmph). It takes 4.2 seconds to complete the 0-60mph (0-96kmph) sprint.

The Performance variant can achieve a top speed of 162mph (261kmph) and complete the 0-60mph (0-96kmph) in just 3.1 seconds.
Also Read: Here's All You Need To Know About The Tesla Model Y Electric SUV Before It Enters India
Range
The Long Range variant offers the highest driving range, followed by the performance and the standard variants. Here's how much each variant offers:
Standard: Up to 263 miles (423 kilometres).

Long Range: Up to 363 miles (569 kilometres).

Performance: Up to 315 miles (507 kilometres).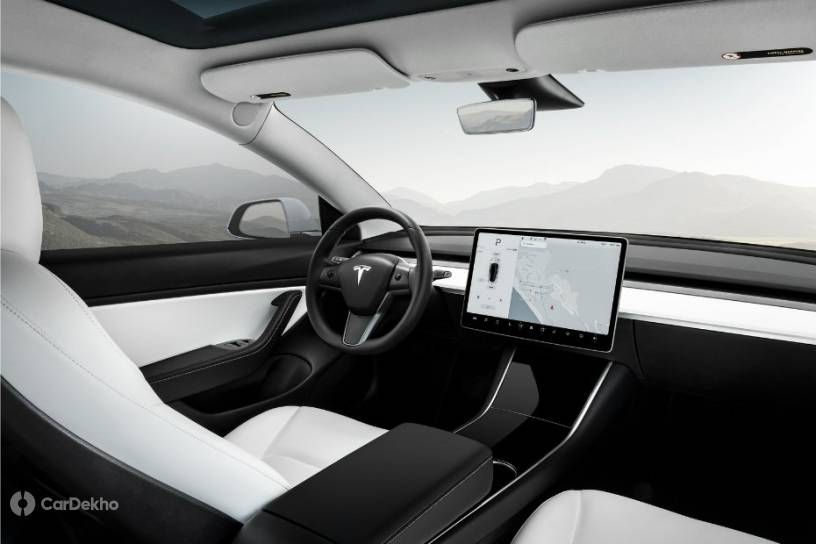 Features
Just like any other Tesla, it gets a single large 15-inch touchscreen infotainment screen which takes care of all your needs. There's no instrument panel and no AC or other switches.

The touchscreen infotainment offers split-screen viewing for convenience.

The infotainment also supports over-the-air updates for continuous fixes to the system.

Further, you get 12-way adjustable and heated front and rear seats, tinted glass roof with UV cut, wireless charging, 14-speaker audio system setup, and heated side mirrors.

The biggest highlight is the autopilot semi-autonomous driving technology. With this, you get features such as blind-spot monitoring, navigation on autopilot, park assist, a 360-degree camera, adaptive cruise control with lane changing feature, and emergency brake assist.

The Model 3 additionally boasts of a five-star safety rating, achieving top marks in rollover control and crash protection. It comes with eight airbags as standard.
Price
The base-spec Standard variant is priced at $36,490 (Rs 26.74 lakh).

The Long Range variant makes the best sense, at $45,490 (Rs 33.32 lakh).

The Performance variant is the costliest, at $53,490 (Rs 39.19 lakh).

When the Model 3 comes to India, expect it to cost you around Rs 60 lakh, since it will be a CBU (completely built unit) import.
Was this article helpful ?
3 out of 3 found this helpful