Buy Hyundai cars and avail benefits up to Rs. 1 lakh 40 thousand
Modified On Mar 03, 2014 07:04 PM By Amit
Hyundai India, the country's second largest car manufacturer, has joined the league of other carmakers to roll out special offers on its entire product range for this month. The South Korean manufacturer is providing "Budget Bonanza" offer, which will allow customers to avail benefits of up to Rs. 1.35 lakh. This could be the strategic move to complete the fiscal targets.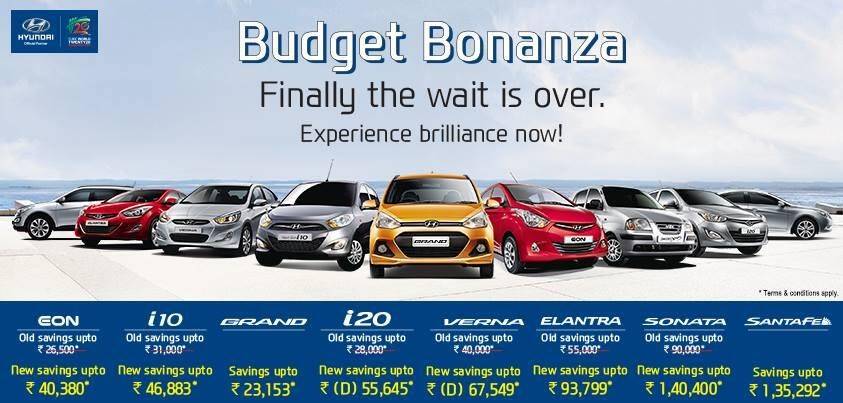 If you are planning to buy a Hyundai car, this is probably the best time. This could be a limited offer, so hurry to your nearest Hyundai dealer, book your car and enjoy this exciting offer. The company is offering discounts on its entire lineup.
We all know that Indian auto industry is going through tough times, and to overcome this financial crisis as well as to remain stable in the market, manufacturers are giving huge discounts on their vehicles. India's second largest carmaker is also planning to launch the Xcent compact SUV in the market. It is expected that the company will launch the vehicle by the mid-2014
Discounts on Hyundai Cars
Hyundai i10 - Benefits of up to Rs. 46,833
Hyundai i20 - Total saving of Rs. 55,645
Hyundai Grand i10 - Benefits of up to Rs. 23,153
Hyundai Eon - Discounts of up to Rs. 40,380
Hyundai Sonata - Benefits of up to Rs. 1.40 Lakh
Hyundai Elantra - Benefits of up to Rs. 93,799
Hyundai Verna - Total Savings of Rs. 67,549
Hyundai Santa Fe - Total Savings of Rs. 1.35 lakh
Was this article helpful ?
0 out of 0 found this helpful