Rolls-Royce Teases New Phantom
Modified On Jul 21, 2017 12:53 PM By Rachit Shad for Rolls-Royce Phantom
Phantom VIII to make its world premiere at 'The Great Eight Phantoms' event on July 27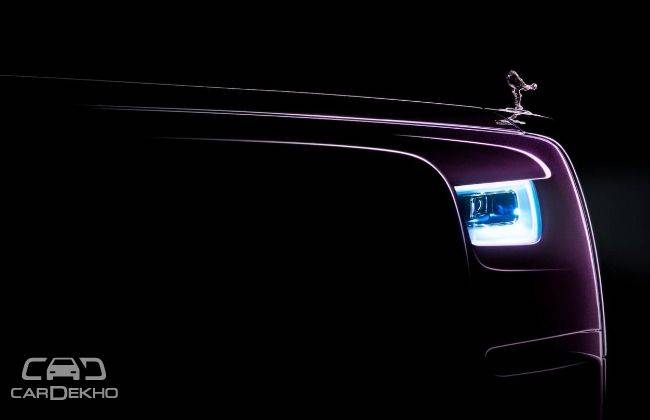 The name Rolls-Royce sits at the top of the automobile world as the pinnacle of luxury, refinement and fastidious attention to detail. When it comes to luxury on wheels, no other car brand in the world can compete with the British car marque. Rolls-Royce cars are so luxurious that it can give the best hotels in the world a knock in the head. And leading the way for the company, now owned by BMW, is its Phantom series of cars. The Goodwood-based carmaker has now released a teaser of the Phantom VIII which is set to make its world premiere at 'The Great Eight Phantoms' event on July 27, 2017.
As the name suggests, the event will also showcase all the previous iterations of the Phantom, including 18 Phantoms that were built for heads of states, royalty and celebrities. Expect to see cars such as the Phantom IV that drove Aga Khan III to his followers, the Phantom VI Limousine that served Queen Elizabeth II and even John Lennon's famous custom yellow Phantom V at the grand event. It's not surprising that Rolls-Royce has the kind of customer base that others can only dream of, isn't it?

Let's get down to the nitty-gritty then. Into its eighth generation, the new Phantom will be based on an all-new aluminium spaceframe which is lighter than before. What this means for the well heeled customer is better fuel efficiency and lesser emissions! While the new platform will also underpin the first-ever Rolls-Royce SUV, codenamed the Cullinan and still undergoing testing, it will also serve the next-generation Ghost, Wraith and the Dawn models. The Phantom VIII is also expected to feature four-wheel steering which could make the luxo barge even more manoeuvrable. Under the bonnet, it is still unclear whether the new Phantom will feature the same 6.75-litre V12 engine or a different powerplant to keep the 'green' party happy.

The Phantom started its journey in 1925 and has been unanimously recognised as the best car in the world ever since. The Phantom VII, which went out of production after ruling the luxury game for thirteen years, was the first car with the RR logo developed and produced under BMW after the German brand took over the British motoring marque. With the Phantom VIII on the horizon, the brand is all set to reinvent the concept of unadulterated comfort.
Read More on : Rolls-Royce Phantom AMT
Was this article helpful ?
0 out of 0 found this helpful