Mini Cooper S Makes the Pac-Man Ghost in the Upcoming Movie - Pixel Featuring Adam Sandler!
Modified On Mar 19, 2015 01:06 PM By Raunak for Mini Cooper Coupe
Four Mini Cooper S makes the best ghost of the iconic video game Pac-Man - Blinky, Pinky, Inky and Clyde in Sony Pictures' New Pixels Movie - releasing on 24 July 2015 in States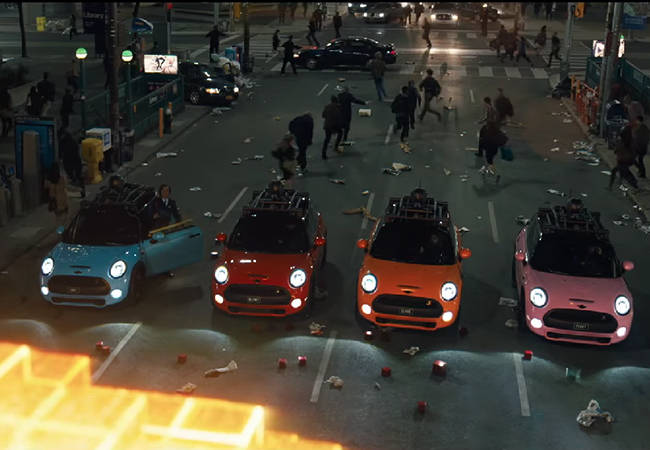 Flaunting a car in a movie is not new, it has been a trend by manufacturer's with the Hollywood since ages but nowadays you get to see it more often. This said, we usually see uber expensive super cars driven by the heros in the flicks like the Aston's and Jag's with the James Bond series. But seeing a three-door hatchback is pretty rare. However, we have few examples like the Volkswagen Beetle from the cute Herbie series. And indeed we have seen Mini before in the The Italian Job, where most of the people remember Mini from - ohh this car, I remember it from the Italian Job Movie! (Caution: Please don't even say anything about 'Players' - horrific interpretation of The Italian Job in India)

Now, with the new Cooper S, seems like Mini has once again roped-in with a flick, this time with the Sony Pictures' new Pixel movie. This movie runs along the plot that NASA in 1982 drops a time capsule into space to contact other life forms and included examples of our culture, and by this they sent various famous games of the 80's.

But according to trailer, unfortunately, the Pac-Mac video and others triggered declaration of war by earth to the extra terrestrial. It features four main protagonists Adam Sandler, Peter Dinklage, Denis Akiyama and Josh Gad driving their own individual Pac-Man ghosts aka 'MINI Ghosts'. The trailer looks interesting, let's see how the movie fairs .

PS: It even has Taj Mahal in it!