Mercedes-Benz To Hike Car Prices From September 1
Published On Aug 17, 2018 01:10 PM By Khan Mohd. for Mercedes-Benz New C-Class 1997-2022
The prices will be hiked by upto 4 per cent across Mercedes' entire lineup in India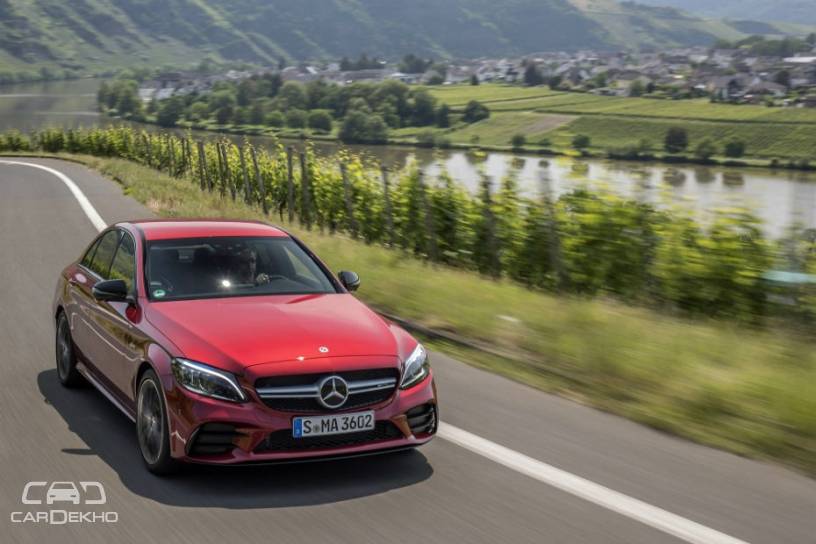 India's leading luxury carmaker, Mercedes-Benz has announced a price rise of upto 4 per cent across its lineup in the country. With rising input costs, increasing inflation and weakening rupee, all Mercedes cars will cost more from 1 September 2018. For the uninitiated, the rupee has hit an all-time low of Rs 70 per US dollar. Moreover, a rise of 0.5 per cent in the repo rate has resulted in increased interest rates for Merc's financial services too.
Here's how the prices of Mercedes-Benz cars are likely to get affected (excluding AMG cars).
| | | |
| --- | --- | --- |
| Model | Old Price (ex-showroom Delhi) | New Price (expected) |
| | Rs 29.90 lakh to Rs 30.94 lakh | Rs 31.09 lakh to Rs 32.18 lakh |
| | Rs 31.99 lakh to Rs 33.03 lakh | Rs 33.27 lakh to Rs 34.35 lakh |
| | Rs 31.72 lakh to Rs 35.54 lakh | Rs 32.99 lakh to Rs 36.96 lakh |
| | Rs 32.33 lakh to Rs 38.64 lakh | Rs 33.62 lakh to Rs 40.19 lakh |
| | Rs 42.54 lakh to Rs 46.87 lakh | Rs 44.24 lakh to Rs 48.74 lakh |
| | Rs 49.94 lakh to Rs 54.5 lakh | Rs 51.94 lakh to Rs 56.68 lakh |
| | Rs 58.61 lakh to Rs 72.85 lakh | Rs 60.96 lakh to Rs 75.77 lakh |
| | Rs 66.49 lakh to Rs 77.41 lakh | Rs 69.15 lakh to Rs 80.51 lakh |
| | Rs 85.42 lakh to Rs 86.9 lakh | Rs 88.84 lakh to Rs 90.38 lakh |
| | Rs 1.33 crore to Rs 1.37 crore | Rs 1.38 crore to Rs 1.43 crore |
| Maybach S-Class | Rs 1.86 crore to Rs 2.73 crore | Rs 1.94 crore to Rs 2.84 crore |
Meanwhile, Mercedes-Benz is also set to launch the 2018 C-Class facelift in India very soon. You can have a look at the picture gallery of the same here.
Here's the official press release from the company regarding the same.
Press Release
Mercedes-Benz India to revise the ex-showroom price of its entire model range by up to 4%
Ex-showroom prices of the entire Mercedes-Benz model range set to increase up to 4% w.e.f. September 1st, 2018

A combination of factors comprising rising input costs, increasing inflation and an upward moving forex rate have been consistently exerting significant pressure on our operations, which compelled this price correction

Smart financial solutions from Mercedes-Benz Financial Services will enable an optimum cost of ownership experience for the customers
Pune: India's largest luxury carmaker Mercedes-Benz India today announced an upward revision of the price of its entire model range effective from September 1, 2018. The price correction would be up to the range of a moderate 4% varying across the model range. The rising inflation due to geo-political dynamics, coupled with rising input costs and increasing forex rates has been exerting significant pressure on overall operations. While the INR has depreciated by more than 5% against the Euro in last 8 months, the Repo rate has gone up by 0.5% in last couple of months. The combination of all these factors led Mercedes-Benz India to upwardly revise the prices of its entire model range and also the retail finance rates.
Roland Folger, Managing Director & CEO, Mercedes-Benz India commented, "As the leading luxury automobile maker in India, we have been relentlessly working on offering the best of products and industry benchmark customer service and ownership experience. This is the very philosophy that led us to maintain our steady price positioning over the last few months. However, a steady rise in input costs against the backdrop of an unfavorable forex rate and high inflationary cost together, have had a significant impact in the recent past. We have been watching this trend cautiously and avoided any price changes in the recent past. Considering the rapid depreciation of the rupee against the major currencies in last few days, we were left with fewer options, but to make some necessary price adjustments to our product range at the moment."
"However, despite this moderate price revision, the innovative and tailor-made financial offerings from Mercedes-Benz like STAR Agility, STAR Finance, STAR Lease, Corporate STAR Lease etc. are specially designed for our discerning customers to drive home their dream Mercedes. These unique solutions provide benchmark value proposition, enabling a hassle free purchase. Similarly, our service programmes like STAR Ease, STAR Care, STAR Care Plus and On Road Assistance programmes further elevate the customer's overall ownership experience." Mr. Folger added.
Financial solutions: The company's STAR Finance schemes give tailor made financial solutions, while 'STAR Supersonic' scheme also provides extremely fast loan approval in merely 30 minutes. STAR Agility is another unique and innovative product from Mercedes-Benz Financial Services, which offers 35 to 40% lower EMI than regular finance products, thus enhancing the flexibility and affordability of owning a Mercedes-Benz. Different aspects of the vehicle ownership ranging from finance, leasing and insurance to roadside assistance, cost of service, repairs and even residual value have been optimized under our financial solutions. One of the highlight offerings is the unmatched interest rate starting from 7.99% for the New Generation Cars.
Service packages: Mercedes-Benz India also offers highly affordable service packages and Extended Warranty Programmes, which are industry benchmark. Under the STAR CARE programme, warrantable repairs up to 3 years are free of cost without any mileage limitations. This is offered standard with ever purchase. Star Care Plus offers 4th year extended warranty, which further enhances the resale value. STAR EASE covers essential jobs related to periodic service along with coverage for brake pads, brake discs, wiper blades, wheel alignment and balancing for the contracted period. Mercedes-Benz India is the only luxury carmaker to offer the On Road Assistance (ORA) Package as a standard offering for 3 years. This can be purchased for a 4th and 5th year individually. Customers will also be delighted with the introduction of a host of new service programmes. The objective behind the new customized packages for different models of cars will ensure that the ownership experience is hassle free and guarantees complete peace of mind.
Recommended: Mercedes-Benz Bolsters After-Sales Service In Kerala For Flood-Affected Cars
Read More on : Mercedes-Benz New C-Class Automatic
Was this article helpful ?
0 out of 0 found this helpful