Mercedes-Benz New C-Class 1997-2022
Change car
Rs.25.15 Lakh - 1.41 Cr*
This car model has expired
Key Specs of Mercedes-Benz New C-Class 1997-2022
| | |
| --- | --- |
| Engine | 1796 cc - 6208 cc |
| BHP | 167.62 - 502.88 Bhp |
| Transmission | Automatic/Manual |
| Mileage | 19.71 kmpl |
| Fuel | Petrol/Diesel |
| Boot Space | 480-litres |
Explore Price of New C-Class 1997-2022 Alternatives

Mercedes-Benz New C-Class 1997-2022 price list (Variants)
New C-Class 1997-2022 200 K AT1796 cc, Automatic, Petrol, 11.7 kmplEXPIRED
Rs.25.15 Lakh*
 
200 K Elegance AT1796 cc, Automatic, Petrol, 11.7 kmplEXPIRED
Rs.25.15 Lakh*
 
New C-Class 1997-2022 200 Kompressor1796 cc, Manual, Petrol, 11.7 kmplEXPIRED
Rs.25.15 Lakh*
 
New C-Class 1997-2022 230 Avantgarde1796 cc, Automatic, Petrol, 11.7 kmplEXPIRED
Rs.25.15 Lakh*
 
C 200 Kompressor Elegance MT1796 cc, Manual, Petrol, 11.7 kmplEXPIRED
Rs.25.15 Lakh*
 
New C-Class 1997-2022 200 CDI Classic2148 cc, Manual, Diesel, 15.8 kmplEXPIRED
Rs.27.99 Lakh*
 
New C-Class 1997-2022 200 CDI Elegance2148 cc, Manual, Diesel, 15.8 kmplEXPIRED
Rs.27.99 Lakh*
 
New C-Class 1997-2022 2202148 cc, Manual, Diesel, 15.8 kmplEXPIRED
Rs.27.99 Lakh*
 
New C-Class 1997-2022 220 CDI MT2148 cc, Manual, Diesel, 15.8 kmplEXPIRED
Rs.27.99 Lakh*
 
New C-Class 1997-2022 250 CDI Classic2143 cc, Automatic, Diesel, 15.8 kmplEXPIRED
Rs.27.99 Lakh*
 
C 220 CDI CLASSIC2148 cc, Manual, Diesel, 15.8 kmplEXPIRED
Rs.27.99 Lakh*
 
C 220 CDI Elegance MT2148 cc, Manual, Diesel, 15.8 kmplEXPIRED
Rs.27.99 Lakh*
 
New C-Class 1997-2022 220 CDI AT2143 cc, Automatic, Diesel, 14.84 kmplEXPIRED
Rs.28.56 Lakh*
 
C 220 CDI Elegance AT2143 cc, Automatic, Diesel, 14.84 kmplEXPIRED
Rs.28.56 Lakh*
 
New C-Class 1997-2022 C 220 CDI BE COR2143 cc, Automatic, Diesel, 14.84 kmplEXPIRED
Rs.29.66 Lakh*
 
New C-Class 1997-2022 180 ClassicManual, PetrolEXPIRED
Rs.30.12 Lakh*
 
C 180 Kompressor EleganceManual, PetrolEXPIRED
Rs.30.12 Lakh*
 
C 200 CGI Elegance1796 cc, Automatic, Petrol, 11.74 kmplEXPIRED
Rs.30.19 Lakh*
 
New C-Class 1997-2022 C 200 BE Classic1796 cc, Automatic, Petrol, 11.7 kmplEXPIRED
Rs.30.28 Lakh*
 
C 220 CDI Sport Edition2143 cc, Automatic, Diesel, 14.84 kmplEXPIRED
Rs.30.35 Lakh*
 
C 200 Kompressor Elegance AT1796 cc, Automatic, Petrol, 11.74 kmplEXPIRED
Rs.31.57 Lakh*
 
C 250 CDI Elegance2143 cc, Automatic, Diesel, 14.94 kmplEXPIRED
Rs.33.41 Lakh*
 
C 200 CGI Avantgarde1796 cc, Automatic, Petrol, 11.74 kmplEXPIRED
Rs.33.52 Lakh*
 
C 220CDIBE Avantgarde Command2143 cc, Automatic, Diesel, 14.84 kmplEXPIRED
Rs.36.49 Lakh*
 
New C-Class 1997-2022 C250 Avantgarde1796 cc, Automatic, Petrol, 11.74 kmplEXPIRED
Rs.38.17 Lakh*
 
C 200 CGI Grand Edition1796 cc, Automatic, Petrol, 11.74 kmplEXPIRED
Rs.38.77 Lakh*
 
New C-Class 1997-2022 C 220 CDI Style2143 cc, Automatic, Diesel, 19.27 kmplEXPIRED
Rs.39.63 Lakh*
 
C 220 CDI Edition C AT2200 cc, Automatic, Diesel, 15.8 kmplEXPIRED
Rs.40.50 Lakh*
 
C 220 CDI BE Avantgare2143 cc, Automatic, Diesel, 14.84 kmplEXPIRED
Rs.40.57 Lakh*
 
New C-Class 1997-2022 C 200 AVANTGARDE1991 cc, Automatic, Petrol, 14.74 kmplEXPIRED
Rs.40.90 Lakh*
 
C220 CDI Executive Edition2148 cc, Automatic, Diesel, 15.8 kmplEXPIRED
Rs.41.00 Lakh*
 
C 220 CDI Celebration Edition2143 cc, Automatic, Diesel, 11.78 kmplEXPIRED
Rs.41.17 Lakh*
 
C 220 CDI Grand Edition2143 cc, Automatic, Diesel, 11.78 kmplEXPIRED
Rs.41.17 Lakh*
 
New C-Class 1997-2022 Prime C 2001950 cc, Automatic, Petrol, 11.9 kmplEXPIRED
Rs.41.31 Lakh*
 
New C-Class 1997-2022 C 200 CGI1991 cc, Automatic, Petrol, 14.74 kmplEXPIRED
Rs.41.40 Lakh*
 
C 200 Avantgarde Edition C1991 cc, Automatic, Petrol, 14.74 kmplEXPIRED
Rs.42.54 Lakh*
 
C 220 CDI Avantgarde2143 cc, Automatic, Diesel, 19.27 kmplEXPIRED
Rs.42.94 Lakh*
 
New C-Class 1997-2022 Prime C 220d1950 cc, Automatic, Diesel, 12.6 kmplEXPIRED
Rs.43.38 Lakh*
 
C 220d Avantgarde Edition C2143 cc, Automatic, Diesel, 19.27 kmplEXPIRED
Rs.43.54 Lakh*
 
C 250 CDI Avantgarde2143 cc, Automatic, Diesel, 19.71 kmplEXPIRED
Rs.44.29 Lakh*
 
C 250d Avantgarde Edition C2143 cc, Automatic, Diesel, 19.71 kmplEXPIRED
Rs.46.87 Lakh*
 
Progressive C 2001950 cc, Automatic, Petrol, 11.9 kmplEXPIRED
Rs.50.01 Lakh*
 
Progressive C 220d1950 cc, Automatic, Diesel, 12.6 kmplEXPIRED
Rs.51.74 Lakh*
 
New C-Class 1997-2022 AMG Line C 300d1950 cc, Automatic, Diesel, 12.6 kmplEXPIRED
Rs.54.25 Lakh*
 
New C-Class 1997-2022 Cabriolet C 3001991 cc, Automatic, Petrol, 17.9 kmplEXPIRED
Rs.60.00 Lakh*
 
New C-Class 1997-2022 C300 Cabriolet1991 cc, Automatic, Petrol, 9.6 kmplEXPIRED
Rs.70.67 Lakh*
 
New C-Class 1997-2022 AMG C432996 cc, Automatic, Petrol, 11.9 kmplEXPIRED
Rs.74.35 Lakh*
 
New C-Class 1997-2022 Coupe C43 AMG2996 cc, Automatic, Petrol, 11.9 kmplEXPIRED
Rs.81.10 Lakh*
 
New C-Class 1997-2022 C 63 AMG6208 cc, Automatic, Petrol, 5.0 kmplEXPIRED
Rs.1.07 Cr*
 
New C-Class 1997-2022 C 63 S AMG3982 cc, Automatic, Petrol, 14.49 kmplEXPIRED
Rs.1.33 Cr*
 
New C-Class 1997-2022 C 633982 cc, Automatic, Petrol, 11.9 kmplEXPIRED
Rs.1.41 Cr*
 
View All Variants
Mercedes-Benz New C-Class 1997-2022 Review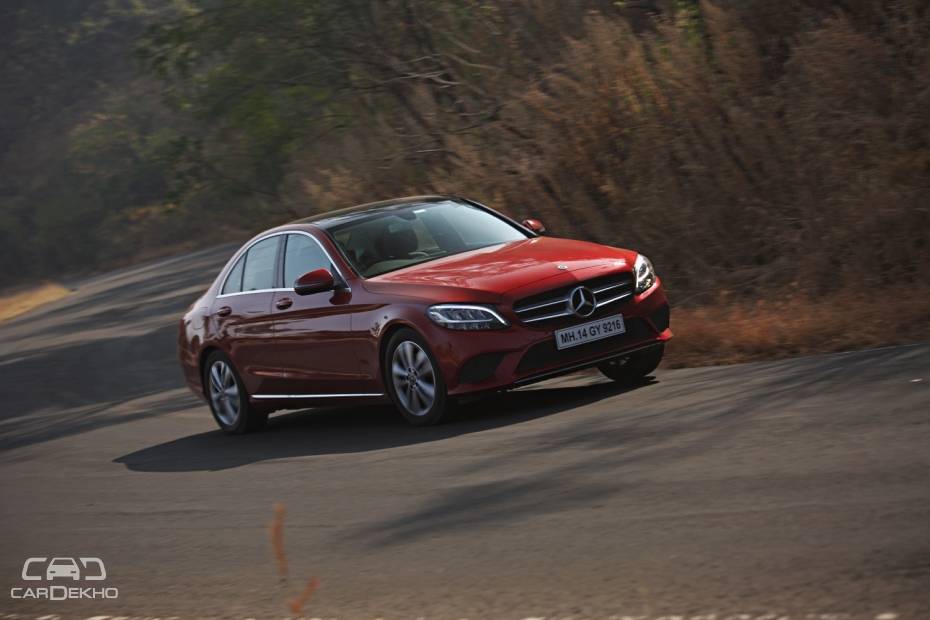 Launched in September 2018, the updated C-Class promises more flash, paired with added functionality. To top things off, there's a BSVI-compliant diesel engine that not only makes more power than the outgoing unit but is also kinder to the environment. It looks like Mercedes has covered all bases then. Or has it?
Exterior
Among the first questions that will pop up when you see the C-Class in person will be 'is this really the new car'? Even by facelift standards, the changes are subtle enough to go unnoticed by those not in the know. The dimensions remain unchanged and so does the basic shape and size of the headlamps and tail lamps.

Our test car was the top-spec Progressive variant of the C 220 d, which packs full-LED headlamps. Dare we say, it looks better than the 'Multibeam' LED setup the more expensive C 300 d AMG Line gets. It also lends the C-Class an angrier-looking face, that's complemented well by the reworked bumper. With the central airdam growing larger and faux air vents moving upwards, the front now appears visually wider.

There's no telling the updated C-Class apart from the old one from the side. Absolutely nothing new here save for the new set of 17-inch alloy wheels that are now standard. From the rear, the baby Mercedes apes not the S, but the mighty Maybach. The tail lamps get revised graphics, with a prominent C-shaped lighting pattern. And yes, if you're wondering, it continues to get the chrome applique on the bumper that tries to imitate a set of exhausts.

We've always liked how Mercedes-Benz has managed to mimic the S-Class in a smaller, tighter package. And even with the update, that feeling lingers on. If we could describe it in a word, we'd pick c-l-a-s-s-y!
Interior
If you're buying the C-Class thinking it's a big, expensive car, it's a Mercedes-Benz for God's sake - it must have acres of space - then, you'd be mistaken. India doesn't get the China-spec C-Class L (long wheelbase), so you have to make do with a cabin that isn't particularly palatial.

For starters, you have to sit down inside the car. Those buying the car for their parents/grand parents, please take note. Once in, you see that the C-Class' cabin is driver-centric. At the rear, there's just about enough space for a six-footer to sit behind their own driving position. But, under-thigh support feels lacking, and the diving roofline gives rise to a shortage of headroom. Since Mercedes had to carve out the headliner to make space for the panoramic sunroof, the feeling of being close to the roof is amplified further. That said, anyone up to 5'10" should be comfortable here. But in case you're taller, you're forced to sit with your back at a sharper angle, which reduces kneeroom and under-thigh support further.

In the front seat, there's ample room for you to get comfortable and soak in all that the C-Class has to offer. This may be an 'entry-level' Mercedes, but there's practically nothing in the cabin that makes it feel that way. There's thoughtful use of materials, including faux wood on the dash and the centre console, robust-feeling switches for the power windows and the air-con, knurled knobs for controlling the airflow on the vents and an abundance of soft-touch materials everywhere. It doesn't look like Mercedes-Benz has missed a spot - even the lower half of the doorpad is soft to touch!
Safety
Irrespective of the variant you pick, you get a host of safety tech. There are seven airbags (dual front, side, curtain, and driver's knee), anti-lock brakes with EBD as well as ISOFIX child seat mounts. The C-Class also features an Active Bonnet that raises the bonnet from the rear hinges (with the use of pyrotechnics) to ensure it minimizes impact and risk of injury for a pedestrian. There's parking assist as well that helps hunts for parking spots and also steers and accelerates to make parking that much easier.

Performance
Under the bonnet of the C-Class is a new 2.0-litre diesel engine. This is the same engine we've seen in the E-Class. But here, there's a key difference, it's BSVI-compliant. It makes the same 194PS of power and 400Nm of torque, and comes paired with a 9-speed automatic gearbox.

Fire up the engine and the first feeling is that this new engine is noticeably quieter than the one it replaces. Get going, and this observation is only fortified further. Insulation has always been fantastic in the C-Class, and with the quieter engine, the experience is that much more enjoyable.

Driving the C 220 d is quite engaging. There's no dearth of power, and the shifts from the gearbox ensure you are in the correct gear most of the time. Drive calmly and the shifts are imperceptible. And should you want to overtake, a small flex of the right foot is all it takes. You don't have to wait for the vehicle to react, it obeys commands almost instantly. That's until you try to hurry the gearbox, that is. Here you will notice the gearbox hiccup and falter at times. On inclines, for instance, it feels hesitant to drop gears, and dowshifts only when the go power feels inadequate. Also, if you want to shimmy out of your lane and slam on the accelerator for that quick overtake on the highway, you'd notice the gearbox taking a split second before downshifting.
Go all out, and the C-Class will hit 100kmph in 7.9 seconds. That's a full second slower than the claimed 6.9-second time. The responsive gearbox makes its presence felt when you slam the pedal down in-gear. For instance, 20-80kmph takes just 5.02 seconds. Of course, both these times are in Sport+ mode, where the engine and gearbox are programmed to hold on to higher revs, even at idle. Other modes include Eco, Comfort, and Sport. There's an Individual mode as well that lets you alter the behaviour of the engine, steering and ESP. You can set each to Eco, Comfort, and Sport.

Using the preset Comfort and Eco modes will see the car become progressively lazier. We re-did the roll-on acceleration tests in the other modes and saw the 20-80kmph take 5.45 seconds in Comfort, and 5.81 seconds in Eco. The go-to mode for us has to be Comfort — it provides a nice balance between drivability and performance.
This engine feels like it can munch miles for years together without batting an eyelid. And should you want to do that often, it'll be happy to be kind to your wallet. Inside the city, the 2.0-litre engine returned a respectable 14.37kmpl, and climbed up to an impressive 21.40kmpl on the highway. It's worth mentioning we were in Eco mode for the fuel runs. A fatter wallet makes up for the slightly dull throttle response.

While the engine offers enough to excite in Sport+, it doesn't feel overwhelming at any point. If an overwhelming amount of performance is what you're after, we suggest you look at the C 300 d instead.
Verdict
With the update, the C-Class isn't a biblically different car than before. It continues to look and feel posh, is built like a tank and has snob value like nothing else in the segment. The refinement of the new engine brings with it an added air of premiumness. Yes, we'd have liked some more features (say a 360° camera, ventilated seats, electric steering-column adjust) at this price point. But, other than that and slightly stingy room at the rear, we can't really pick bones. It's the good old C-Class recipe, just fine-tuned and perfected over time.
Pros & Cons of Mercedes-Benz New C-Class 1997-2022
CarDekho Experts:
The C-Class is possibly the best blueprint for a compact luxury sedan.
Things We Like
Snob value. Nothing else says you've arrived in life like a Mercedes-Benz.
Build quality. Solid feeling doors, soft-touch material everywhere, wood trims make the car feel rich.
Drivability. New 2.0-litre engine is equally comfortable if you're stuck in traffic or belting it on the highway.
Efficiency. With 14.37kmpl inside the city and 21.40kmpl on the highway, it's frugal to run daily.
Things We Don't Like
Missing features vis-a-vis global spec. LCD instrument cluster is a big miss.
Backseat space, especially headroom, is underwhelming. It's not a spacious sedan.
Stiff ride quality might not please all. Road imperfections are felt inside the cabin.
Stand Out Features
BSVI-compliant diesel engine, even on BSIV fuel! 

Capacitive buttons on the steering wheel are super intuitive to use. 

Full-LED headlamps make the baby C-Class look a whole lot like the big daddy S-Class!
Specification of Mercedes-Benz New C-Class 1997-2022
| | |
| --- | --- |
| ARAI Mileage | 11.7 kmpl |
| City Mileage | 7.4 kmpl |
| Fuel Type | Petrol |
| Engine Displacement (cc) | 1796 |
| No. of cylinder | 4 |
| Max Power (bhp@rpm) | 178 @ 5,600 (PS@rpm) |
| Max Torque (nm@rpm) | 24.5 @ 3,500-4,500 (kgm@rpm) |
| Seating Capacity | 5 |
| TransmissionType | Automatic |
| Boot Space (Litres) | 475 |
| Fuel Tank Capacity | 66.0 |
| Body Type | Sedan |
Mercedes-Benz New C-Class 1997-2022 User Reviews
All (54)
Looks (17)
Comfort (26)
Mileage (10)
Engine (15)
Interior (15)
Space (3)
Price (7)
More ...
The Mercedes Benz C - class has an amazing drive quality, best in the segment interior with superb sound surround and ambient lighting. The styling of the car is just won...Read More

C-220d is actually a very good car because it has an amazing performance, amazing safety features, and good modes.

It has been a lovely car. I have driven more than 80K and the car has never let me down. It has been up to the standard it maintains for its Brand and delivers the b...Read More

No second thoughts this is the ultimate luxury this will definitely make your neighbors jealous of your lovely car.

Good car but it has heavy maintenance. I own a BMW 520d. I don't get that much maintenance on BMW but Benz is a lot and battery issues it stopped working 2 times and comf...Read More

View All New C-Class 1997-2022 Reviews
Mercedes-Benz New C-Class 1997-2022 Latest Update
Latest: The C-Class can now be had with a petrol engine as well, which is priced at Rs 43.46 lakh (ex-showroom India). More details here.
2018 Mercedes-Benz C-Class Facelift Variants & Prices: The 2018 C-Class is available in three variants: C 220 d Prime, C 200 d Progressive and C 300 d AMG Line, priced from Rs 40 lakh to 48.5 lakh (ex-showroom Delhi). While the C 220 d Prime and Progressive variants are on already on sale, the top-spec C 300 d AMG Line will be available from Q4 FY-2018-19.
2018 Mercedes-Benz C-Class Facelift Engine: The facelifted C-Class can be had with a diesel engine only. The lower-spec C 220 d is powered by a new BS-VI compliant 2.0-litre engine that makes 194PS/400Nm with a 9-speed automatic transmission. The C 300 d, on the other hand, also gets the same engine, however, here it produces 245PS and 500Nm, with a 9-speed automatic transmission.
2018 Mercedes-Benz C-Class Facelift Features: The C-Class is equipped with features such as seven airbags, adaptive braking and attention assist. Other features on offer include LED intelligent light system, a panoramic sunroof, five driving modes, 64 colour ambient lighting, dual-zone climate control, active parking assist, reversing camera and a Burmester audio system.
2018 Mercedes-Benz C-Class Facelift Competition: The C-Class takes on likes of the Audi A4, BMW 3 Series, Jaguar XE and the upcoming new Volvo S60.
Read More
Must read articles before buying Mercedes-Benz New C-Class 1997-2022
Mercedes-Benz New C-Class 1997-2022 Videos
Mercedes-Benz New C-Class 1997-2022 2023 has 1 video of its detailed review, pros & cons, comparison & variant explained,test drive experience, features, specs, interior & exterior details and more. Watch our Latest Hindi video of Mercedes-Benz New C-Class 1997-2022 to know price, safety features & more.
6:27

Mercedes-Benz C 220d Facelift Review | More Than Meets The Eye | Zigwheels.com

Jan 25, 2019
Mercedes-Benz New C-Class 1997-2022 Images

Mercedes-Benz New C-Class 1997-2022 Mileage
The claimed ARAI mileage: Mercedes-Benz New C-Class 1997-2022 Diesel is 15.8 kmpl | Mercedes-Benz New C-Class 1997-2022 Petrol is 11.7 kmpl.The claimed ARAI mileage for the automatic variants: Mercedes-Benz New C-Class 1997-2022 Diesel is 19.71 kmpl | Mercedes-Benz New C-Class 1997-2022 Petrol is 17.9 kmpl.
| Fuel Type | Transmission | ARAI Mileage |
| --- | --- | --- |
| Diesel | Automatic | 19.71 kmpl |
| Diesel | Manual | 15.8 kmpl |
| Petrol | Automatic | 17.9 kmpl |
| Petrol | Manual | 11.7 kmpl |
Mercedes-Benz New C-Class 1997-2022 News
Mercedes-Benz New C-Class 1997-2022 Road Test

Are you Confused?
Ask anything & get answer in 48 hours
Trending Mercedes-Benz Cars
*Ex-showroom price in New Delhi
×
We need your city to customize your experience