Mercedes-Benz India Launches Fancy Mobile Service Truck For Semi-urban Areas
Published On Jul 19, 2018 09:29 PM By Khan Mohd. for Mercedes-Benz E-Class 2017-2021
The facility should make Mercedes-Benz' after-sales services more accessible in tier II and tier III cities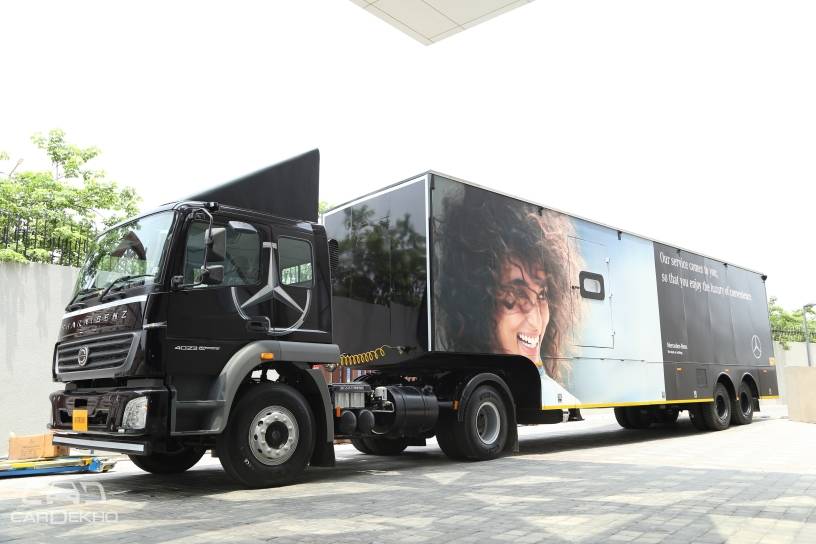 German carmaker Mercedes-Benz (MB) has introduced a new initiative - 'Service On Wheels' - in India to serve its customers, especially in tier II and tier III cities. With this, Mercedes claims to have become the first luxury carmaker to bring such an initiative to the country. Upon receiving requests from its customers, a Mercedes service truck, with all the servicing amenities along with company personnels, will visit the customer's location and get their cars serviced.

The servicing trailer will carry equipment such as mobile lifting platform, special tools, generator and other diagnostic tools. It also has a lounge with a seating capacity of six people, customised interiors, 43-inch television, two split ACs and other facilities. The idea is to make it seem like an exact replica of the reception at MB's showrooms. For an MB customer, the initiative offers transparency, reduced service times, free first inspection and a hassle-free service experience overall.
Initially, it will travel to 15 key cities in the country to carry out service related activities till the end of this year starting from Amritsar, Punjab. Some of the prominent cities include Jalgaon, Gandhinagar, Kutch, Amravati, Udupi, Bellary among others.
Mercedes-Benz has been quite aggressive to increase its product portfolio in India and the carmaker currently holds the top spot when it comes to sales amongst luxury car makers in India. Mercedes-Benz is expected to launch the E-Class All Terrain in India soon.
Here's the official statement from Mercedes-Benz:
Press Release
Mercedes-Benz launches the first-of-its-kind 'Service on Wheels' initiative in the luxury car segment; deepens its customer centricity and service differentiation commitment
'Service on Wheels' boasts of the largest state-of-the-art Digital Service Drive capable service trucks deployed by any automotive manufacturer in India
'Service on Wheels' will feature two trucks; one catering to markets in the North & East and the other to South & West under Phase I roll-out
'Service on Wheels' initiative offers unprecedented convenience to customers by offering vehicle care in locations distant from existing service network

'Service on Wheels' will travel to 15 Tier 2 & 3 markets like Jalgaon Gandhinagar, Jamnagar, Valsad, Kutch, Amravati, Udupi, Bellary, Dharwad, etc. in 2018 and to other markets in 2019

This initiative will undertake First Free Inspection, Service A & B and other jobs

Customer benefit: Added transparency, significant reduction in service time, first free inspection, hassle-free service experience at their doorstep

Key features: 'Service on Wheels' truck carries necessary parts, tools and equipment like Mobile lifting platform, Standard and Special Tools, Generator, Diagnostic equipment and more

'Service on Wheels' trucks are state-of-the-art machines and well-equipped with Mercedes-Benz's 'Digital Service Drive' capabilities

Unique customer lounge: The 'Service on Wheels' truck features customized interiors, comfortable seating space and can accommodate six people. Full vinyl flooring, 43" Smart Television & two split air-conditioners to ensure customer comfort at the lounge on wheels

The customer reception for 'Service on Wheels' promises to be similar to a Mercedes-Benz workshop

'Service on Wheels' will be used extensively during Mercedes-Benz service camps, sales campaign and other service related activities
Amritsar: India's largest luxury car manufacturer Mercedes-Benz today announced the launch of yet another innovative customer service offering for its customers called 'Service on Wheels'. This novel initiative comprises a service truck equipped with all tools along with professional service personnel to attend to customer cars, especially in Tier 2 and Tier 3 cities where Mercedes-Benz doesn't have a direct presence. On being notified, a mobile service truck will visit the customer's area and carry out the inspection, repairs and service of the car, adding great value and convenience to the customers. This initiative is part of Mercedes-Benz's hugely popular service differentiation strategy under the 'My Mercedes, My Service' umbrella, launched in July 2016.
'Service on Wheels' is a first-of-its-kind initiative in the Indian luxury car industry, which is highly customer-centric and tailor-made for the Indian market. This concept is a result of the Business Innovation project which is conceptualized by the employees of Mercedes-Benz India. It was launched by Mr. Roland Folger, Managing Director & CEO and Mr. Santosh Iyer, Vice President-Customer Service, Retail Training and Corporate Affairs, Mercedes-Benz India in the key market of Amritsar today. The Phase I of 'Service on Wheels' will travel to 15 different Tier 2 and Tier 3 markets undertaking service related requirements of customers in the remaining months of the 2018.
On the introduction of this customer service initiative, Roland Folger, Managing Director & CEO, Mercedes-Benz India said "With our 'Go to Customer' strategy we keep exploring novel ways to make the ownership experience of a Mercedes-Benz delightful. This time round, we are virtually going to the customer's doorstep with our new initiative, 'Service on Wheels.' With this new offering, we can assure our customers, especially in cities beyond the large metros, complete peace of mind when it comes to the ownership experience of their cherished Mercedes-Benz. With the support of our dealer partners across the country, we are confident of implementing this innovative programme across markets."
Mr. Folger further added, "Being a highly customer-centric brand, our service doesn't end at the sale of our product; in fact the long delightful relationship just begins from there. 'Service on Wheels' is yet another step towards the direction of creating service differentiation in the luxury car market, which is key to market success. As the leaders in the luxury car segment, we lead from the front when it comes to delivering customer service excellence and 'Service on Wheels' is a firm reiteration of our commitment to our valued patrons."
Rolling out the 'Service on Wheels' initiative, Mr. Santosh Iyer, Vice President - Customer Service, Retail Training and Corporate Affairs, Mercedes-Benz India stated, "As the innovators of unique customer service initiatives, it is our constant endeavour to create new benchmarks of customer delight in the luxury car segment. With the introduction of 'Service on Wheels', for the first time for a luxury car brand, we are breaking the barrier of fixed location set-up for servicing a luxury car. Novel and transparent initiatives like these are key differentiators in earning customer trust and help us consolidate our leadership position in the dynamic Indian luxury car market. We are overwhelmed with customer feedback for the various service initiatives under 'My Mercedes, My Service', and with this industry-first offering, we are confident that Mercedes-Benz will continue to remain the preferred luxury car brand for our existing and also prospective customers. Featuring the largest service truck deployed, 'Service on Wheels' will provide customers an experience which is similar to any Mercedes-Benz workshop, and will travel across the country benefitting customers with quick service at their doorsteps."
With a history of serving customers in India since the last 24 years, Mercedes-Benz is known to provide the best-in-class service to its patrons. 'Service on Wheels' is an easily accessible mobile service centre for customers where a Mercedes-Benz dealership is not available conveniently. The technical team in the service truck inspects the car using a mobile lifting platform. Instances of the vehicle check comprises lights, windscreen, wipers, brake discs/pads, leaks, battery, etc.
Service related jobs undertaken by 'Service on Wheels':
The 'Service on Wheels' truck will carry out first free inspection, Service A and Service B. This includes:
Vehicle health check-up using Xentry

Functional checks of vehicle interior and exterior system

Checks for leakages and damages to the vehicle and in the engine compartment

Check the correctness of oil and fluids

Checking the health of tyres

Checking and adjusting coolant levels

Oil and oil filter replacement

Checking the poly V-belt

Replacement of the dust filters

Checking the condition of the axle, axle joints, suspension struts and springs.
Specially trained service advisors, VPC (Vehicle Preparation Centre) technicians, sales advisors along with other support staff accompany the Mercedes-Benz 'Service on Wheels' truck at each visiting location. For more intense repair work including B&P (Body and Paint) works, the customer can also book workshop appointment at the 'Service on Wheels' by the Service Advisor. Additional elements of the mobile truck service include an exclusive lounge, where the customers can wait in comfort while the inspection of the car takes place.
Recommended: In Pictures: 2018 Mercedes-Benz C-Class Facelift
Read More on : Mercedes-Benz E-Class Automatic
Was this article helpful ?
0 out of 0 found this helpful