Maruti Grand Vitara And Toyota Hyryder Recalled Again
Modified On Jan 24, 2023 02:32 PM By Rohit for Maruti Grand Vitara
This time, the compact SUVs are suspected to have a possible defect in the rear seatbelt mounting brackets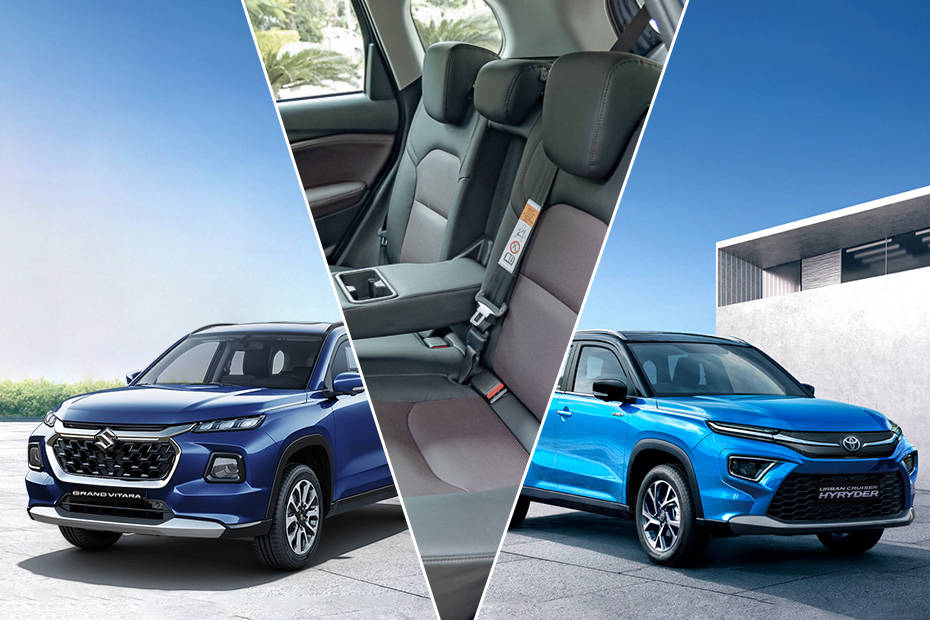 The Maruti Grand Vitara has been recalled for the third time, during which the carmaker has called back 11,177 more units of the compact SUV. The latest round of recalls has been issued due to a possible defect in rear seatbelt mounting brackets, which could loosen in the long run and affect its functionality.
Its Toyota Counterpart Is Affected As Well

The Grand Vitara's Toyota equivalent, the Urban Cruiser Hyryder, has been recalled as well due to the same possible defect. While the carmaker has called back 4,026 units of the SUV, it has stated that there haven't been any reported failures of the affected part till date.
Which Units Are Affected?

Both the carmakers have recalled all the units of the two SUVs manufactured between August 8 and November 15, 2022. Owners of the affected vehicles manufactured in this period can take their SUV to the workshops to have the part inspected, while Maruti and Toyota will be contacting the affected-vehicle owners too. If found faulty, the part will be replaced at no cost.
Related: Toyota Recalls Close To 1,400 Units Of The Glanza And Hyryder
Previous Recalls
It's vital to note that all the recalls of the SUVs till date have related to their 'safety' features. Their very first recall was in December 2022 (due to a possible defect in one of the child parts of shoulder height adjuster assembly of front-row seat belts), while the second one was in January 2023 (due to a suspected defect in the airbag controller).
Also Read: BREAKING: Toyota Issues Recall For Select Units Of The Hyryder SUV
What We Suggest

While neither Maruti nor Toyota have specified if the SUVs are safe to be driven in their current condition, we recommend that you find out if your respective vehicle falls under the recall. If yes, then do get it inspected at the earliest to keep your vehicle in the pink of health.
Read More on : Grand Vitara on road price
Was this article helpful ?
2 out of 2 found this helpful