Mahindra XUV400 vs Tata Nexon EV Max - Which Electric SUV Delivers The Most Real-world Range?
Published On Mar 15, 2023 11:35 AM By Tarun for Mahindra XUV400 EV
Both are direct competitors with similar prices and an identical claimed range of around 450 kilometres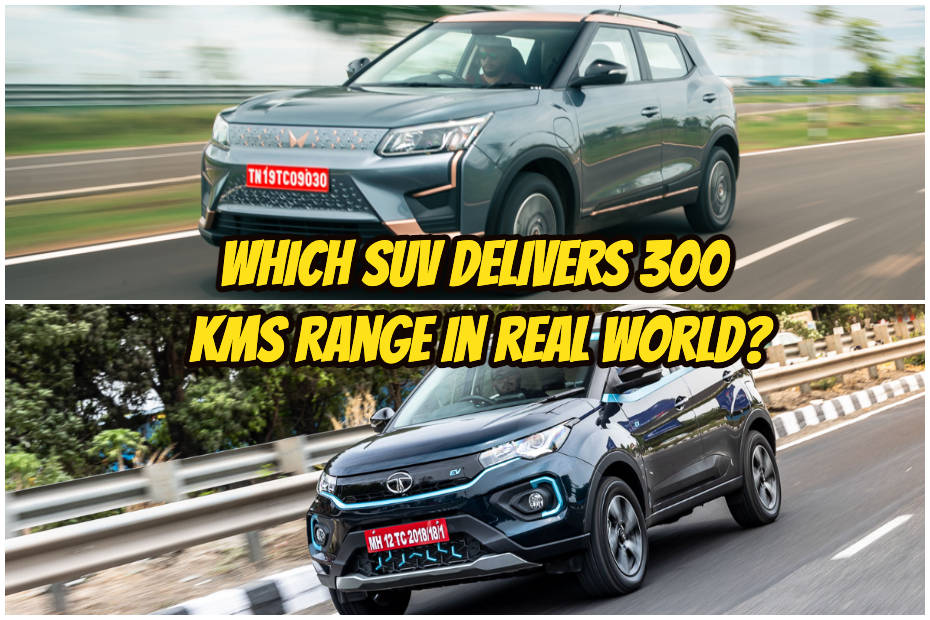 Tata Nexon EV is the most popular electric car in India currently and recently got a direct competitor in the form of the Mahindra XUV400. Both are priced in the Rs 15-lakh to Rs 19-lakh range and claim to offer a driving range of over 450 kilometres.
Now, we've tested and drained their batteries to one percent, albeit not on the same day, in identical conditions to check their real-world range. Let's see if the XUV400 and Nexon EV Max can come close to their claimed figures, and which one covers more distance:
Range Check

| | | |
| --- | --- | --- |
| Model | XUV400 | Nexon EV Max |
| Claimed Range | 456 kilometres | 453 kilometres |
| Real-world Range * | 289.5 kilometres | 293.3 kilometres |
*The real-world range has been calculated after driving the EVs through a mix of city roads, highways, and ghats.
Both the SUVs fell short of their claimed ranges by over 150km and came very close to the 300-kilometres mark through the mixed driving conditions. With even more sedate driving or a higher proportion of city commute, owners might be able to get over 300 kilometres on a full charge.
Also Read: Mahindra XUV400 EV: First Drive Review
The Tata Nexon EV Max and Mahindra XUV400, both, were driven in Eco mode, which already prioritises range over the electric motor's performance capabilities. So, if you drive in normal or Sport mode, the range is likely to further reduce.
With these figures, buyers might be able to take a trip from Mumbai to Pune and back, or travel one-way from Delhi to Jaipur or Delhi to Agra.
What Happens When The Charge Reduces?

Mahindra XUV400: As the charge drops to 10 percent, the top speed is capped at 50kmph. Once it touches eight percent, the top speed further reduces to 40kmph, and then down to 30 kmph with three percent of charge. As the charge reaches the lowest number, you can't drive it faster than 10kmph. Even after 10 percent of charge left, it keeps the climate control settings and regenerative braking level consistent as per the buyer's preferences.
Tata Nexon EV Max: In the Tata's case, the intensity of the regenerative braking increases once the charge drops down to 20 percent. As soon as it touches the 10-percent mark, the remaining driving range disappears from the instrument cluster and the top speed is capped at 55kmph. Even the Sport Mode is disabled here.
Also Read: Tata Nexon EV Max First Drive Review
Prices and alternatives

| | | | |
| --- | --- | --- | --- |
| Model | Nexon EV Prime | Nexon EV Max | XUV400 EV |
| Price range | Rs 14.49 lakh 17.50 lakh | Rs 16.49 lakh to Rs 18.99 lakh | Rs 15.99 lakh to Rs 18.99 lakh |
The top-end variant of the XUV400 EV is priced the same as the Nexon EV Max. The base variant of the former is affordable than that of the latter by Rs 50,000. If your budget is still limited, the Nexon EV Prime can be an option as well, as it offers a lesser claimed range of 320 kilometres.
Read More on : Mahindra XUV400 EV Automatic
Was this article helpful ?
0 out of 0 found this helpful