Tata Nexon EV Max First Drive Review
Published On May 17, 2022 By Arun for Tata Nexon EV Prime
While updates aren't biblical, they're enough to make the Max THE Nexon EV to buy!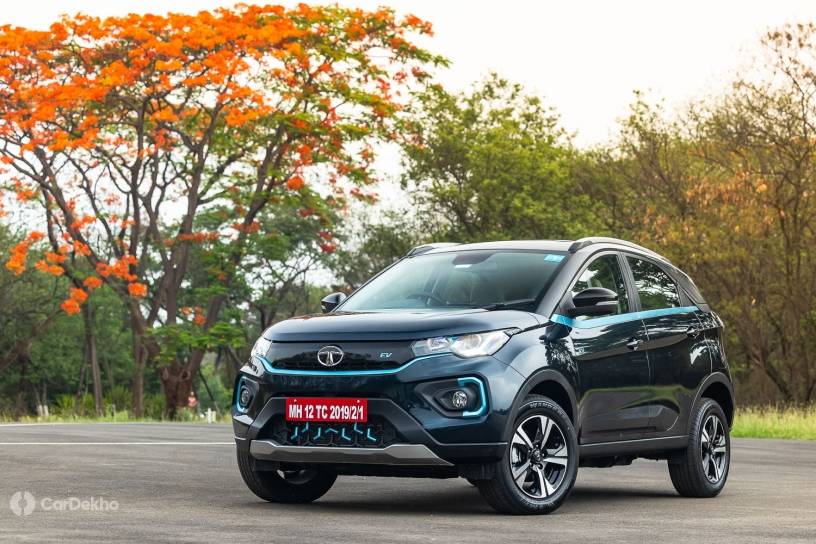 For those who were on the fence about making the switch to electric vehicles, Tata's new Nexon EV 'Max' brings with it some reassurance. There's a bigger battery which means there's more range. To make the deal sweeter there are a few feel-good features to be had, alongside some more performance from the motor.
Spend some time driving around in one, and you'd be convinced it's the Nexon EV you should be bringing home.
What's Changed?

Since we're already familiar with the Nexon EV, let's focus on what's exclusive to the Max variant. Tata hasn't bothered differentiating this version visually. There's no 'Max' branding anywhere on the car to signify it's a long range variant. The only real giveaway are the new 16-inch alloy wheels. If you're eagle-eyed, you'd spot rear disc brakes too. Another update comes in the form of the new 'Intensi Teal' colour. Other options include Daytona Grey and Pristine White. All colours are offered with a contrast-coloured roof as standard.
From a look and feel standpoint, there are minor tweaks to the cabin as well. The basic layout remains the same with a three-layer dashboard and a free-floating touchscreen. Tata has added an interesting tri-arrow graphic on the plastic trim that runs across the dash, used a lighter shade of beige (might be a pain to keep clean) and redesigned the floor console. This redesign means you now lose cupholders entirely, but get a cool-looking illuminated drive mode selector and an electric parking brake instead.
There are new features to be had too, all of which we'd first seen in the Kaziranga Edition of the regular Nexon. This includes an auto-dimming IRVM, air purifier, wireless charger, perforated leatherette upholstery, ventilated front seats and cruise control. With the Max variant, the Nexon EV finally gets electronic stability control. The safety quotient is further enhanced by rear disc brakes, hill hold control, hill descent control, and a tyre pressure monitoring system.
Other highlights:

| | |
| --- | --- |
| Keyless Entry | 7-inch Touchscreen (w/ Android Auto & Apple CarPlay) |
| Push-button Start/Stop | 8 Speaker Harman Sound System |
| Driver Seat Height Adjuster | Steering-Mounted Audio Control |
| Tilt-Adjust Steering | 7-inch TFT Display (Instrument Cluster) |
| Front & Rear Armrest | Automatic Climate Control |
| Electric Sunroof | Leatherette-wrapped Steering Wheel |
Is anything missing? At this price point Tata could do well to add side and curtain airbags to the Nexon. It could also do with a slight bump up in terms of the cabin's plastic quality to make it feel a little more worthy of the asking price.
Note: The lower XZ+ variant misses out on a sunroof, auto-dimming IRVM, air purifier, leatherette upholstery and front seat ventilation. We'd still recommend it over the standard Nexon EV's XZ+ Lux variant.
A Small Compromise

To accommodate the larger battery back, Tata Motors seems to have raised the floor of the Nexon EV, so you now sit a little taller than you normally would. As a result, you'd push the driver's seat further behind to be a little more at ease. The raised floor pan also leads you to sit slightly knees up in the rear seat with underthigh support taking a hit. Thankfully the Nexon was generous in terms of space to begin with. These changes take away from the experience, but aren't dealbreakers.
Bootspace remains unchanged at 350-litres.
Performance

The new features are welcome additions, but what's really driving the sense of money well spent is the updated drivetrain. The battery is now larger by over 30 per cent — 40.5kWh versus 30.2kWh in the older version — and the motor has an additional 14PS and 5Nm to give.
As you'd expect, the additional power doesn't exactly make a day and night difference in the way the Nexon EV Max drives. Most of the incremental power is spent tackling the Max variant's 100kg weight gain.
Trivia: 70% of the weight gain is due to the bigger battery alone!

Acceleration feels instantaneous, and the Max hurries past the 100kmph mark in 9.1 seconds. Tata's claim of a sub-9 second 0-100kmph time seems realistic. It's notably quicker compared to the standard variant in the default City mode too. Another advantage is that of a higher top speed. Top speed is now electronically limited to 140kmph — 20kmph more than the standard version.
| | | |
| --- | --- | --- |
| | Nexon EV Max | Nexon EV |
| Sport Mode | 9.13s | 9.58s |
| City/Drive Mode | 13.3s | 16.8s |
Trivia: The Nexon EV Max is as quick to 100kmph in City mode as the Nexon Turbo-Petrol is in Sport!
There's a new Eco mode on offer too, that aims to maximise range. Speaking of which, the Nexon EV Max has a certified range of 437km. Tata Motors, however, isn't sticking their neck out for this number and chooses to claim the Nexon EV Max would do something like a Mumbai-Pune-Mumbai run in the real world. That's roughly 300km and that claim seems believable. The standard Nexon EV returned a combined range of 250km in our real-world test, so it's reasonable to expect anywhere from 270-320km of real world range from the Max.

Helping the Max make the most out of every kWh of power is the new selectable brake energy regeneration system. You get to choose between four options: off, Level 1, Level 2 and Level 3 — in ascending order of intensity. We like that the Nexon EV Max updates range in real time based on the Drive Mode and the level of regeneration you select. However, we'd need some more seat time to trust it completely. In our short drive, the distance to empty dropped a whole lot faster than the charge on the battery and left us questioning accuracy.
The regen even at its strongest setting isn't as strong as what we've experienced with other EVs. It seems to activate only when you've completely lifted off of the accelerator. Tata could've calibrated the regeneration to come in to effect a little more intuitively. At Level 3, the Max isn't really capable of single-pedal driving as Tata claims. It settles to a lazy crawl (at ~10kmph) instead of coming to a dead halt as we've seen with MG's ZS EV. Level 2 and Level 1 regen are progressively milder. The good bit is that this is quite easy to get used to even for a EV newbie.
Ride And Handling

To make room for the bigger battery pack, Tata has had to raise the overall height of the Nexon EV Max. And yet, ground clearance has dropped by 10mm to 195mm. Despite the added weight and change in ride height, the Nexon EV Max rides like any other Nexon. That's to say it's prepared for bad roads, genuinely comfortable over smooth tarmac and at absolute ease doing triple digit speeds on the highway.
Charge Time

The bigger battery obviously needs more time to juice up. That's exactly why Tata is offering a 7.2kW charger as an optional extra. This brings down the charge time from 15 hours (using a regular 15A socket and the standard 3.3kW charger) to just 6.5 hours. The Nexon EV Max is capable of 50kW DC fast charging as well a 0-80% charge is dealt with in just 56 minutes.
Verdict

As we see it, there are two things the Nexon EV Max could do better. We wish the cabin experience was entirely unchanged compared to the standard variant — the raised floor takes away a little from the roominess. Second, it could do with features such as six airbags and a small bump up in cabin quality. These aspects are unlikely to be dealbreakers, however.
Prices for the Nexon EV Max range between Rs 17.74-19.24 lakh. The Rs 1.5-2 lakh premium is more or less justified by the added features alone. Stronger performance, the larger battery pack and the peace of mind that comes with a long range seem like a bonus. A bonus that should do well to allay a lot of anxiety around electric vehicles in general. So, while updates might seem incremental at best, it really completes the Nexon EV. For the additional ask, it does seems like a no-brainer choice. It truly is THE Nexon EV you should buy.
Note:
Another lens to view the Nexon EV Max through, is comparing it to turbo-petrol SUVs from a segment above. It offers equivalent performance, about as many features, doesn't skimp on space and takes the sting of rising fuel costs out entirely. You could jump ship to EVs a lot earlier than you think!