Mercedes-Benz Concept A Sedan: The Future Audi A3 Sedan Rival
Modified On Apr 19, 2017 02:11 PM By Raunak
Mercedes-Benz will soon have an entry-level compact sedan that is expected to slide in below the CLA!

Mercedes-Benz has made the world premiere of a concept, which is set to become the A-Class sedan in the near future, at the Auto Shanghai 2017. According to the Stuttgart-based automaker, the Concept A Sedan not only hints how the production-spec model may look like, but is also a harbinger for future compact vehicles as it showcases an evolved Mercedes-Benz design language for the said vehicle class.
Since Mercedes-Benz is majorly focusing on the overall design aspect of the Concept A Sedan, let's talk about it. It is apparent that the concept sedan has taken a lot of inspiration from the Mercedes-AMG GT R, while the overall silhouette does remind one of the Mercedes-Benz CLA. In terms of dimensions, it's 60mm shorter in length, but is 93mm wider. The design does look more squared off and the roofline sits taller by 30mm too, which should translate into better headroom - a weak point of the CLA. In fact, rumours suggest that this will be a more practical alternative to the CLA while the latter may be promoted as a coupe.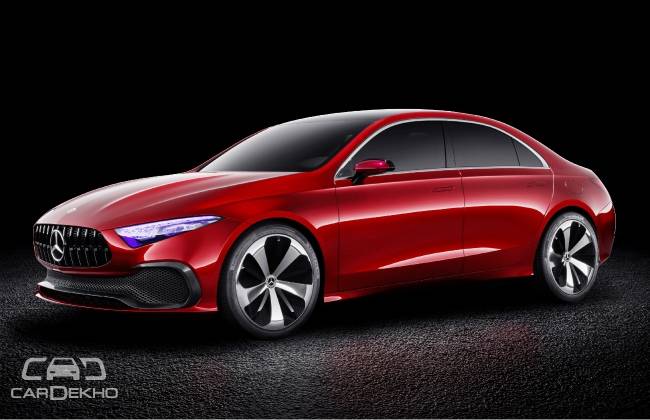 At the front, the striking resemblance to the GT R comes from the incorporation of Mercedes-AMG's new Panamericana grille featuring vertical chrome slats and a star in the centre. The new grille, which made its debut with the AMG GT R, is inspired from the legendary Mercedes-Benz 300 SL racing car. The concept features triangular-shaped swept-back headlamps with a grid structure, which Mercedes says has been coated with UV paint. As a result, the headlamps glow in different colours, depending on the light medium.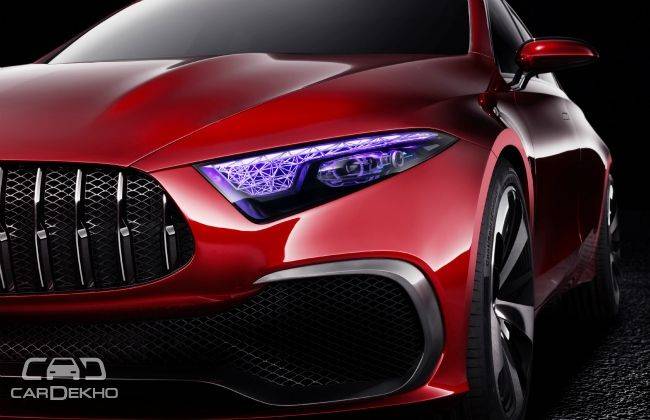 The automaker highlights that the new design language has reduced lines and gaps. The Concept A Sedan features shorter overhangs, larger side windows, swooping roofline and a higher beltline, all of which speaks of the CLA sedan.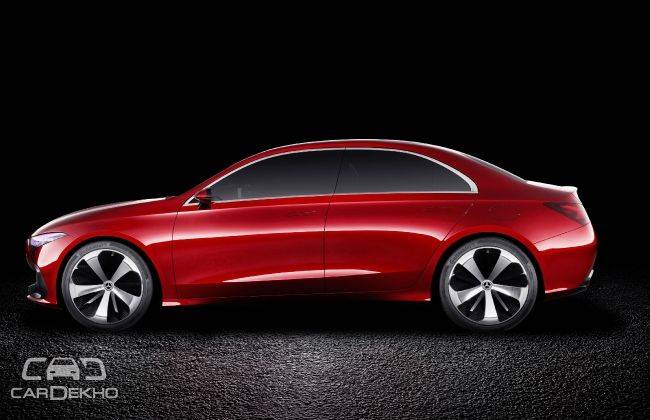 Mercedes-Benz Concept A Sedan Dimensions
Length: 4570mm (112mm longer than the A3)
Width: 1870mm (74mm wider than the A3)
Height: 1462mm (46mm taller than the A3)
Apart from detailing its design elements, Mercedes-Benz has not divulged rest of the info – such as its powertrain options and interiors – about the A-Class sedan concept. The production-spec version is likely to see the light of the day in 2018. Given the popularity of compact luxury cars, Mercedes-Benz will launch the A-Class sedan in India too.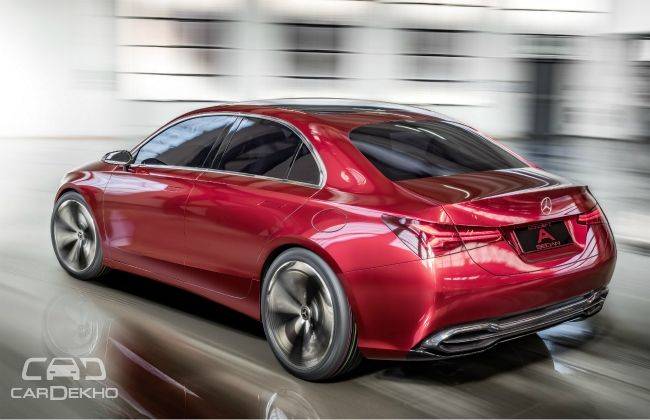 Recommended Read: Why India Deserves The BMW 1 Series Sedan
Read More on : Audi A3