Mahindra Responds To Viral Scorpio N Under Waterfall Video With Its Own Viral Video
Modified On Mar 06, 2023 03:24 PM By Rohit for Mahindra Scorpio N
The carmaker replicated the same incident to showcase that the SUV has no water leakage issues as otherwise suggested by the original video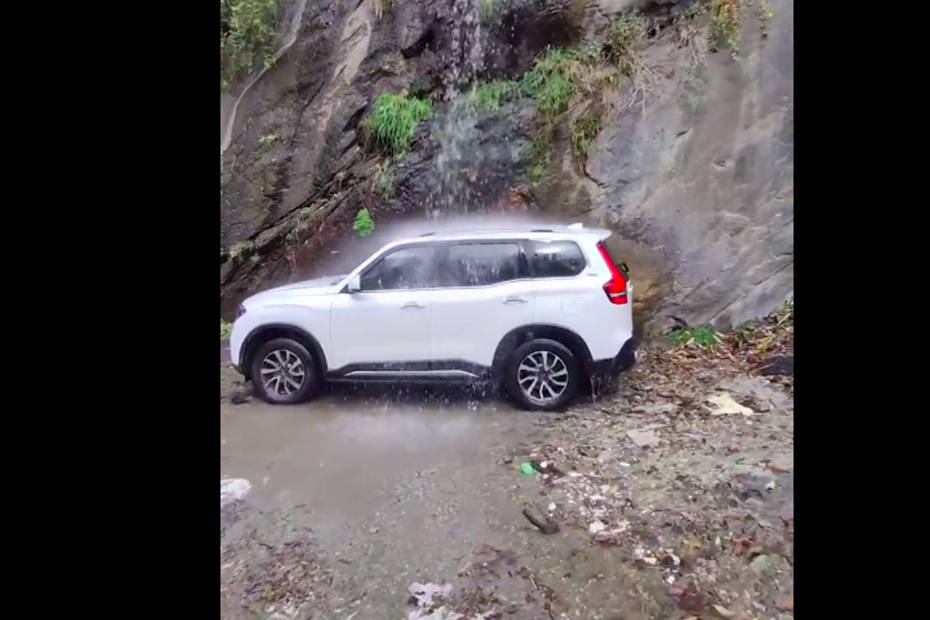 A recent viral video showed water seeping into the SUV's cabin under a waterfall.

Probable reasons are its sunroof being open or the accumulation of dirt around it.

In Mahindra's video, it's clearly noticeable that there's no leakage issues with the SUV.
By now, we are sure you must have seen the viral video of a Mahindra Scorpio N parked under a waterfall with water leaking into the cabin. It sparked a debate about the SUV's build quality. In response to this, the carmaker has now put out a video online featuring a similar white Scorpio N in a similar situation.
What Does The Video Show?
Just another day in the life of the All-New Scorpio-N. pic.twitter.com/MMDq4tqVSS

— Mahindra Scorpio (@MahindraScorpio) March 4, 2023
The SUV featured in Mahindra's video takes the same approach as the original clip and is positioned under a waterfall. It gives us a proper look from the interior of the SUV with the sunroof closed while water keeps running over it. It also goes on to further reveal that there's no water leakage occurring from the roof-mounted speakers as suggested in the original video.
Was The Original Video Fake?
Although the authenticity of the original social media video can't be fully verified, it did show water seeping inside the car. One of the many reasons for it to have happened could be down to the sunroof not being closed properly, a damaged seal due to improper use, or even the accumulation of dirt, leaves and twigs hindering the flow of the collected water to the safe exit passage.
Related: Mahindra Scorpio N Spotted With Heavy Camouflage In Japan
Our Take On The Incident

Even though the water leakage was a real issue in the original video, not all content available on social media is always fully authentic. It is not uncommon for independent creators to push an entertaining narrative without doing the necessary fact checks or being transparent with the audience.
Hence, it becomes utmost important that we as consumers of such content don't blindly believe everything on the internet to be absolutely true and instead apply logical reasoning and assess the rationale behind such incidents. Mahindra's video was a fitting response to remind us of the same.
Also Read: Mahindra Scorpio Classic Likely To Get A New Variant And More Seating Options
Read More on : Scorpio-N on road price
Was this article helpful ?
1 out of 2 found this helpful