Jeep Compass: Five Features We Would've Liked
Modified On Jan 03, 2019 12:37 PM By Rachit Shad for Jeep Compass 2017-2021
These would have definitely made it a no-brainer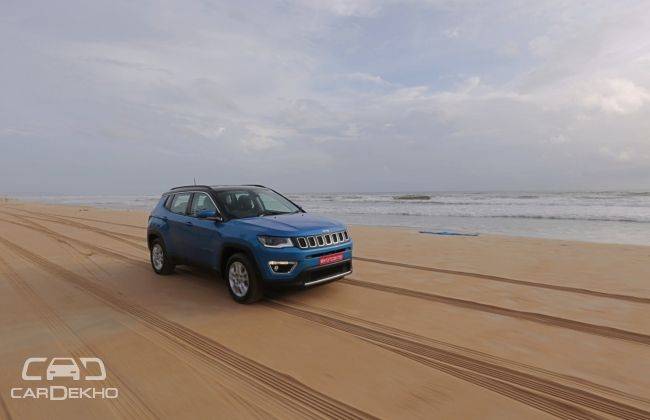 When Jeep launched the Compass at a starting price of just Rs 14.95 lakh, we were left astonished. A car that draws its recipe from a brand as established as Jeep is in the world of sports utility vehicles (SUVs), and topped out at Rs 20.65 lakh is something that every enthusiast craves (the prices as on 10 July 2018 start from Rs 15.35 lakh and max out at Rs 21.94 lakh). The Jeep Compass is available in ten different trims, covering two options each for engines and transmissions. The baby Jeep also offers 4x4 capability in its top-spec Limited trim, but only with its diesel motor.

Also Read: Jeep Compass Vs Hyundai Creta: Which Is Better Value?
All that is great and the car does come loaded with features that you'd expect from a car in this price bracket. To top that, the Compass is the most powerful of all its rivals and gets some segment-first features like electronic power brake, built-in compass and dual-stage passenger airbags. But we do feel that the absence of some features have left the Compass a bit shorthanded against the competition. Here's a list of five such features and their addition, we feel, would have made the Jeep Compass a no-brainer:
Sunroof: At this price bracket, a sunroof would have added a bit more flair to the Compass' overall package. Not only does its arch rival, the Mahindra XUV500, has it, but even some of the less expensive cars like the Honda City, Honda WR-V and the upcoming Hyundai Verna have it.

Also Read: Jeep Compass vs Tata Hexa vs Mahindra XUV500: Variant-Wise Features Comparison
Cruise Control: Like the sunroof, cruise control is a feature which isn't used much in Indian driving conditions. But no one can deny the fact that it adds to the convenience factor when driving over long distances. Since the Jeep Compass is available with automatic transmission coupled to the 1.4-litre turbo-petrol engine, it would have balanced this offset against the Mahindra XUV500 and the Hyundai Tucson.

Also Read: Jeep Compass vs Hyundai Tucson: Variant Wise Feature Comparison
Powered Tailgate: If the Compass had a sideways opening mechanism for the tailgate, like the Mahindra Scorpio, it would have been fine. But since it opens upwards and isn't powered, chances are that shorter people will have a problem closing it shut. A height-adjustable powered tailgate would have done wonders for everyone.
Ventilated Seats: It's a new thing that has stung many as an impressive feature to have. Even the upcoming Hyundai Verna will have this sweat-killing feature. But why didn't Jeep add it? Because none of its immediate rivals have it. Well, that calls for it to be a must-have feature in a car that will essentially define Jeep's roadmap in the country. Jeep, are you listening?
Also Read: Jeep Compass: 5 Things We Like

Diesel Automatic: For the record, Jeep has already confirmed that early next year it will add an automatic gearbox as an option with the diesel engine. Our take? Jeep should have begun the Compass' innings with a diesel automatic. In this segment, the diesel will bring in most of the sales numbers. Then why not have it ready from every angle? If it would have launched the product with an option of a diesel automatic, the company would have garnered a lot more traction from the get-go.
Also Read: Jeep Compass: First Drive Review
Read More on : Jeep Compass diesel
Was this article helpful ?
0 out of 0 found this helpful