BMW X5 Vs Mercedes-Benz GLE400 – Petrol Spec Comparison
Modified On Dec 15, 2016 07:21 PM By akash for BMW X5 2014-2019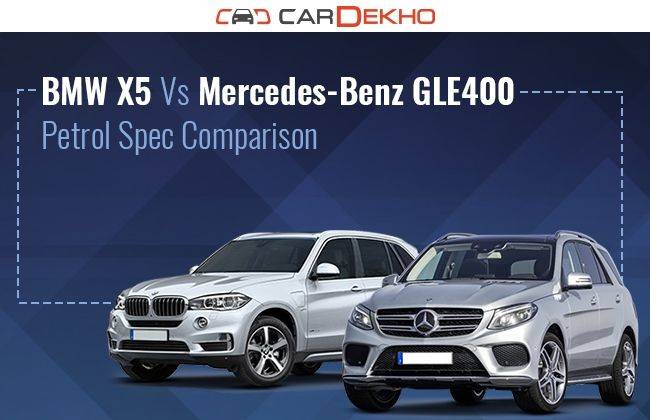 If you are in the market for a midsize diesel luxury SUV, you have plenty of options. However, if you want a petrol SUV, your options are very limited. In fact, before 2016, you couldn't find even a single offering in the Indian market. Mercedes-Benz introduced the petrol variant of its highest selling SUV, the GLE400, in August and recently BMW launched the petrol variant of the X5. Let's see how these SUVs measure up against each other.
Dimensions

The BMW X5 is longer (4,886mm), wider (2,184mm) and has a longer wheelbase (2,933mm) than the Mercedes-Benz GLE400. Looking at the dimensions, the X5 appears spacious. However, the GLE is 34mm taller (1,796mm) and offers 690 litres of boot space, which is 40 litres more than the 650 litres offered by the X5. Also, the GLE is 60kg heavier than the X5 (2,105kg).
Performance

Both the SUVs are powered by a 3.0-litre six-cylinder petrol engine. While the GLE develops 337.7PS of power, the X5 is slightly less powerful at 306PS. The X5 has 400Nm of torque while the GLE gives 80Nm more torque. The GLE reaches the 100kmph mark from a standstill in just six seconds, while the X5 is just 0.5 seconds behind and takes 6.5 seconds. The GLE also has a higher top speed (247kmph) than the X5 (235 kmph), probably because of the extra torque in the GLE. The GLE has a seven-speed automatic gearbox while the X5 features an eight-speed automatic.
Features

Both the cars feature all the goodies that you expect from an SUV of this segment and come loaded with features like panoramic sunroof, Harman Kardon sound systems, automatic climate control and leather upholstery. However, the GLE has more safety features on offer – such as Crosswind Assist and Attention Assist – than the X5.
Generally, BMW is known for its driving dynamics. However, in terms of specs, the Merc appears to be a more fun-to-drive car. It also has a bigger boot and is loaded with more safety equipment. As of now, we can't give you a judgement based on the specifications. Stay tuned for a comprehensive, head-to-head review.
Read More on : BMW X5 2016
Was this article helpful ?
0 out of 0 found this helpful