Audi To Use Multi-Material Construction In 2018 A8
Modified On Apr 06, 2017 07:04 PM By Raunak for Audi A8 2014-2019
The aluminium intensive Audi Space Frame (ASF), which made its debut with the first-gen A8 in 1994, will now, for the first time, feature multi-material construction – aluminium, steel, magnesium and carbon fiber-reinforced polymer – in the upcoming fourth-gen A8.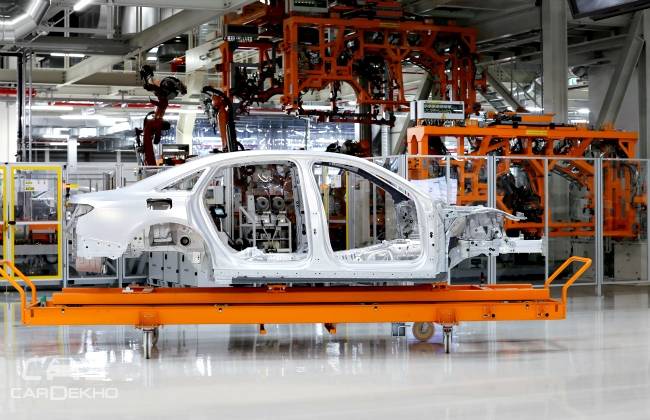 Audi has detailed the chassis of the upcoming all-new India-bound A8 ahead of its reveal in the coming months. The Ingolstadt-based automaker has used multi-material construction in the new A8 in conjunction with its renowned Audi Space Frame (ASF). The 2018 A8 is expected to make its world premiere at the 2017 Frankfurt Motor Show in September.

Audi has incorporated aluminium, steel, magnesium and carbon fiber-reinforced polymer (CFRP) in the chassis of the new A8. Its arch rival, the BMW 7-Series, is also based on a similar architecture. Manufacturers use multi-material construction nowadays because it helps in keeping the overall weight in check, while providing improved torsional rigidity and strength in a vehicle, which results in better handling and rideability.

For the uninitiated, the Audi Space Frame (ASF) was introduced for the first time in the first-generation A8 in the year 1994. With its aluminium intensive architecture in the ASF, the original A8 became the first mass market car to extensively use aluminium. Since then, Audi has built more than one million production cars based on its ASF.
Now, with the upcoming fourth-gen model, the ASF has been modded to incorporate a mix of four materials. Like always, Audi's Neckarsulm facility will be the new A8's production hub, and it has been transformed for the development of the new flagship saloon.

Starting with the carbon fiber-reinforced polymer (CFRP) material, the rear section of the occupant cell in the new A8 is made up of CFRP. Audi says it is the largest component in the occupant cell and contributes about 33 per cent to the torsional rigidity of the total vehicle. Further, around 58 per cent of its body is made up of aluminium (largest share).

The front strut brace is carved of magnesium, which, in comparison to its predecessor, results in 28 per cent weight savings. The magnesium strut brace features aluminium bolts at both the strut tower domes. Rest of the components of the occupant cell are made up of hot-formed steel.

Speaking of its platform, the 2018 A8 is expected to be based on VW Group's MLB EVO platform, which made its debut with the second-generation Q7. The outgoing model is based on the MLB platform. Stay tuned to CarDekho for more updates on the upcoming A8.
Recommended Read: Mercedes-Benz S-Class Connoisseur's Edition Launched At Rs 1.21 Crore
Read More on : Audi A8
Was this article helpful ?
0 out of 0 found this helpful