2017 Nissan GT-R Nismo Unveiled; Gets 600PS!
Modified On Feb 24, 2017 06:55 PM By Arun for Nissan GTR
We're sure no one looked at the 2017 Nissan GT-R and said, "Hmm, that needs some more power". Weirdly enough, the boffins at Nissan's motorsport division mumbled just that to themselves. Say hello to the Godzilla's cousin from hell, the GT-R Nismo!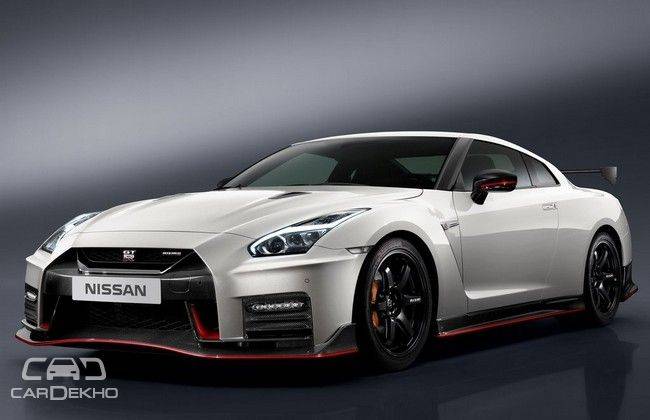 The hand-built 3.8-litre V6 engine now pushes out 600PS of power, a full 30PS over the standard GT-R we drove around the Buddh Circuit. Do check the report to know what it feels like being at the helm of Godzilla around a racetrack! Peak torque is now rated at an astonishing 652Nm. The bump in power output is courtesy a pair of high-flow, large diameter turbochargers that Nissan uses in the GT3 race car.

"The GT-R NISMO emphasizes the 'R' in its nomenclature. Its direct ties with racing makes it at home on any racetrack, providing the highest levels of excitement and exhilaration for the driver. With the 2017 GT-R as a starting point, the new NISMO version has become a more well-balanced machine, with not just increased performance, but a heightened premium feel overall. It is the result of our relentless pursuit of ultimate driving pleasure," said Hiroshi Tamura, the chief product specialist of the GT-R NISMO and the standard GT-R.
Visual highlights include a redesigned front bumper made out of carbon fibre. The grille is slightly wider to improve cooling, the hood is reinforced to sustain higher speeds, and there are canards to aid airflow around the wheels. Of course, there are trademark Nismo elements as well, such as the black wheels and the massive spoiler at the rear.

Updates to the interiors include a redesigned dashboard and new steering wheel. Nissan has also de-cluttered the space by including an 8-inch touchscreen in the centre console. The Nismo gets Recaro bucket seats draped in Alcantara as well.
We expect Nissan to launch the GT-R later this year. We cannot wait to get our hands on one! Do let us know what you think of this mean Godzilla through the comments section below!
Recommended Read:
Nissan GT-R: 5 Things You Didn't Know!
Official: Nissan GT-R Pre-Bookings Open In India
Nissan Launches GT-R At Rs 1.99 Crore
Was this article helpful ?
0 out of 0 found this helpful