Nissan GT-R Celebrates 68th Republic Day Of India
Modified On Feb 24, 2017 06:59 PM By Rachit Shad for Nissan GTR
Creates world's largest-ever outline of a country map on the dry lakebed of the Sambhar Lake in Rajasthan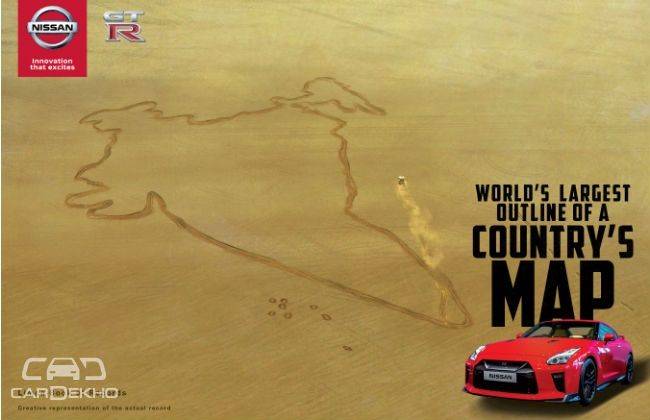 Over the years, the Nissan GT-R has broken many a track record around the globe. It landed on Indian shores in December last year and, in less than two months, it has achieved a record-breaking feat here. To celebrate India's 68th Republic Day, the 'beast from the east' is set to enter the Limca Book of Records for carving out the world's largest-ever outline of the map of a country.

Nissan chose the level and dry lakebed of the Sambhar Lake in Rajasthan to achieve this unique feat. The company said that the soil on the surface was soft enough to leave a deep impression for cameras to capture the making of India's map. The dimensions of the map were about 3km in length and 2.8km in width, with a total periphery of 14.7km. Officials from the Limca Book of Records were present on site to validate the process. Once certified, this one-of-a-kind record will find a place in the 2018 Limca Book of Records.

The Nissan GT-R is nothing less than a benchmark in the world of performance cars. It is renowned the world over for its precise and crisp responses. Based on this alone, the GT-R was an ideal candidate to recreate the twisty borderline of our country in shrunken proportions. To ensure accuracy, the map was created by plotting the co-ordinates on a GPS device, and it required multiple laps to carve out the best approximation of the actual map.

Popularly known as the 'Godzilla' of the automotive world, the Nissan GT-R is priced at Rs 1.99 crore (ex-showroom, Delhi) in India. It comes as a direct import from Japan and is available for sale and service at India's first official Nissan High Performance Centre (NHPC) in Noida, Uttar Pradesh.
Recommended Read:
Nissan GT-R: 5 Things You Didn't Know!
Official: Nissan GT-R Pre-Bookings Open In India
Nissan Launches GT-R At Rs 1.99 Crore
Read More on : GT-R price
Was this article helpful ?
0 out of 0 found this helpful