Volvo India To launch XC90 Plug-In Hybrid On September 14
Modified On Sep 07, 2016 06:45 PM By Tushar for Volvo XC 90
The new Volvo XC90 gave India a taste of the Swedish automaker's new design language. At the SUVs launch in 2015, Volvo Auto India's former MD, Tomas Ernberg stated that more launches were on their way and now, the plug-in hybrid XC90 is set to hit the Indian shores.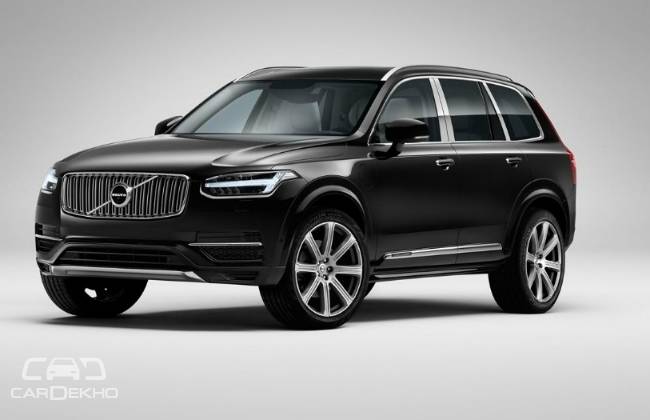 Volvo has scheduled the XC90 Excellence T8 plug-in hybrid's launch on September 14. The SUV will join the sparsely populated club of plug-in hybrid electric vehicles (PHEV) in India. The primary difference, when compared to the XC90 already on sale in India is of course, the powertrain. While the version you may have seen on our roads gets a 2.0-litre, 4-cylinder diesel engine, the Excellence T8 PHEV is propelled by a powerplant that asks you "how much engine is too much engine?".

Not only is its 2.0-litre petrol engine turbocharged, it's also supercharged and gets an electric motor. The end result is a combined power output of 400PS and 640Nm of torque. Power is transmitted to all four wheels through the 8-speed 'Geartronic' automatic gearbox and the SUV comes with three drive modes:
Pure: Electric-only mode in which the XC90 can go up to a speed of 120kmph with a 0-100 per cent charge time of around four hours.
Hybrid: The SUV uses either the electric motor or the petrol engine or both, depending on the driving scenario.
Power: Effectively the 'Hulk mode' where this green car turns into the green beast, using both its engines to give you the full 400 horsepower.

Of course, there will be plenty of luxury on offer and here's where the 'Excellence' part of the model's name comes into play. The SUV is a premium four-seater designed to please the Dalal Street magnate and comes equipped with power-adjustable, Nappa leather-upholstered seats with the massage function along with heating and ventilation, a 9-inch touchscreen infotainment system, a beverage cooler and the 'excellence console' – a rear seat environment control interface that can be used to adjust the heating and angle of your seat and even the temperature of the cup holders.

While the XC90 diesel was launched at Rs 64.9 lakh, expect a price tag of around Rs 1.35 - 1.40 crore for this premium limited production-run PHEV. The SUV is a direct import and deliveries can be expected in 4-5 months from the time of booking.
Read More on : XC90
Was this article helpful ?
0 out of 0 found this helpful