Volvo Cars to present life-saving wearable cycling tech concept at CES 2015
Published On Dec 19, 2014 04:09 PM By Bala Subramaniam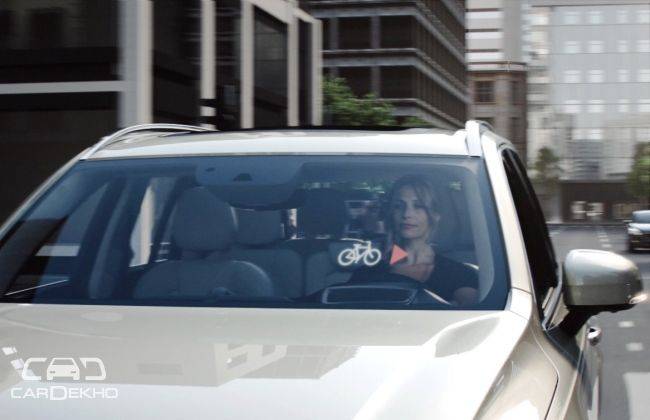 Volvo Cars is all set to present a world first safety technology that will ensure more safety for cyclists and in preventing accidents. The innovative technology will be presented by Volvo Cars along with protective gravity sports gear manufacturer POC and Ericsson at the International CES 2015. The technology connects a car and a cyclist with a connected car and helmet prototype that will establish 2-way communication offering proximity alerts to Volvo drivers and cyclists and thus preventing accidents.

Volvo Cars' City Safety system, which is standard on the all-new XC90, is the technology that can detect, warn and auto-brake to avoid collisions with cyclists. The system can connect with the cyclists using a smartphone app for bicyclists where the cyclist's position can be shared through the Volvo cloud to the car, and vice versa. If there's going to be collision, it is calculated and both road users will be warned to take necessary action to avoid a potential accident. While the Volvo driver will be alerted to a cyclist nearby through a head-up display alert, the cyclist will be warned via a helmet-mounted alert light.

Klas Bendrik, VP and Group CIO at Volvo Cars commented: "The partnership between Volvo Cars, POC and Ericsson is an important milestone in investigating the next steps towards Volvo Cars' vision to build cars that will not crash. But now, by exploring cloud-based safety systems, we are getting ever closer to eliminating the remaining blind spots between cars and cyclists and by that avoid collisions."
Stefan Ytterborn, CEO and Founder of POC added: "Our mission is to do the best we can to possibly save lives and to reduce the consequences of accidents for gravity sports athletes and cyclists. The partnership with Volvo Cars aligns very well with our mission and we are excited to see how we can contribute to cyclist safety and increase interaction between cars and cyclists alike".
Per Borgklint, SVP and Head of Business Unit Support Solutions at Ericsson said: "There is perhaps no greater promise that the Networked Society holds than its ability to create connections that save lives. Our latest work with Volvo Cars to explore protecting the millions of cyclists on the road is just the latest example of innovation that can change the world. We are proud to support this critical initiative in conjunction with POC and remain committed to the pursuit of connectivity-driven advancements that create limitless new possibilities."
New Car Insurance - Save Upto 75%* - Simple. Instant. Hassle Free - (InsuranceDekho.com)
Sell Car - Free Home Inspection @ CarDekho Gaadi Store
Was this article helpful ?
0 out of 0 found this helpful